Both primary and secondary state schools and colleges in England can now order free period products as part of a government scheme to tackle period poverty amongst students. This is a bloody success for health rights, equal education and female empowerment and we want to extend a huge congratulations to the Free Period campaign who have been pushing this onto government agenda since April 2017!
This new system is based on the successful Scottish model - schools will be able to chose which period products to order through a credit-based portal created by the company Phs. Each school will have a budget and this budget can be spent in the way that best suits the needs of the pupils. Products will be provided in schools via a 'basket solution' in washrooms, via reception or via the well-being officer/ school nurse.
What products will be on offer?
We want to extend a huge thanks to the nearly 40,000 of you who signed our petition last year, calling on the Department for Education to only send plastic-free products to schools. Thanks to you, we managed to convince the Department to include environmental criteria in their tendering process, and now organic and reusable products are on offer!
- Standard tampons and pads from Proctor and Gamble
- Standard tampons and pads from Lil-lets
- Organic tampons and pads from Lil-lets
- Reusable pads from Bloom & Nora
- Menstrual cups from Mooncup
Does your school want to see more eco-friendly products on offer? Maybe paper applicator tampons or a reusable DAME applicator, period pants or another type of reusable pad? Phs have made it clear that this is a demand-led service, based on the needs of students and schools. If your school finds itself running out of credit, or wanting to provide different products to their students then Phs are open to feedback and dialogue.
You can find an email template to Phs about their product offering here (including their email address).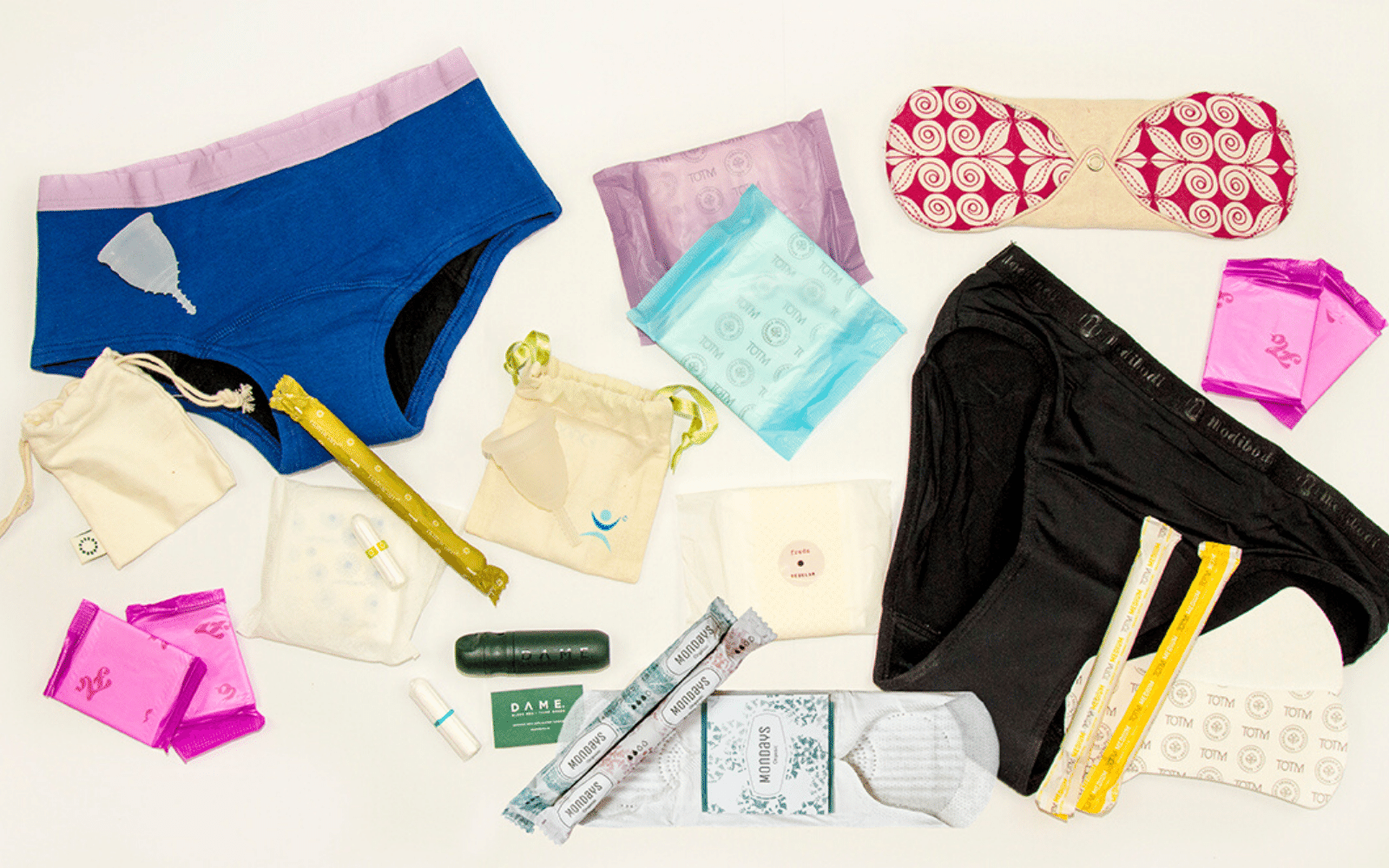 If you're a member of school staff, there are 4 things to think about right now:
1. Make sure your school admin team look out for an email from Phs to set up your account.
2. Chat to the members of staff at your school responsible for ordering products. Explain the benefits of choosing organic disposable products and reusable products – for student health, for the planet and for long-term economic sustainability.
3. Consider signing up to our FREE Rethink Periods training program. 600 PSHE teachers and school nurses across the UK will receive training, resources and a product demo box worth £120. Research and case studies from across the world show that period poverty schemes are most affective when combined with comprehensive period education.
4. If you'd like to see more plastic-free and reusable products on offer through Phs, email them using our template, or write your own message. We want to make it as easy as possible for you to rise to the government challenge for schools to go plastic-free by 2022!
Support from teachers
Rachel Carson, Primary school teacher
"There is a gaping hole in understanding the plastic problem and school is a great place to start making a difference. Providing plastic-free period products to combat period poverty seems like a golden opportunity to lift girls out of embarrassment and shame whilst simultaneously investing in their future. Having recently declared a climate emergency, we should all make this a priority." 
Saskia Boujo, Secondary school teacher
"As a secondary PSHE teacher I am faced with the reality of young people not having access to menstrual products: misinformation, absenteeism, stigma around menstruation.  Schools have a duty to open up the conversation so young people can choose from the options available to them, as well as a duty to promote sustainability for better health and for better education. The plastic-free periods movement goes a long way to improve young people's lives. "
Sasha Gibson, Deputy Principal, Sinclair House School
"It is the children of today, and years to come, who have the true power to make a difference and 'save' the world. It is therefore our role and responsibility as educators to equip them with the knowledge and understanding of our current climate emergency within our curriculums. Our recent whole-school 'Save the World' Spring Term focus highlighted how passionate our children feel towards supporting a healthier and more sustainable world. Plastic-free period should be implemented without delay."
Find out more
Find more information here about how to order products, what is on offer, your responsibilities, how to make products available, how to promote the scheme and relevant case studies. If you have any problems or struggle to reach Phs, you can phone them at: 01827 255500 or email: [email protected].
We hope that this scheme, alongside our education program Rethink Periods (and all the other great work going on in this area) helps to reduce stigma and shame around periods, shine a light on period poverty, protect our planet and promote equality.
Please follow and like us: