3 Billion products saved
with Mooncup
3 billion disposable tampons and pads saved from our beaches, oceans, and landfill by Mooncup® users
36,000 tonnes of period waste, a weight equivalent to that of 180 blue whales, has been diverted from the waste stream, thanks to millions of Mooncup users who have chosen a more sustainable way to manage their periods.
Little did Brighton mum Su Hardy know, that the company she had founded in 2002 would go on to have such an impact on our world. Much has changed since Su founded Mooncup in her spare bedroom twenty years ago. Firstly, there is now a third category on the supermarket period aisles: reusables. Secondly, over 3 billion single use period products have been saved from ending up on our beaches, oceans and landfill by Mooncup users around the world. That equates to a whopping 36 million kilograms of period waste, a weight equivalent to 180 blue whales or 120,000 bottlenose dolphins. That's enough waste to fill 44 Olympic size swimming pools, or 1.8 million household waste bins.
Not only is our planet better off, but ditching disposable tampons and pads has also saved Mooncup users over £435 million over the past 20 years – that's a whopping 136 million periods taken care of!
Protecting our beaches from period plastic
We're all aware of the need to reduce our impact on this planet. But with such a strong focus on lifestyle choices such as our diet and the way we travel, the environmental impact of small items like menstrual products can often go overlooked. However around 49 billion and 19 billion single-use period products are used each year in the EU and USA, respectively. Recycling used products is difficult and expensive so most of them end up in landfill.
It's estimated that single use period pads, which are known to contain up to 90% plastic, take hundreds of years to decompose. And it's not just the plastic waste to consider – another component of conventional tampons and pads is cotton. The production of conventional, non-organic cotton accounts for one sixth of all pesticides used globally.
We're so proud of Mooncup users worldwide for helping us to reach this milestone. Over 3 billion fewer items in our environment! Which also means 3 billion fewer products that can be mistaken for food and ingested by our sea birds and mammals. One small change can send out some seriously positive ripples… Just imagine what we can achieve together in the next 20 years!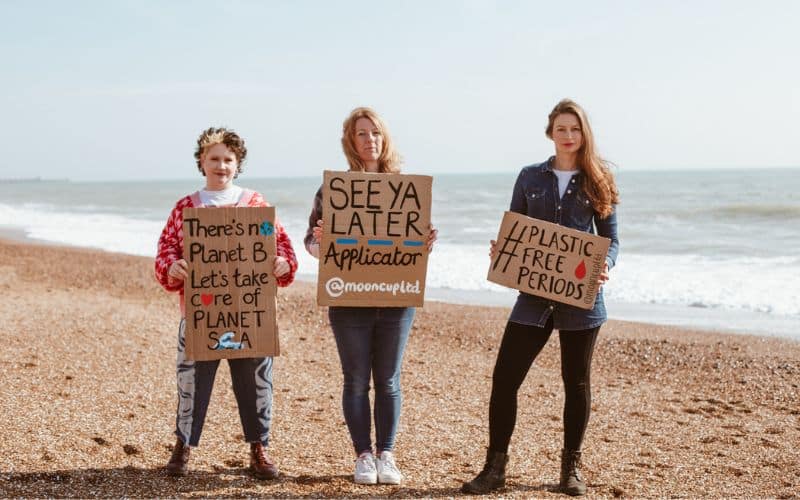 Many are still unaware that there is plastic inside tampons and pads.
A recent survey by City to Sea
revealed that awareness about period plastic is still relatively low. Almost two thirds (64%) of the people polled were still unaware that disposable tampons and pads contain a significant amount of plastic in the products themselves – that's beyond the visible plastics of wrappers, backing strips and applicators.
Plastic in our period products comes as a shock to many. Mothers often pass down their period product of choice to their daughters. Period education in schools varies hugely and is sometimes even run by a brand ambassador of one of the multinational tampon producers.
We know that decades of stigma, shame and miseducation around menstruation is causing period poverty. But it's also preventing people from receiving proper education about what is happening in their bodies. They are unaware of what's normal, which products they can use to help manage their periods and how those products might impact the environment. This is why we at Mooncup are investing in comprehensive period education resources, which will be available for any teachers in primary and secondary schools this coming school year. The Mooncup is also available for free in schools and colleges in England as a part of a Period Equality scheme.
Sustainability as standard
Putting an end to the menstrual product waste found on our beaches has been at the heart of what Mooncup stands for since we started in 2002. It seems incredible that this was now twenty years ago. Since then, of course, the Mooncup secret has spread like wildfire, and the menstrual cup has moved from a 'hippy' alternative to the go-to period product.
As a Brighton based business manufacturing in the UK, protecting our environment, coastlines and seas is incredibly important to us. A recent UN sponsored report compared reusable period product options, such as pads, pants and period cups. The conclusion was that menstrual cups are the most environmentally-friendly way to manage your menstrual flow.
In a year of usage, the environmental impact of a reusable menstrual cup is only 1.5% of impact of disposable period products. And it only costs around 10% of the price.
We know we can't change the world with a Mooncup®, but we have done our best to create a product and way of working that alters the perspective of everyone that it touches, even just a little.
The Mooncup menstrual cup is available to buy online at www.mooncup.co.uk or through retailers such as Boots and Holland & Barrett.