Collins Dictionary recently announced "single-use" as its word of 2018, reflecting the surge in public awakening about the plastic pollution crisis. With 8—12 million tonnes of plastic entering our oceans every year, leaching toxins into the land, our food and our bodies, serious action has been a long time coming!
With so much going on in the plastic sphere it can be hard to keep up and filter meaningful developments from wishy-washy statements. Here we'll give you a rundown of where we're at with plastic laws in the EU and the UK, in plain English. Get ready for some news worth celebrating as well as a reality check about the challenges we'll be facing in 2019.
Let's start with the EU, which took a significant step forward by introducing the Single-Use Plastics Directive in December 2018. After months of negotiations, the EU agreed on a ban for several single-use plastic items: cotton buds, straws, stirrers, balloon sticks, oxo-biodegradable plastics, plates, cutlery and food containers and cups made from expanded polystyrene – great news!
Side note: You may be wondering what on earth oxo-biodegradable means, and why items made from this type of plastic are being banned. If it's biodegradable isn't that a good thing? The thing is, oxo-biodegradable plastic breaks down faster than normal plastic when exposed to oxygen, but it's still plastic and still breaks down into microplastics! Plus, it's debatable whether they act any different to normal plastics when they're in the ocean.
Extended Producer Responsibility (EPR) schemes required by the EU will mean that manufacturers (including top polluters like Coca Cola, Pepsico and Nestlé) will have to pay for the management, clean-up and awareness-raising measures for several single-use items, including cigarette butts and fishing gear, by January 2023. The same is true for wet-wipes and balloons by the end of 2024. EU countries will also be obliged to reduce post-consumption waste from cigarette filters – the most commonly littered item in Europe – which yes, contain plastic!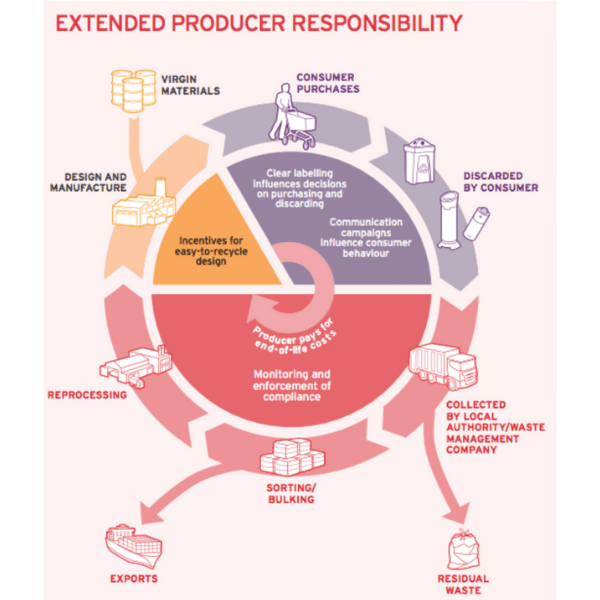 OUR WASTE, OUR RESOURCES: A STRATEGY FOR ENGLAND, 2018
Other steps in the right direction include: product labelling about plastic content, appropriate disposal options and the environmental impact of littering, an option for EU countries to restrict the market for food and drink containers, and an obligation to ensure that by 2030 all beverage bottles are made from a minimum of 30% recycled content.
In December 2018 the European Commission also launched the Circular Plastics Alliance to strengthen the market for recycled plastics. Although prevention is always better than cure this alliance could be a positive step for making the most of all plastic currently in circulation and reducing littering.
The EU expect this Single-use Plastics Directive to reduce CO2 emissions by 3.4 million tonnes, avoid €22 billion on environmental damages by 2030 and save consumers up to €6.5 billion.
The EU is the first region to introduce laws to reduce plastic, thanks to the Break Free From Plastic movement, the open hearts and minds of certain EU officials, numerous other environmental campaign groups and consultancies, and everyone else involved in making this happen. This all feeds in to the EU's wider Circular Economy Action Plan which was adopted in December 2015.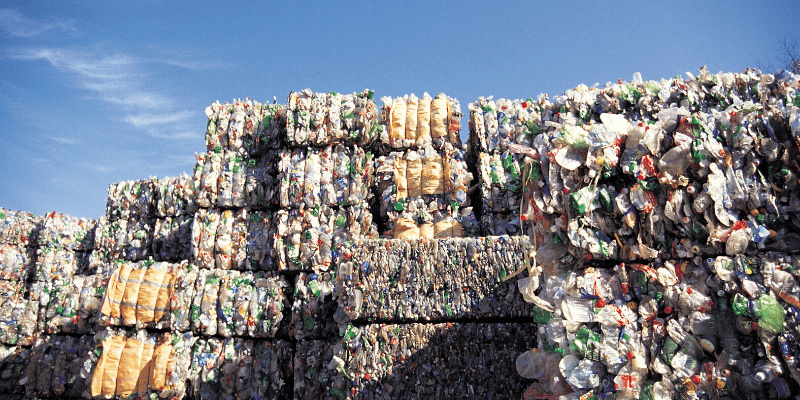 Now for the not so good news about the EU plastics legislation… Weakened by plastic industry lobbying, legislation to reduce the consumption of food containers and cups is non-binding and vague. Rather than obliging EU members to commit to EU-wide targets and deadlines, it has been left up to national governments to "significantly reduce" consumption, with a hope that they will be ambitious and follow through. In this same vein, countries can choose to achieve reduction and Extended Producer Responsibility goals through voluntary agreements between industry and authorities. Will national governments step up to the challenge and will they do it fast enough?
We also saw a 4 year delay (2025 to 2029) in achieving a 90 percent collection target for drinks containers, and a 3 year delay (2021 to 2024) in making sure that plastic drinks containers have caps/ lids attached. What are they waiting for?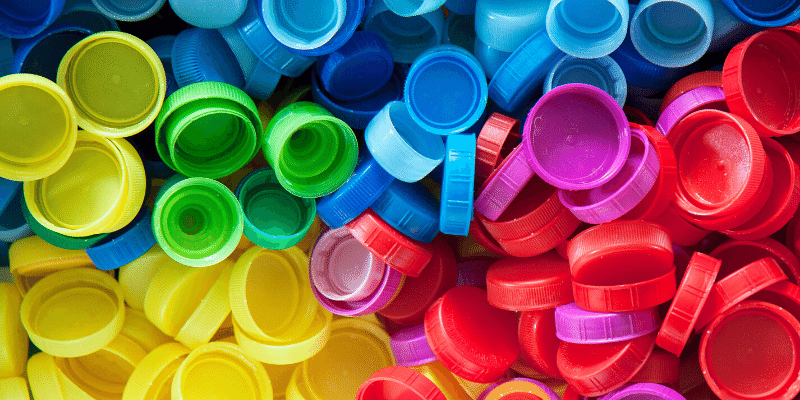 WHAT'S HAPPENING IN THE UK?
Now moving onto the UK government – which has a 25 Year Environment Plan, pledging to leave the environment in a better condition for the next generation. The concept of safeguarding the planet for our children has historically been referred to as 'the Children's Fire' and it enabled our ancestors to live in relative balance with the natural world. Decision making around this concept is vital if we're to shift from our current, wasteful system to a nourishing, closed-loop economy… so is the government backing up this statement with action?
THE RESOURCES AND WASTE STRATEGY & EPR
Last year the UK government drew up The Resources and Waste Strategy to 'become a world leader' in preserving resources, moving towards a circular economy and managing waste safely. Under the 2018 strategy the government aims to oblige retailers and producers of packaging to pay the full cost of collection and recycling, with penalties for packaging that's difficult to recycle – like black plastic. Hopefully you're sitting down for this next fact… at the moment 90 percent of recycling costs are covered by the taxpayer (that's us!) whilst businesses pay just 10 percent!
Extended Producer Responsibility (EPR) moves responsibility from the consumer to the producer, encouraging suppliers and retailers to seriously reconsider the materials used and the lifecycle of their products. This tool is really vital in catalysing a shift away from plastics and other harmful pollutants, towards sustainable, non-toxic materials. It's unclear whether EPR alone would prevent waste but in combination with a tax/levy on single-use plastic, modulated fees on varying materials and a deposit return scheme for bottles and cans, we could see real changes in consumption and waste habits. It's great to see EPR finally on our government's agenda!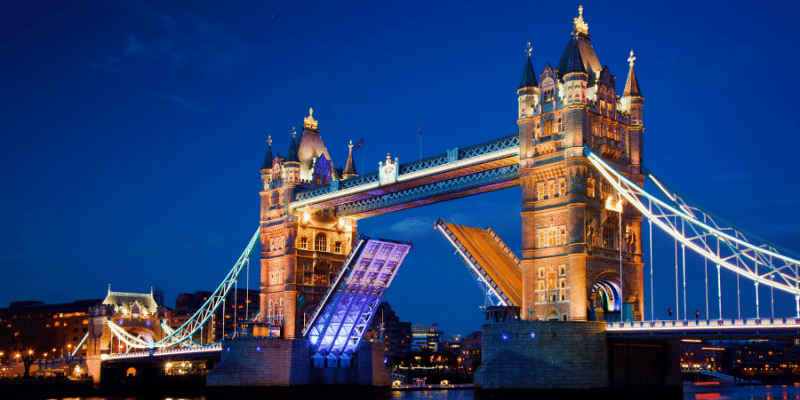 SO WHEN IS THIS ALL GOING TO HAPPEN?
In a similar fashion to the EU legislation around food containers and cups, the waste strategy is very vague with relaxed- or no deadlines. There's a considerable amount of language like 'consider' and 'try' in the strategy, and the EPR plans are still reliant on a forthcoming consultation which leaves policies open to being watered down and delayed. Germany, Belgium and the Netherlands have already got EPR systems in place and the Scottish government plan to introduce a deposit return system by 2020. Packaging producers – who will pay for the DRS system – want it to be UK-wide but English government have moved the target from 2018 to 2023, showing a real lack of ambition and urgency about reducing resource consumption and pollution.
At the end of 2017 we at City to Sea launched a petition calling for a single-use plastic levy at the point of sale for single use straws, coffee cups, pint cups, takeaway containers and cutlery, in order to see change around consumption behaviour across the UK. People seriously re-think their buying habits when they have to part with hard-earned money, and the 5p bag charge proved that even small levies are enough to seriously change habits. Nearly a quarter of a million people signed our petition, filling us with optimism and enthusiasm!
In mid-2018 the government ran a consultation on a plastic tax and received a record number of citizen responses, with one third of respondents having also signed our petition (thank you, thank you, thank you!). Despite a loud and clear display of public support for a levy or tax on avoidable single-use plastic, the government did not take any action. Instead, they will run another consultation in four years time about taxing manufacturers on the production of single-use plastic with less than 30 percent recycled content. We felt this move to be extremely weak and unacceptable in the face of public demand.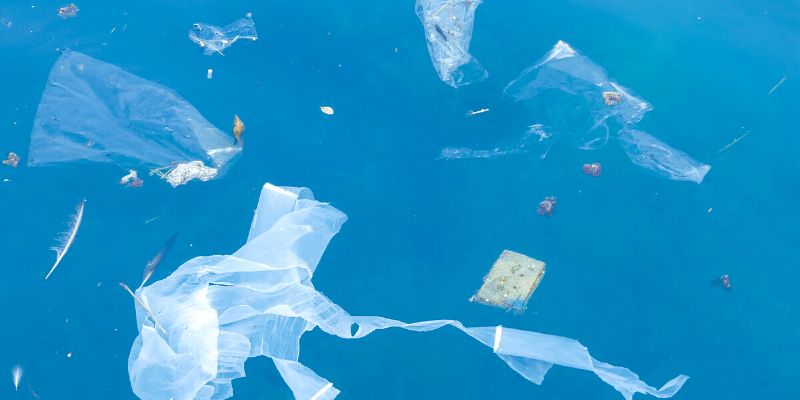 RECYCLING & BIO-PLASTICS
More encouragingly, the Waste Strategy should legislate for UK-wide recycling specifications on materials, requiring all local authorities and waste operators to operate consistent, high-quality collections, including food waste. Currently bioplastics are not an option because there is such limited infrastructure to deal with them, but should the Waste Strategy legislate for industrial composting facilities UK-wide they may become a viable alternative to petroleum-based plastics.
UK government and the EU 'want to be ambitious' but with scientists warning that we have just 12 years to tackle climate change, the most recent developments lack immediacy and concrete action. Proposals must now translate into policy, and policy translate into action supported by adequate funding and resources. Once the UK has left the EU we'll be relying on our government to seriously step up and be held accountable to their pledge to leave the environment in a better condition for the next generation.
AS FOR THE REST OF THE WORLD…
In July 2018 the UN Environment and World Resources Institute found that 127 countries had implemented some form of policy for plastic bags and 23 had established some form of deposit-return system. 2018 also saw: the UK's first National Refill Day for keeping Britain hydrated and preventing pollution from plastic water bottles, investment firm Circulate Capital raised $90 million to invest in waste collection infrastructure in Southeast Asia, two Australian supermarkets prevented 1.5 billion bags from entering the environment in three months by introducing reusable bags, and the Walt Disney Company announced that single-use plastic straws and stirrers will be banned at nearly all its theme parks by mid-2019.
There's a lot of great movement happening, but we still have a long way to go. Knowing that there are so many individuals out there like you, like us, all wanting change, fuels the fire in our bellies to keep keeping on, to fight the good fight. And we hope that you, as part of that community feel the same and continue to lead the charge in your own home, office, town and countries!
'Never doubt that a small group of thoughtful, committed citizens can change the world; indeed, it's the only thing that ever has.' – Margaret Meade