Baba+Boo reusable nappy review
A day in the life of a reusable nappy – Baba+Boo review
Back in the summer, we asked our two locked down buddies Becky (age undisclosed) and Efia (aged 20 months) to road test our new partner, Baba+Boo, and their reusable 'Waves' nappy. They rose to the challenge and really put these products through their paces… here's their Baba+Boo reusable nappy review.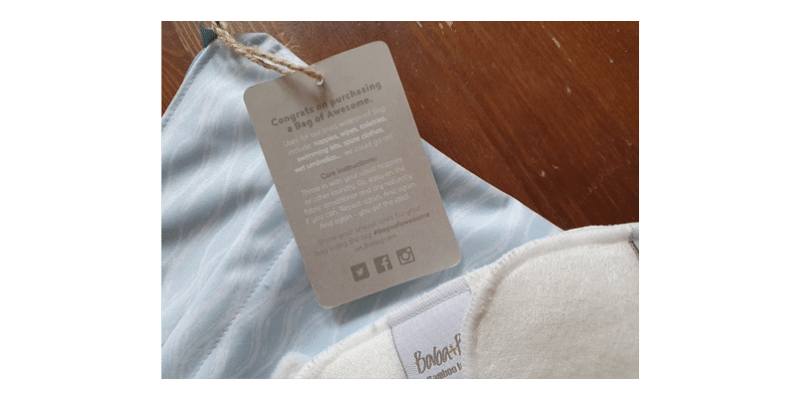 I admit, I never felt the sense of guilt sticking a nappy in the bin in the past with my eldest child, but this time round I feel differently, and I want to make positive changes.
The Baba+Boo Waves reusable nappy came in such nice packaging and felt high quality. The look and feel of the fabric is great and the fleece lining is nice and soft – lovely on a baby's bum! Loved the message on the tag too. We were initially unsure about having just two pads and one nappy, but it's certainly a great way to check fit and durability before investing.
I was excited to try these out because I had some existing concerns about reusable nappies to explore
What if they do a poo and there's nothing to stop it, and it ends up spoiling the pants over time? How will it feel on hot sweaty days (even though we don't get too many of those)? At 20 months old I'm not sure how much wear we would get out of them at this point as it looks like my daughter would be at the biggest size already, but I'm very excited about the idea of a waterproof outside to the nappy – no leaks would be amazing!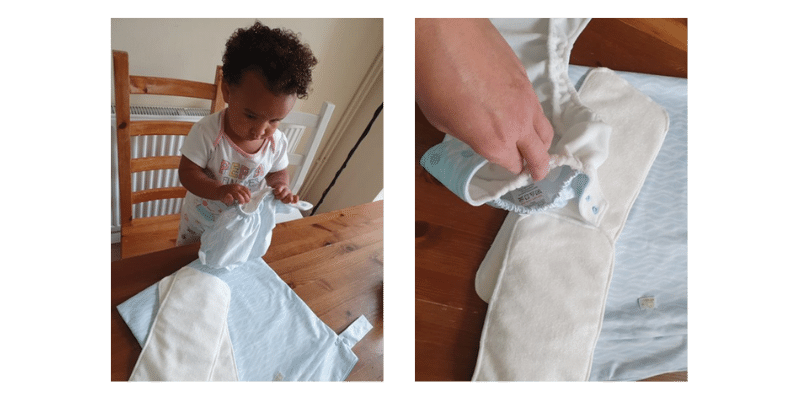 10.30am: Nappy on, having already done her poo for the day, trialling pad #1 which are nice and thick but not too much, so the nappy looks fine under her clothes. The nappy is bigger than I thought, and we used the 3rd set of poppers in. She was happy letting me put it on and wasn't bothered by it at all.
1.30pm: Time for bed so assess the nappy situation. The pad was quite wet but not heavy, no more than a standard disposable nappy. But as she is going to sleep, it needs changing. One pad insert was enough for three hours, it possibly could have gone longer.
I was surprised how dry her bum was. When you touch the fleece lining that sits against her skin it was dry, despite there being a wet pad the other side. Very clever! It must be some one-way fabric that doesn't absorb fluid. The outside of the nappy was also dry so no leakages.
Night time: After the success of the day, I thought I would give it a try. Hey, what's the worst that could happen? She did wake up wet in the night but it's worth a go to prevent another disposable nappy at night, especially as night-time nappies are the last thing to go.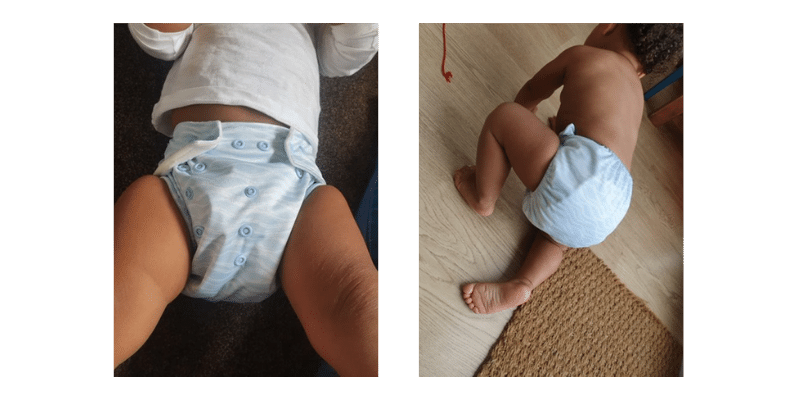 There were no leaks! Hurray! The two inserts were enough, they were wet when I changed them.
On sizing, I noticed when putting the nappy back on that it was quite tight around the top of the thigh, but it needs to be to prevent leaking, and you can adjust the buttons to loosen it. The buttons are adjustable, so I suggest playing with the sizing to get a comfortable snug fit. They also have a Facebook Hangout where parents can share photos of the fit to check if it's just right, or a quick customer service team who are always on hand to help.
One of the main challenges I have found, which applies to all reusable nappies, is getting them washed and dried with our typical UK weather. We don't have a tumble dryer and so we are reliant on the sun. I would need a few more nappies and a storage bin for wet ones. I think as a general rule, 1 or 2 nappies and 4/5 inserts per daytime would be the right amount. You also need to allow for the poops which I didn't have to deal with today…that's a whole other story!
Overall, it was a great experience. I would use them during the day and would try again at night to see if it was just a one-off.
I often use training pants on her for when we are home all day, literally bumming around. The problem with training pants is, one wee and they are soaked. Along with anything else she is wearing/sat on/riding/destroying. I would invest in a few more of these nappies to reduce our use of disposables.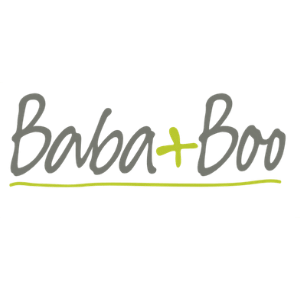 Shop the Baba+Boo reusable Waves nappy
Take a look at the Baba+Boo reusable nappy collection here, 10% of sales from the Waves nappy goes to City to Sea to help our fight in preventing plastic pollution.
We reached out to Baba+Boo to help us with some of our questions
Do you have any specific guidance/recommendations for night time use?
Parents that are hoping to be able to use our nappies at night time tend to opt for the more absorbent boosters, hemp and charcoal. I like to refer to hemp as the King of inserts because they are super absorbent, great for heavy wetters, big toddler wees and of course overnight. Charcoal and hemp together make an awesome team for night time with their ability to absorb so much liquid.
How do I choose the right size nappy for my baby?
When you come to Baba+Boo for nappies, the choice of prints might be plentiful, but the choice of sizes is minimal. This is because we like to keep things really simple and understand the need for nappies to be able to grow with your baby. When we first started out, we only had the one size, which tends to fit from around 10-11lb right up to 35lb. When I had my first baby, I very impatiently waited for the nappies to fit my 6lb baby and it was just too long a wait! Eve then developed the 'newborn' nappies which are suitable from around 5lb right up to 18lb so not quite a newborn nappy, more a 0-6 months nappy as these too, have the ability to grow with your baby with the popper system.
How many reusable nappies and wipes would you recommend for someone wanting to make the switch to reusables full time?
We are very firm with our belief that 20 nappies is enough. That's enough if you're using cloth full time and washing every 2-3 days. With wipes, they are used for different things, hands, faces and other messy places! If you're just using them with nappies then I'd be inclined to get as many wipes as you have nappies, you'll always have some rotating in the wash and you can use them as soon as they come out of the machine, without any real need to dry them.