Period plastic is not a stand alone issue
SOCIAL CONTEXT OF PLASTIC-FREE PERIODS
WHAT IS PERIOD POVERTY/INEQUALITY?
Period plastic is not a stand-alone issue, it is inextricably linked to a whole host of stories that we've been told about periods; stories that have come from advertising, TV, school, parents or someplace else in our culture. These stories involve and often exacerbate aspects of wider society like sexism, racism and ableism. They have shaped how periods are discussed, how products are designed, who they're advertised at, who gets access to the best quality period care, and more.
Here's one example that demonstrates how period plastic is affected by many intersecting societal issues…
When we see period plastic on our beaches or riverbanks it's usually there as a result of people flushing period products down the toilet. So, what are the 3 key reasons for flushing period products?
1. Lack of awareness of how to dispose of period products.
2. Period shame.
3. Disgust around menstrual blood.
If we start to unpick these reasons, they all come down to a lack of proper, progressive period education. Period education informs everybody about periods as a natural, healthy, bodily process, and includes information on the full range of period care products that are out there, and how each needs to be disposed of responsibly.
So why haven't we had this high-quality period education historically? There are many reasons, but we believe that if more people with periods were in leadership positions, periods would have been properly factored into schools, the workplace, media, etc.
Other factors play into the flushing scenario too… How much do plastic-y disposable products cost vs. ones that can be rinsed and re-used? Who has access to proper waste disposal options (there are often no bins in disabled toilets or available to trans people)? Who has power in the media, and reinforces period stigma rather than discussing them as a normal part of everyday life?
Seeing the bigger picture enables our campaigning to work towards change that is deeper rooted, longer-lasting and accessible to all.
"Period poverty is the lack of access to period products, menstrual education, toilets, hand washing facilities, and/ or waste management."
– GlobalCitizen.Org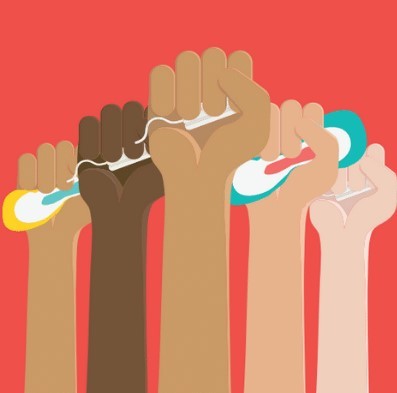 ACCESS TO INFORMATION AND EDUCATION

This is a big focus of our Plastic Free Periods campaign. We work to make information readily available and free to everyone who wants to learn more about periods and period care.
Our Rethink Periods program is a free teacher training program that equips school staff to deliver holistic, up to date, inclusive period education, with the aid of worksheets, lesson plans and demonstration products. PSHE is now mandatory in state-funded schools, so we help teachers to feel confident and prepared to talk to young people about the menstrual cycle, the full range of products (reusable ones too!), the environmental context, period equality, taboos and celebrations.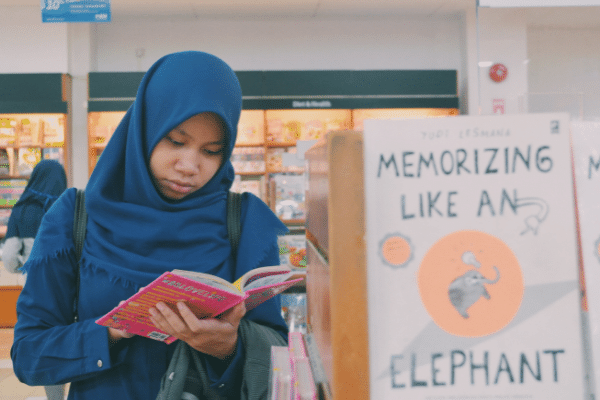 Spread the word about Rethink Periods to your local school or council!
There are some groups who have historically been (and in many cases continue to be) excluded from conversations about periods. These conversations are vital; they go on to affect health, confidence, education, body literacy and more.
We ensure that the language we use around periods is gender-neutral so that we don't homogenise 'women and girls' or exclude trans men and gender-diverse people.
Why language and representation matters
Find out why our Plastic Free Periods campaign is gender-neutral, and reasons for other language choices in our 'People with Periods' Campaign or Natracare's 'Shade of Red' zine.
What is it like to have a period if you're Disabled? In 2021 we worked with members of the Disabled community to conduct research and co-create content tailored to Disabled experiences which have often been forgotten or ignored.
Our research found that two in every five disabled people surveyed were dissatisfied with the period product they use. Of those dissatisfied with their products, 88% are using big-brand pads and 42% using big-brand tampons, both of which contain plastics and fragrance. We don't think this is good enough – everyone deserves to feel confident, dignified and as comfortable as possible whilst on their period! So we worked together to curate an event on 'Periods and Disability', create a Period Product Guide for Additional Needs, and publish a blog piece on trying a menstrual cup when Disabled.
ACCESS TO PERIOD PRODUCTS

At City to Sea we believe that having access to period care (whatever suits the individual) is a human right. In the UK period products cost an average of £4,800 over one menstruating lifetime, so it's unsurprising (but still horrendous) that 60% of menstruating women find period protection products expensive and many people struggle to cover their basic needs.
What's more, by switching to reusable period products people stand to save 94% of what they would've spent on disposable period products! So getting reusable period products (e.g. menstrual cups, period pants, washable pads) into people's hands through schools, universities, community groups, the NHS, etc, can have a huge positive financial impact.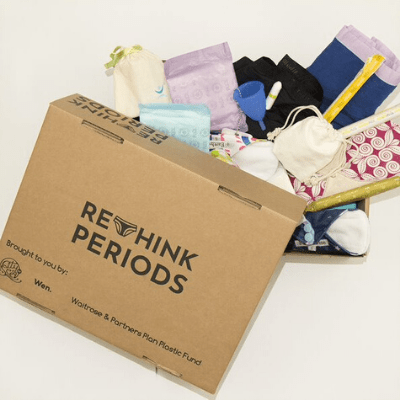 Free Period Products for All
We want to see all countries following Scotland's lead and offering a wide range of period care products, for free, to everyone! Bloody Good Period have a petition calling on the English government to do the same. If you want free period care for all, add your name to the petition here.
Research by Plan UK found the number of young people struggling to access and afford period products in the UK increased from 10% to 30% during lockdown, a heart-breaking figure. But it doesn't have to be this way – in England, all (state-funded) schools have access to Free Period Products for Students. And we successfully lobbied the Department of Education to make sure that this offering included organic and reusable period products!
It's time to Rethink Periods
We engage with 100's of schools through our Rethink Periods program, and strongly encourage all to sign up and make the most of the free offering. Encourage your local school to access this scheme; it's a big step to help address period poverty amongst young people.
Almost half of British people with periods buy period products in supermarkets, yet when we first started campaigning half of the 9 main UK retailers didn't stock a single plastic-free period product. No organic tampons and pads, no menstrual cups, no washable pads, no period pants, nada! Back in 2019 we called on our bloody brilliant supporters to 'become period detectives' and put pressure on local chains to offer more period care options.
Since we started campaigning, and thanks to coinciding work by Ella Daish, Wen and more, we've seen more than 13 new plastic free products introduced across 9 major high-street retailers. There are still a couple of supermarkets who still don't stock any eco-friendly period care but things have progressed quickly, which is vital if we want plastic-free period products to be available to everyone (which we do!).
Support campaigner Ella Daish who's work puts pressure on manufacturers and retailers, calling on them to remove plastic from all period products. Sign her petition here.
ACCESS TO TOILETS, HAND-WASHING FACILITIES AND WASTE MANAGEMENT

In the UK most of us are lucky enough to have access to toilets, hand-washing facilities and waste management (ie. the disposal, collection, transport and treatment of waste). But not all of us – homeless people and refugees who menstruate may struggle to access these basic needs, which makes it incredibly difficult to safely care for themselves whilst menstruating. People living below the poverty line (9.2 million people in the UK) may struggle to afford sufficient water bills for hand washing or washing/sterilising reusable products.
Transgender men and other marginalised genders who menstruate may also be deprived of access to toilets and/or waste management facilities (ie. bins in toilet cubicles) due to gender-based discrimination. Disabled folks often have limited access to toilets and hand-washing facilities in public due to poor infrastructure design.
WaterAid work to provide clean water and decent toilets around the world. Their research shows that 1 in 5 (1.7 billion) people do not have access to toilets.

Make sure every toilet has a bin
We're sure you agree that everyone deserves access to safe, hygienic toilets, hand-washing facilities and waste management.
'Public health depends on toilets. Toilets also drive improvements in gender equality, education, economics and the environment.' – UN Water
Work with your school, university or workplace to ensure that every bathroom has a bin in it, and that there are wheelchair accessible toilets available for those who need them.