CITY TO SEA AND ROBECO PARTNER FOR ANOTHER YEAR
CITY TO SEA IS DELIGHTED TO EXTEND OUR PARTNERSHIP WITH LEADING SUSTAINABILITY INVESTING COMPANY ROBECO FOR ANOTHER YEAR!
Since launching our partnership together in October 2018, Robeco has helped City to Sea to grow our award-winning Refill campaign and raise awareness of the importance of reduce and reuse behaviours amongst their employees and clients. Thanks to the incredible support of partners like Robeco, Refill is on track to prevent 100 million plastic bottles from entering our waste stream by 2019. There are now more than 25,000 Refill Stations signed up and over 250,000 people have downloaded the app.
In 2019 we were delighted when single-use plastic was listed as one of Robeco's 2019 engagement themes. We are pleased this engagement focuses on food and beverage producers, along with the plastics manufacturers themselves. Currently, 95% of plastic packaging material is single-use.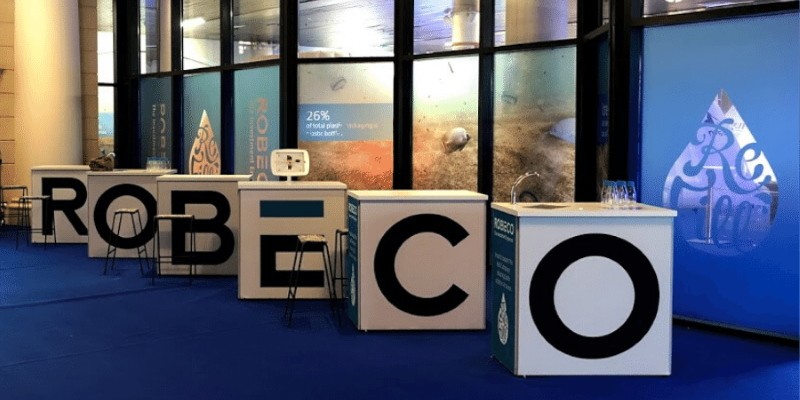 Sustainability investing means meeting the needs of the present generation without compromising those of generations to come – and Robeco are experts at it. As a leader in sustainability investing, Robeco has a long history of integrating environmental, social and governance (ESG) criteria into its investment processes. Over the last year, Robeco has developed bespoke Refill fountains and refillable glass bottles, which they take to industry conferences and events across the UK and beyond. This initiative enables delegates to refill water bottles throughout the day, rather than turning to single-use plastic bottles. To date, the initiative has already saved over 10,000 plastic bottles ending up in our waste streams!
Alongside this, Robeco has also given our founder Natalie Fee exclusive access to speak at high-profile events, reaching over 1,500 investment professionals around the world, who are collectively responsible for billions, if not trillions, of EUR in assets. Natalie has called on them to wake up to the damaging impact plastic is having on our planet and choose to invest more sustainably, sharing City to Sea's mission and raising awareness of our behaviour change campaigns.
Off the back of these events, we were introduced to COOK, who have now joined the Refill Revolution, adding all 90 of their stores and franchises to the Refill app helping more people to Refill on the go and reduce the need for single-use plastic bottles across the UK. Alongside Robeco, we advocate that companies with sustainable business practices have a competitive advantage and are more successful in the long-term and we look forward to growing our portfolio of businesses engaging with our campaigns.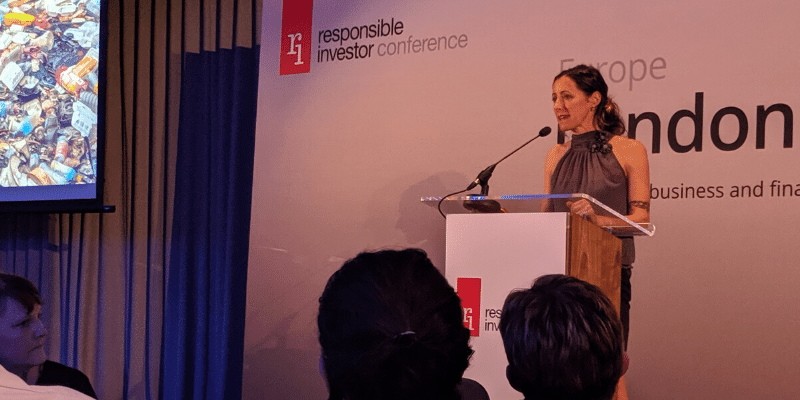 Earlier this year, Robeco put the power in the hands of children, asking schools to create a sculpture that visually highlights the problem with ocean plastics. The winning design, a giant angler fish made of plastic bottles, sat on Bishopsgate with approximately one million people passing it every week, turning heads to the problem of plastic pollution.
Robeco's employees saw first-hand how important the work of City to Sea is, as they spent an afternoon picking plastic out of the Thames. From the various items retrieved from the river, they called on the brands responsible to consider more sustainable options for their packaging, reaching over 40,000 people through social media.
"Working with City to Sea for the past year has enabled Robeco to bring its authentic sustainability credentials to life in a real and tangible way," says Peter Walsh, Head of Robeco UK.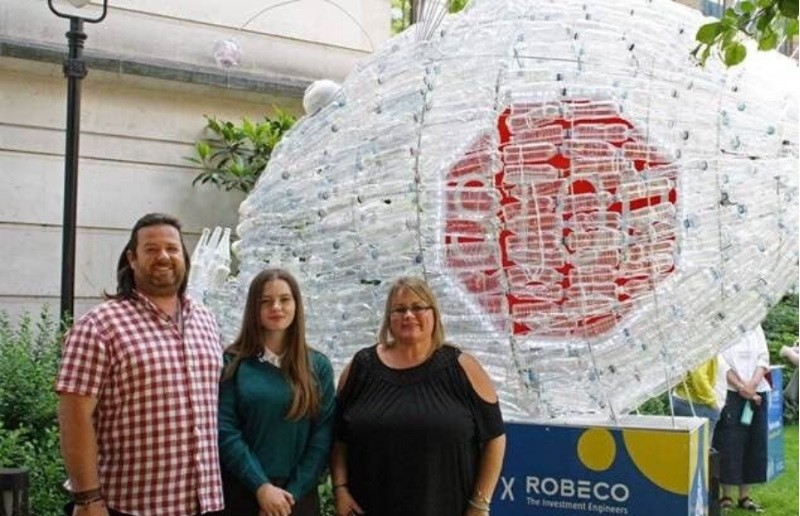 "As a leader in sustainable investing, we are committed to continuing to advance the adoption of environmental, social and governance (ESG) investing across the industry. We've been leading the way with investing in the Sustainable Development Goals (SDGs), active ownership and ESG integration. Together we can have a real world impact on both wealth and wellbeing."
Natalie Fee, Founder of City to Sea says, "We are delighted to extend our partnership with Robeco and continue to drive change across the investment sector. Together, we are influencing and encouraging more people to tackle the problem of plastic pollution by choosing to invest sustainably. Our partnership with Robeco has also helped champion the Refill Revolution, highlighting the simple changes that we as individuals can make to reduce our environmental impact, such as using a reusable water bottle. In the year to come, we will be working with Robeco to highlight other simple swaps people can make, like choosing an ethical pension provider. I'm excited to see the growing impact we will have together as we enter our second year of partnership".