CITY TO SEA WINS PLASTIC FREE AWARD
CITY TO SEA PICKS UP BEST 'REUSE AWARD' AT THE PLASTIC FREE AWARDS FOR OUR REFILL CAMPAIGN
Last week, City to Sea were awarded the 'Reduce & Reuse Award' for our Refill Campaign at the prestigious Plastic Free Awards. The awards, run by Surfers Against Sewage and Iceland, recognise champions from all walks of life. Including young campaigners, community leaders, small businesses, charities, designers, entrepreneurs, sports clubs and schools. All with a shared mission of stopping plastic pollution.
They were presented by environmental journalist and campaigner Lucy Siegal. And judged by a high-profile, expert panel including Ben Fogle, Liz Bonnin and Dr Paula Owen.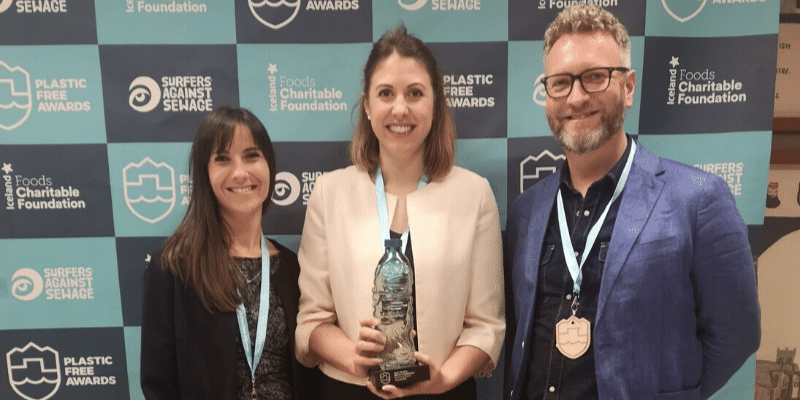 We're honoured to be recognised alongside so many pioneering businesses, not-for profits and individuals who are tirelessly campaigning to prevent plastic pollution. The Refill campaign was selected due to the work we are doing in championing reuse over single-use. And therefore providing practical solutions for some of the worst polluting single-use plastic items.
Refill is on track to have prevented over 100 million bottles by the end of 2019. And we're now expanding to cover more than just drinking water. As a result, you'll soon be able to use the free app to find out where to fill up your coffee-cup, lunch box, groceries and even toiletries and cleaning products. And with more than 250,000 app users we've got the potential to create a tipping point by make refilling the new norm.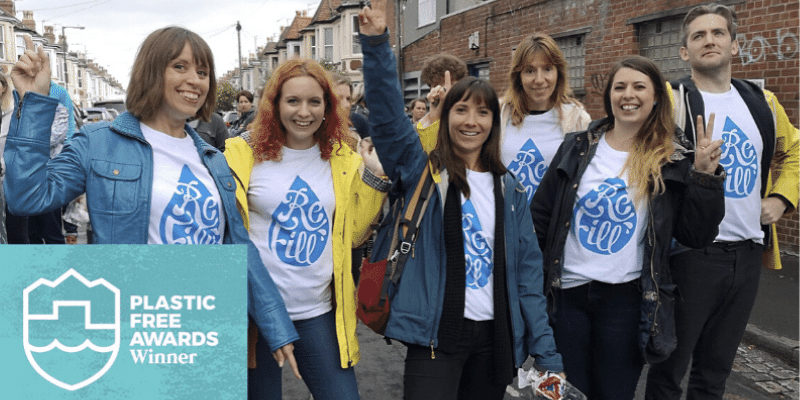 A HUGE THANK TO EACH AND EVERYONE ONE OF YOU!
Refill wouldn't be possible without the on-going support from all of our partners. Including Water UK, Chilly's Bottles and the Welsh Government. And we certainly couldn't do what we do without our incredible community of volunteer led schemes and Refill stations who are the driving force for the #refillrevolution!