INNOVATE TO ACCELERATE
REUSABLE PACKAGING SOLUTIONS
Announcing our new Partnership with Re
Imagine a future where you can take your empties back to a regular supermarket, fill them up with regular everyday products, or even pick up a 'prefill' and drop your empties back for washing and reusing. Wait a minute … that future's here!
We're delighted to finally announce our sparkly new partnership with the 'Re' reuse packaging model. It's a new way for customers to easily buy products in reusable and refillable packaging and is open to all brands and retailers. And it's already been trialled in 19 supermarkets in UK!
The 'Re' model invites customers to return empty packaging with the Re logo to either be refilled or washed and put back into the supply chain so they can be reused time and time again with zero waste … yay! The refill revolution is on its way! The overall goal will be for the project to save over 100 million empty bottles from landfill within three years.
We're EVEN MORE DELIGHTED to also announce today that the UK Research and Innovation's (UKRI) Smart Sustainable Plastic Packaging (SSPP) Challenge has said they are giving £3m to the Re project. This will transform how we can help scale up this project.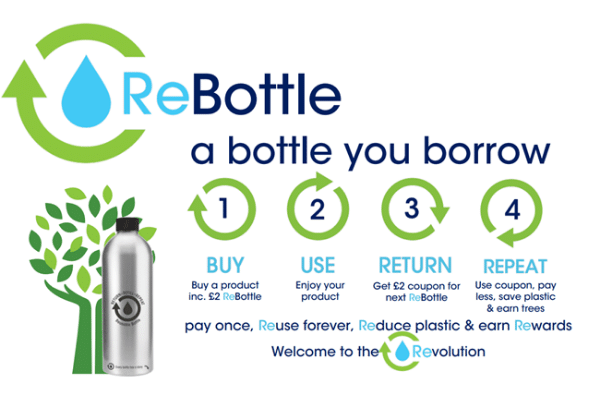 How City to Sea is helping turn the tide on plastic pollution
Teamwork makes for dream work and we're always looking to work cooperatively with other not-for-profits, businesses and government departments. So, as you can imagine we jumped at the chance to work with 'Re'. The business embodiment of what we want to see, a circular economy solution for packaging.
As well as mapping all these new Refill Stations on our Refill app that tells customers where they can find places to eat, drink and shop with less plastic, we're also partnering with 'Re' to make sure their work has the latest behaviour change science underpinning it, as well as connecting our fantastic community of refillers around the UK to their local Re machines. Don't have one near you? We'll be helping you make a pledge to ask for one in your community too!
 The successful trial of the pre-filled and returnable packaging scheme for liquid products has been developed in partnership with the good folk at RBC Group who are experts in logistics and automated retail. All for one, one for all!
You can't talk seriously about tackling plastic pollution without scaling up refill and reuse packaging solutions. Today's announcement of £3 million in UKRI funding will turbocharge our partnership with Re that has already shown fantastic potential for reducing waste and keeping waste out of landfill and our seas.
The 'Re' model was trialled across 19 supermarkets in UK. And (we're not surprised to find out) customers LOVED IT:
We saw a 80% return/refill rate
64% consumers said they would switch retailer to use a refill station
94% consumers said they would shop more at a retailer who had refill stations
95% rated refill station user experience as "Good" or "Very Good"
96% would repurchase from the refill station
If we can see this rolled out to supermarkets across the whole country then this would be nothing short of the refill revolution going mainstream!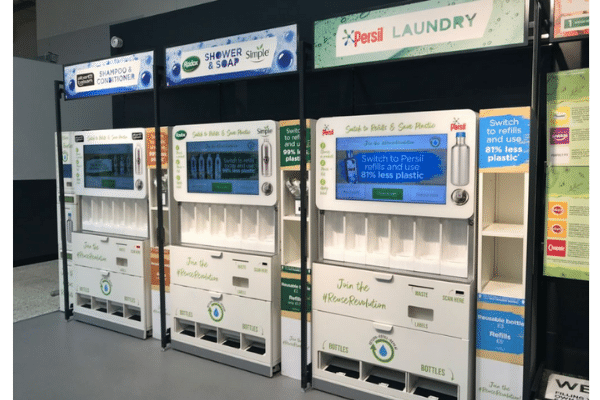 Climate for behaviour change
Plastic pollution and climate change are the flip side of the same coin. A key part of the Re programme includes the innovative, reusable stainless steel 'Smart' Re bottles which customers can track their own positive impact and plastic savings and view the number of times that bottle has been in circulation via a web enabled app, by scanning the QR code on the bottles. Here customers can track the plastic saving, plant trees, earn rewards and monitor impact.
There is a lingering myth that all reusables are more carbon intensive than their single-use equivalents. This is NOT the case the Smart Re bottle. The bottle only needs to be reused once before its global warming potential (kgCO2e. kilograms of CO2 equivalent) is lower than single use plastic packaging.