Making a Splash on the South Coast
To mark the start of Plastic Free July, we spent the day in sunny Bournemouth celebrating the launch of our ground-breaking campaign with BCP Council. Turning the Tide is a new and exciting first of its kind,collaborative project to revolutionise the seafront at Bournemouth, Christchurch and Poole and turn it into a low impact tourist destination.
Bringing our behaviour change expertise to the south coast, we're working with BCP Council to tackle the issue of plastic pollution along its popular 15 mile stretch of coastline, embedding our award-winning Refill campaign and implementing systems of refill and reuse.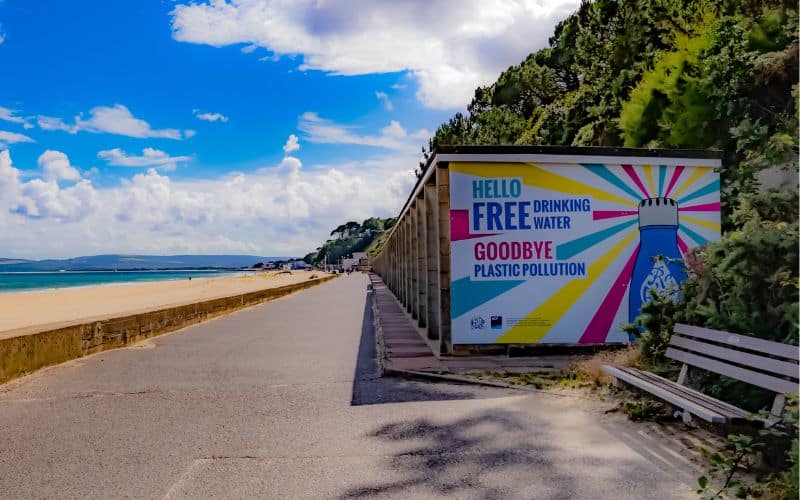 Tapping into solutions to plastic pollution
Free drinking water is now provided at over 150 locations, including 18 seafront kiosks, over 130 existing beach front taps and 15 new 'Hydration Stations', with brightly coloured, fun and engaging signage directing people to refill at them. All 150 water Refill Stations across the seafront can now be found on the Refill app – bringing the total amount of Refill Stations in the BCP area up to 250!
Encouraging visitors to the beach this summer to remember their reusable and refill at one of the now easy-to-find Refill Stations means less bottles of water are sold – and less empty bottles end up on the beaches, streets and in the sea.
Turning the Tide in Bournemouth, Christchurch & Poole
The new Refill Stations and signage were revealed at the launch event on 1 July, along with the unveiling of the incredible Refill Revolution mural by renowned graffiti artist Rick Walker. Transforming the Lifeguard Corps Building along from Durley Chine, Rick's amazing artwork features the Refill X Chilly's bottle and Refill brand and messaging alongside a range of ocean animals.
The perfect visual representation of City to Sea's mission to help connect our actions to our oceans, the art even features a "selfie" area inviting passers-by to pose next to 'I Refill, do you?' messaging.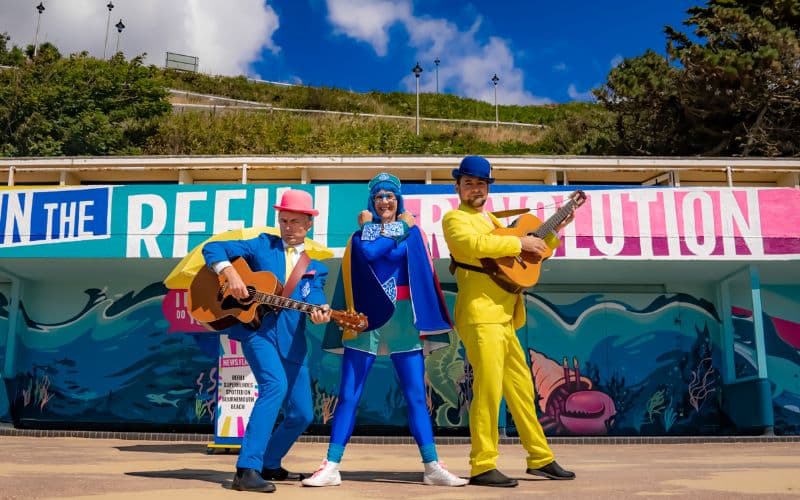 The Turning The Tide campaign doesn't stop at cutting out single-use plastic water bottles though. The 18 BCP owned kiosks that will be offering free tap-water will also be offering significant discounts to anyone who brings their own reusable coffee cups. With an estimated 2.5 billion single-use coffee cups used in Britain a year and only one in 400 cups recycled, two BCP cafes are going a step further and trialling removing single-use coffee cups entirely.
The Sand Piper Café (West Beach) and the Fisherman Walk (Southbourne), are now offering customers hot drinks in "returnable and reusable" cups. Customers will be required to pay a £1 deposit that will be refunded to them when they return the cup, while customers who bring their own reusable cup will still receive the 20% discount.
And there are more innovative infrastructure changes to come with 20 new bins specially designed for cigarette butts. Single-use plastic cigarette filters are consistently in the top 5 items found on UK beaches with the Marine Conservation Society (MCS) finding 385 for every 100m of British beach surveyed.
The new bins will engage passers-by by asking provocative but fun questions that typically split opinion such as "Gravy on chips?" with people given options to put a cigarette butt in either the "yummy" box or "yuk" box. These "ballot bins" have been shown to reduce littering by 46% so we can't wait to see how people vote with their butts in BCP!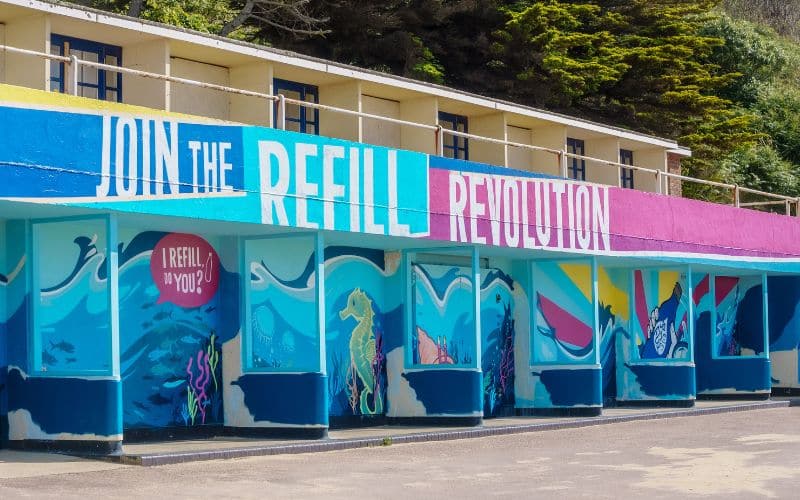 Creating a wave of change
Having launched phase one of this innovative and pioneering new seafront project, we're excited about what's to come and are working hard on plans for the new £2.4million  Seaside Environmental Hub Bournemouth, currently being built. This t will be a thriving, revenue-generating and accessible venue modelling environmentally positive behaviour and systems. A 'Seaside School' education programme will also be run from the building and will provide an education resource for schools and families. More news on both of these projects coming soon, watch this space!
Together with BCP council, we're working hard to see the end to plastic pollution, and we know, through years of running effective behaviour change campaigns, that they need to be positive, fun and engaging. The transformation of the waterfront at BCP this summer with new artwork, performances and, crucially, new infrastructure, means not only will visitors stay hydrated and save money, but they will have a better time and our beaches will be left cleaner.