Have yourself a merry
'plastic-free' Christmas
Enjoy a plastic-free Christmas this year
The countdown to Christmas is on and we're already a little excited. But unfortunately, this time of year brings with it a whole mountain of packaging to contend with. To help, we at City to Sea have (virtually) put our heads together and come up with our favourite plastic-free tips for the festive period, so you can still have your mince pie and eat it too!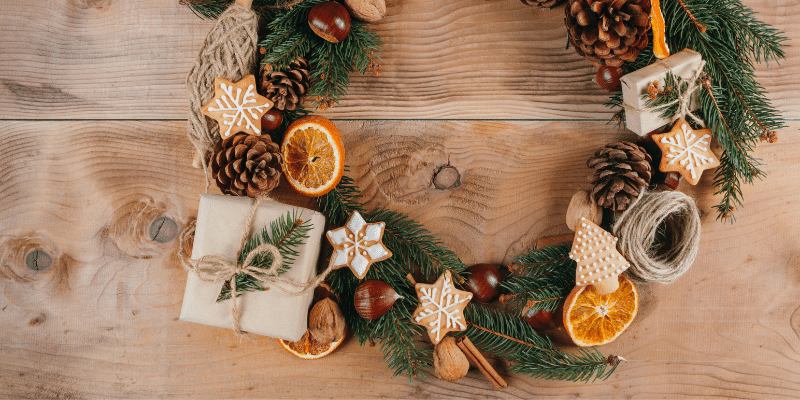 Time to spruce things up!
Forget plastic decorations – decorate your home with hand foraged pinecones or sprigs of holly, mistletoe, fir and pine trees collected on a brisk walk in the park or woods. Collect responsibly and be kind to our trees – we're talking sprigs here not entire branches! Use baubles and other decorations made from plastic-free materials like wood, enamel, wool and clay.
Jazz up your front door by making your own natural Christmas wreath – all you need is a wire coat hanger, some string and bit of patience and creativity. Remember, it doesn't have to be perfect – it will be fabulous because you made it! Dry out some slices of fruit in the oven – orange works really well, and you can also attach things like cinnamon sticks and colourful pieces of ribbon.
If you're buying a new Christmas tree, go for a real, locally grown one. To save buying a new one every year, you can make sure the tree still has roots and keep it in the garden in between Christmases. If you do get one that will die after it's been used, make sure you dispose of it sustainably by either making sure it's composted or in a chipping scheme. Or better yet don't buy a tree, rent one for the Christmas period that way you still have your tree to rock around and then you return it once you're finished ready for it to be rented again next year! Alternatively, you could try and get your hands on a second-hand artificial tree and give it a new home.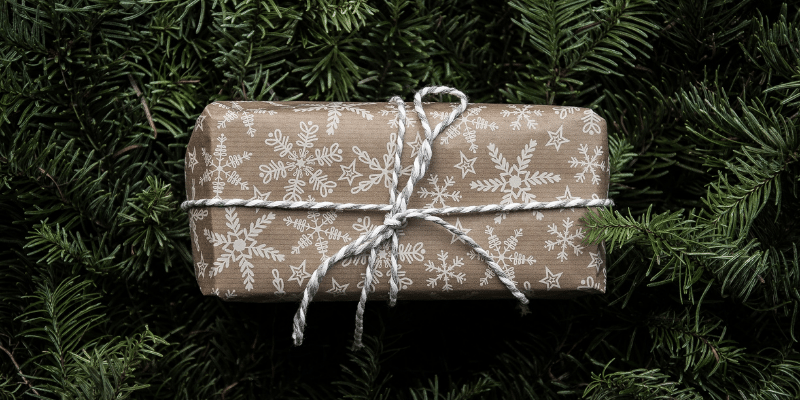 1. Give a gift to the planet & donate in someone's name – Give to the planet by donating to support the work of community groups, charities or not-for-profits. They will be needing your support now more than ever! By donating to City to Sea, your gift will help to directly power our planet-saving campaigns, preventing plastic pollution at source and championing reuse over single-use.
Shop locally! If you really want to buy something, then try to shop locally and from independents (they'll do a mini happy dance inside!). Use the Refill app to find your local zero-waste shop or independent café who will likely be stocked up with a mind-boggling selection of plastic-free treats!
3. Gift an experience – what better way to show someone you care than by giving them a personal gift promise. It could be a fun day out, a romantic evening in (and no we aren't just talking Netflix here), their favourite three-course meal cooked just the way they like, or an at-home relaxing spa day. The possibilities are endless.
4. Regift something you already own but haven't used. Much better for it to have a new home rather than sitting in your cupboard.
5. For the kids, toys made from wood are in! Or you can buy second-hand in charity shops or online. When they've grown out of them pass them on to family or friends or donate them to a charity shop.
6. Online gift ideas If you don't have access to a local shop, here are a few of our favourite online gift ideas this year: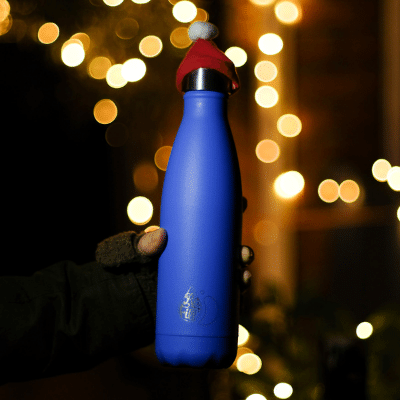 Each year in the UK we send almost 300,000 miles of wrapping paper to landfill after Christmas (enough to reach almost all the way to the moon). To avoid this choose brown paper and paper tape which can be re-used or recycled after use. Or wrap your gift in a reusable cloth or scarf with some natural twine so nothing needs to be thrown away!
As well as going through miles of wrapping paper, we also send a huge number of Christmas cards. It's thought that this year, this will be even higher as a result of COVID-19 restrictions. Rather than buying cards and stamps you could pick up your keyboard and send an e-card instead, they're often free and save paper at the same time. Or alternatively, you could choose ones that are plantable – a card and a gift in one!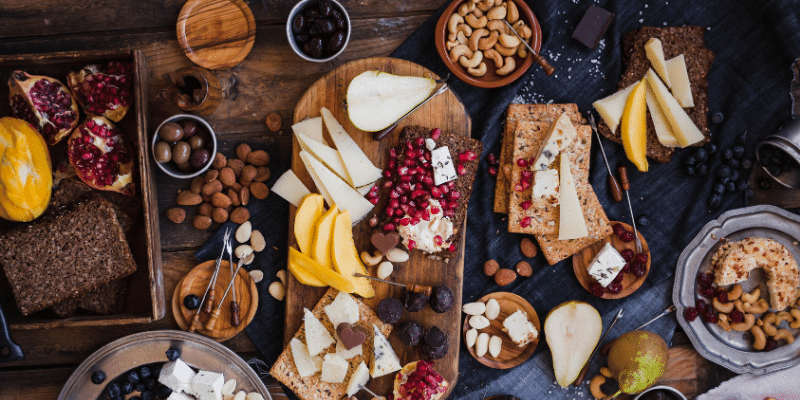 Just pudding it out there
As we all know food waste is a big problem in the UK and unfortunately Christmas is no exception. In 2017, Brits alone are estimated to have thrown away a mind-blowing two million turkeys, five million Christmas puddings, 17 million Brussel sprouts and a staggering 74 million mince pies. And that's just the food…think about all the packaging that comes with it!
By shopping at your local greengrocer, butcher, baker, fishmonger, deli and cheesemonger you can choose the very best produce for the big day and better still bring your own containers for items to be put in, to avoid any unwanted plastic wrap or bags.
Stock up on cupboard essentials, cleaning products, smellies and other items without the pointless packaging at your nearest zero waste shop – you can easily find them on the Refill App. Or order refillable, eco-friendly cleaning products to be delivered to your door – Clean Living have a great range to give all areas of the home that extra bit of sparkle!
Prepping Christmas food ahead of time? Forget the cling film and use reusable wax wraps or bowl covers and glass or enamel containers. The same goes for your leftovers, it will keep all that delicious food fresh ready for those tasty leftover sandwiches (did someone say moist-maker?).
A Christmas table wouldn't be complete without a cracker, but this year why not make your own, that way you can avoid the silly plastic toy no-one wants and include something thoughtful instead, rather than yet another giant plastic paper clip! There are many kits out there which include the cracker, snap, joke and hat – all you do is add your specially chosen gift. Or go one step further and repurpose toilet tubes and make them into crackers, all your need is a bit of paper and patience.
Plastic plates and cutlery, or even paper plates, while convenient are single-use and often wrapped in plastic. Invest in cotton or linen napkins which not only look better but can be laundered again and again. You can also borrow/rent extra cutlery and glassware if you need to.
However, you plan on spending Christmas this year we wish you a very merry one and we look forward to seeing you back here in the new year.
With Oceans of Love and festive cheer!
City to Sea x