Campaign wins and planet-protecting projects

At City to Sea we're on a mission to prevent plastic pollution at source and make it easier for everyone to live with less waste. We believe that to truly tackle the scale of the problem we face, we need to do more than just clean our beaches – we need to turn of the tap and stop plastic flowing into our oceans in the first place. We need to slow down production, we need to reduce and remove unnecessary plastics and crucially, we need to rapidly scale refill and reuse systems.
Driving the transition from single-use to reuse has been core to our work since we started out back in 2015, and we certainly haven't lost our focus. In the last 12 months, we took some pretty big steps to making this a reality, launching targeted behaviour change campaigns, infrastructure projects and powering community action across the UK.
Read on for a roundup of just a few of our campaign wins and planet-protecting projects of 2022 to find how we're changing the world – and how you can join us!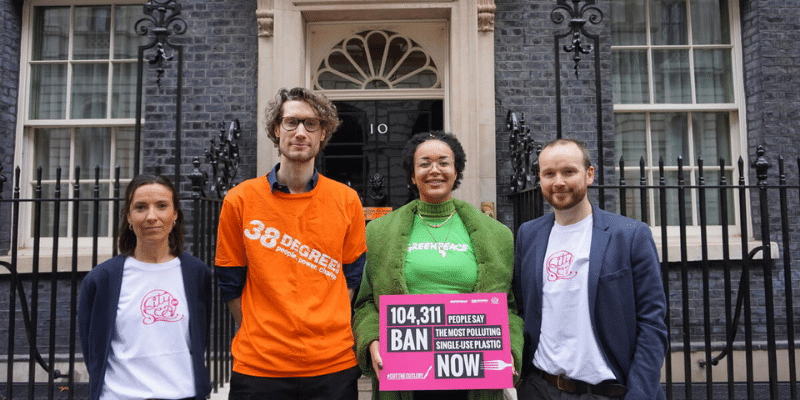 MOBILISING THE PUBLIC AND CALLING ON THE GOVERNMENT TO ACT
Over the last 2 years we've been campaigning to hold the government to account on the most basic of promises – to follow the rest of Europe in banning some of the most polluting single-use plastics. Despite action across Europe, including Scotland and Wales, England failed to deliver on its promises to ban these plastics. We knew we had to act.
In February 2022, we took to Downing Street armed with a petition signed by a whopping 118,000 people – many of whom went on to sign the long-awaited consultation into the ban. After a lengthy delay, the government has FINALLY (in the last month) confirmed that a ban on some of the most polluting single-use plastics will come into force in October 2023.
Whilst this is a step in the right direction, we don't believe the ban goes anywhere near far enough. City to Sea has consistently called for a plastics strategy that sets out ambitious, realistic and achievable targets for the reduction in single-use plastics. We'll be ramping up our work in this area and continuing to hold the government to account – demanding real action and meaningful, legally binding targets.
POWERING A GLOBAL REFILL MOVEMENT
World Refill Day is a global public awareness campaign designed to accelerate the transition away from single-use plastic and towards reuse systems. In 2022 (which was only the second time we've run the campaign as a global initiative), we reached millions of people around the world, centring the conversation and positioning reuse as a solution to the plastic crisis.
Last year's World Refill Day saw activity in 80+ countries and the launch of a targeted digital engagement campaign to call on the big polluters to act. More than 450 organisations signed our global open letter to the CEOs of Coca Cola, Pepsi Co, Unilever, Nestle, and P&G asking them to take action to reduce their plastic footprint and invest in refill and reuse. We generated more than 400 pieces of media coverage around the world and were joined by thousands of everyday activists, celebrities and campaigners who supported on social media, inspiring change and encouraging others to choose to reuse. 
We'll be back again on June 16th 2023 for World Refill Day to show the world that the solutions to plastic pollution are there – and together we can keep our environment, oceans, and communities plastic-free for the future. Will you join us?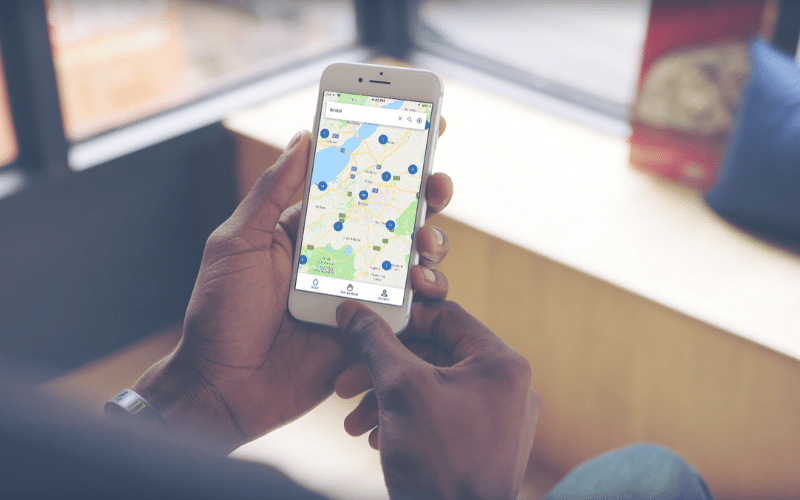 HELPING PEOPLE SAVE MONEY, STAY HYDRATED & PREVENT PLASTIC POLLUTION
Our Refill campaign has continued to grow in 2022, connecting thousands more people with places to eat, drink and shop around the world. The free Refill app has now been downloaded more than 480,000 times (with 90,000+ new downloads in 2022 alone) demonstrating a real demand for refill options from the public. There are now more 330,000 places locations listed on the app when conscious consumers can find everything from free drinking water to zero-waste shops and refill options in supermarkets, and even discounts on hot drinks for bringing your reusable cup.
The impact of the campaign has been massive – the following stats speak for themselves:
86% of Brits report that they are more likely to carry a reusable water bottle and refill on the go as a direct result of knowing about the Refill campaign and app.
Almost three quarters (73%) saying they have refilled their water bottle as a result of seeing the Refill sticker in a café or window.
75% of Refill App users say the Refill app has helped them significantly reduce the amount of plastic they use. 45% of app users NEVER buy bottled water (vs just 9% before downloading the app) & 73% of app users rarely or never buy coffee in a disposable cup (vs 33% before using the app).
77% of Refill app users say using the Refill app has helped them save money.
If all our app users refilled just once a week, we'd save more than 24 MILLION pieces of plastic every year!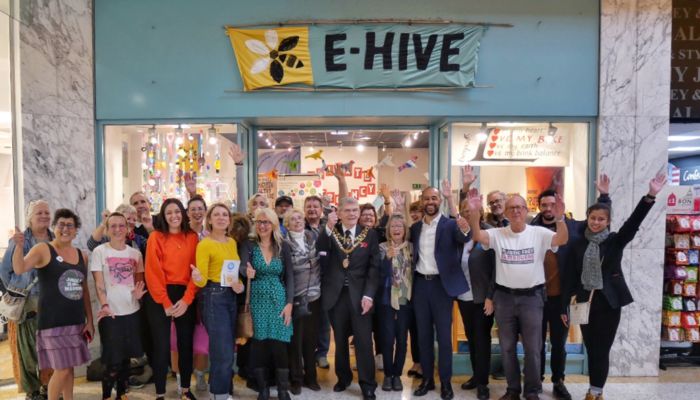 EMPOWERING COMMUNITY ACTION  
Our incredible community of Refill Schemes across the UK has continued to grow after a quiet couple of years as a result of the pandemic, they're back in action and having more impact than ever before! There are now more than 400+ community schemes set up across the UK, 88 of these are run by councils and local authorities with the rest powered by individuals and community groups.
In 2022 we welcomed 32 NEW schemes – covering everywhere from Penzance to Shetland – who have been busy signing up Refill stations, engaging businesses and their local community to tackle waste and scale access to refill and reuse. These incredible local champions have done everything from hosting action days, to launching festivals and art installations, to creating new fountains, and running their own reusable container schemes.
This year, we'll be focusing on supporting our community schemes to have an even bigger impact, launching a training programme and identifying new ways to create change. Looking to make a difference in YOUR community? Get in touch to find out if there's a scheme near you.  89% of our Refill schemes reported that involvement with the Refill campaign has helped them to deliver a positive impact in their community.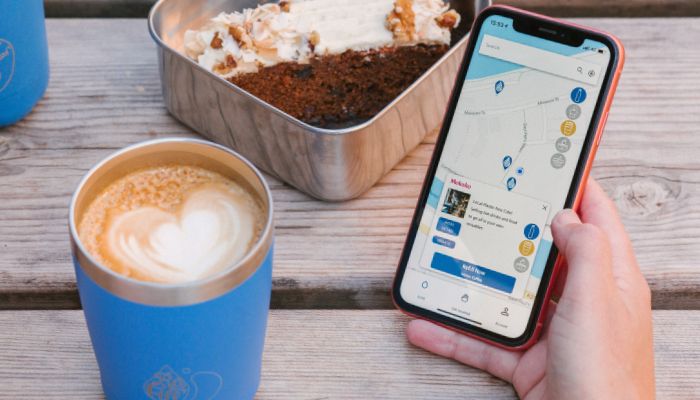 LAUNCHING A RETURNABLE CUP SCHEME
As if that wasn't enough refill and reuse action, last year we decided to launch of own returnable cup scheme, right here in our home city of Bristol. Thanks to funding from the Ecosurity Exploration Fund, we're trailing a 'smart' reusable coffee cup scheme in Bristol. The pilot project aims to provide an accessible alternative to single-use takeaway cups and drive consumer behaviour away from single-use towards reuse.  This scheme, which will launch in early summer 2023, will enable conscious consumers to have their takeaway drink in a reusable cup which they can borrow from participating coffee shops for free and return to any participating outlet.  We will be aiming to drive return behaviour so cups get used over and over again, reducing the use of single use cups in Bristol and saving thousands of cups from landfill, incineration or loss to the environment. Watch this space – it's coming soon!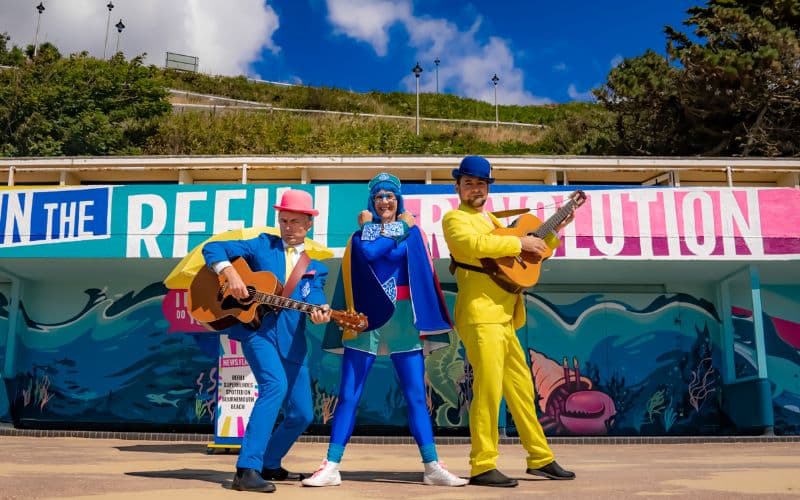 MAKING A SPLASH ON THE SOUTH COAST
We launched an ambitious project working with Bournemouth, Christchurch and Poole Council to transform 14 miles of coastline and tackle the serious waste management issues they faced every summer. Working collaboratively with the council, and key stakeholders in the region, we developed and delivered 'Turning the Tide' – a strategic roadmap for the future.  This ambitious plan outlined a long-term sustainable approach to managing the seafront and creating a vision for how to turn BCP into a low impact tourist destination by reducing single-use plastic on its beaches, embedding our award-winning Refill campaign and implementing systems of refill and reuse.
The project launched over the summer with a series of fun events and creative performances along the seafront, raising awareness of the new brightly signposted 'hydration stations' and water taps that were installed along the seafront to help residents and visitors stay hydrated and prevent plastic pollution caused by the millions of bottles of water bough every year. In July alone, the partnership prevented more than 19,000 single-use plastic bottles alone!
Find out more about the project by watching our launch film here.
EMPOWERING LONDONERS TO LIVE WITH LESS WASTE
This summer we teamed up with the Greater London Authority & Mayor of London, Sadiq Kahn to deliver a strategic behaviour change campaign to encourage Londoners to refilling on the go.
The campaign was designed to tackle some of the barriers and challenges around reuse, building back public confidence in using public fountains again after the pandemic and making sure visitors and residents knew where they can access free drinking water.
The multi-channel campaign included organic and paid social media, a partnerships toolkit that was used by key London stakeholders (including TFL) and an out of home campaign across the city.
The campaign, which took place over the heatwave, reached an estimated 8 million people, resulted in more than 10,000 new Refill app downloads and increase engaged on the app by 88% (demonstrating the campaign resonated with our audience and resulted in our target behaviour).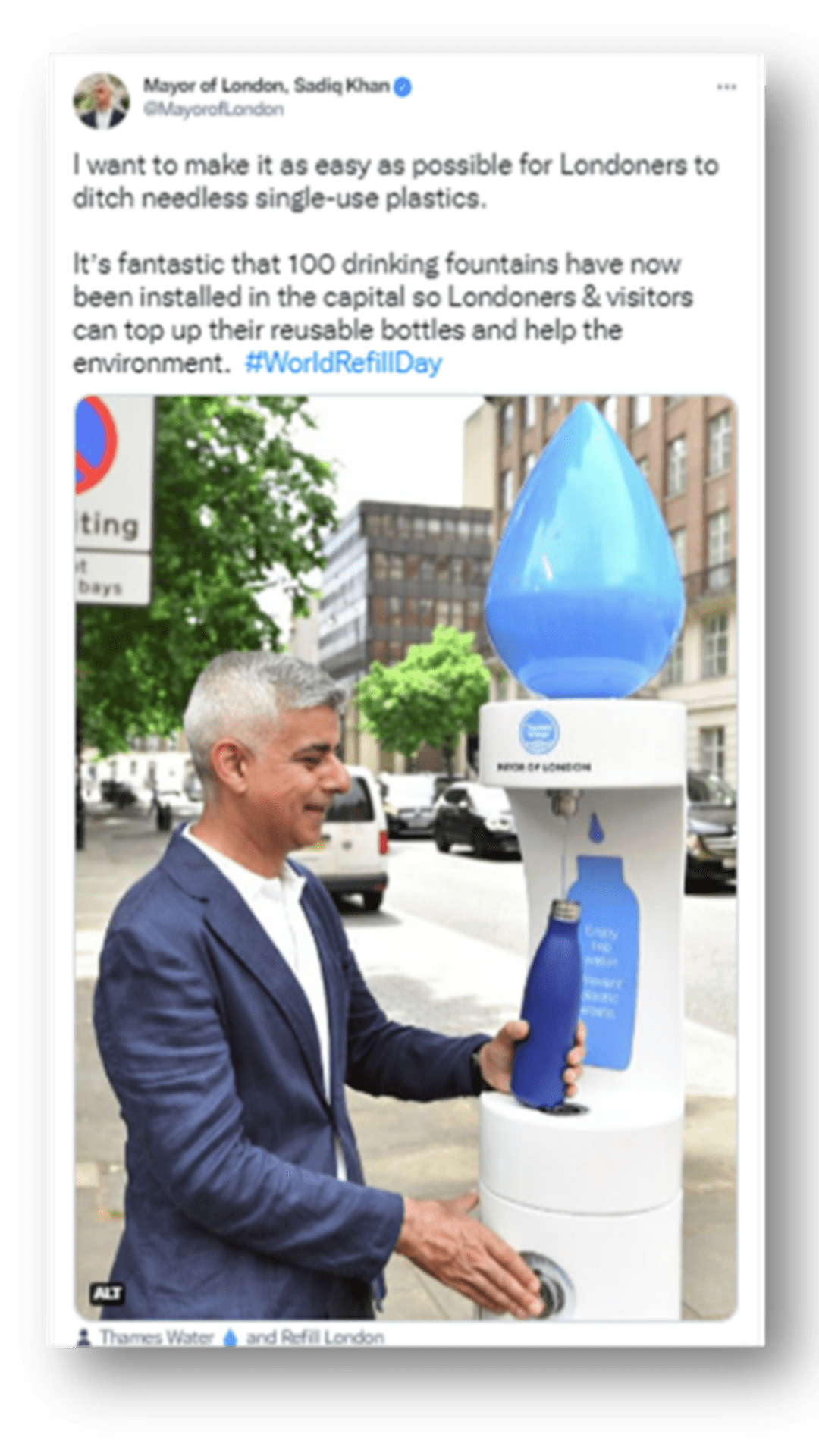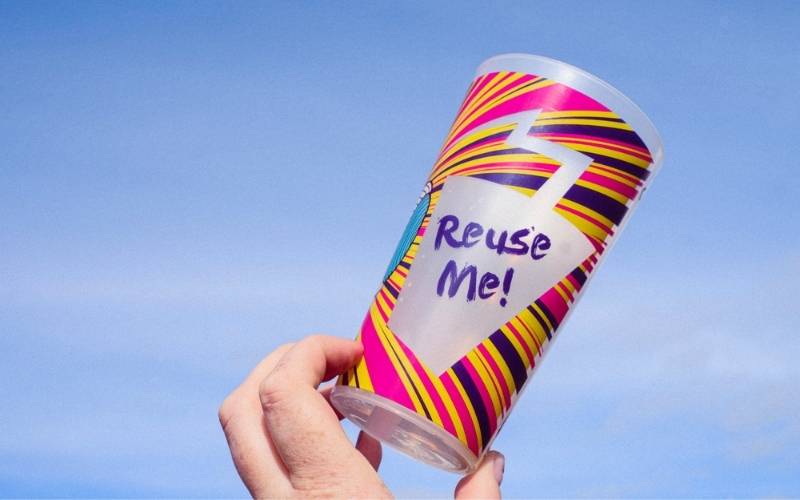 HELPING EVENT ORGANISERS SAY GOODBYE TO SINGLE-USE PLASTIC
Every year, more than 100 million single-use plastic cups are used at UK festivals and live events, and most of these are incinerated or sent to landfill.  To help tackle the mountains of waste created by events up and down the country, we launching our "Solutions on Tap – a Guide to Reducing Waste & Introducing Reusable Cup Schemes at Events." Designed for small and medium-sized events, the guide offers a practical way forward to help event organisers avoid single-use plastics. Full of information and clear advice, it enables event producers to introduce measures like deposit return schemes for reusable cups, as well as busting myths around bioplastics and highlighting some of the existing best practice already happening across the industry.
Over last few months we've been working hard to get the guide into the right hands by engaging with event organisers, councils and our community led Refill schemes and we'll continue to push for change and provide support to event organisers helping to prevent millions of single-use plastic cups every year. Download the FREE guide here or share it with local events in your community.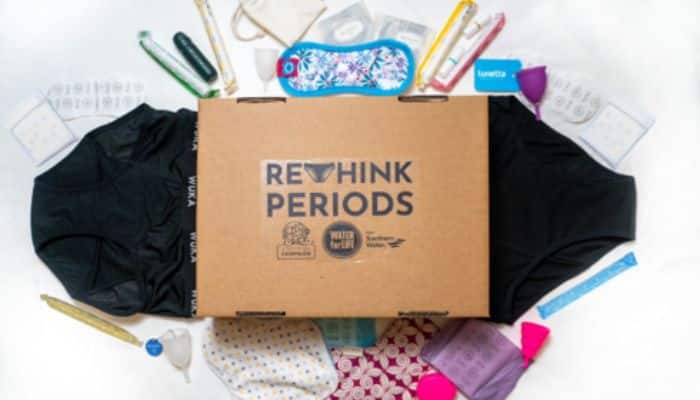 CHALLENGING THE SYSTEM WHEN IT COMES TO PERIOD EDUCATION
Our award-winning schools period education programme, Rethink Periods, entered its third year of delivery, taking the total number of teachers trained to over 1,500 reaching a massive 211,000 young people.
In 2022 we delivered twenty training sessions to teachers and school nurses in Hampshire, East and West Sussex, Kent, Dorset, Devon, Cornwall and for the first time we worked in Wales with all our teaching materials now available in Welsh.
Created by teachers, for teachers, Rethink Periods not only covers the menstrual cycle in an easy to digest way, by also outlines the full range of menstrual products available and delves into the social and environmental contexts of menstruation, dealing with complex issues such as period taboos, inequality and plastic pollution. The programme continues to challenge behaviours and myths with measurable impacts.
Students were three times more likely to try a menstrual cup after the lessons
72% of teachers who, prior to their training, still believed flushing tampons was the correct disposal method are now not only using the correct disposal methods themselves but also educating the next generation of menstruators.
86% of teachers trained have changed their language to make it more gender-inclusive and avoid language that contributes to period stigma.
If you're a teacher, or know someone who is – get in touch to find out about bringing Rethink Periods to your school.
LIFTING THE LID ON THE HIDDEN PLASTIC IN OUR PERIOD PRODUCTS
Our Plastic Free Periods campaign is designed to raise awareness of the hidden plastic in our period products and empower people with periods to make informed choices about the products they use and how they dispose of them. In 2022, we turned our attention to impact this hidden plastic has on our own health and the health of our planet.
As part of Environmenstrual Week, we hosted a bloody awesome panel event with our partners Natracare. We were joined by an incredible panel of experts, activists and specialists in the field, discussing the potential impact of endocrine disrupting chemicals (which are found in plastic-filled period products)  on our own health and that of the planet.
Watch the full event here to get the low down on the potential impact of these toxic chemicals on our health.  If like us, you think it's not good enough that we should be faced with a potential health risk every month then join us and take action here.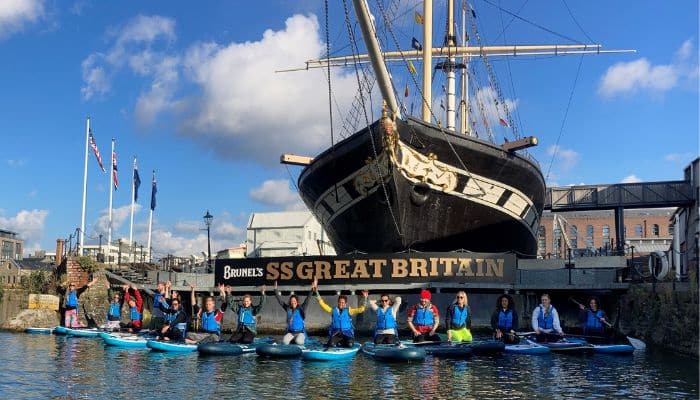 LEADING THE WAY AS AN EMPLOYER
It's been a big year for us organisationally as well as impact wise with some significant changes to the way we operate and how we're looking our team.
In 2022 we officially adopted the 4 day week in the most generous way we could, with full and part time staff all benefiting from 20% less work for the same pay, retention of generous annual leave pot, plus additional pots for carer leave and mental health leave and increased time off for compassionate leave and sick pay.
We're delighted with the thumbs up from our team with our twice yearly pulse survey about all things employee, resulting in an engagement rate of 85%.  We have done so much this year and our benefits package has just got better and now includes a health package with face-to-face counselling and a 24/7 helpline.  We offer internal coaching, media training, behaviour change workshops, creative campaign sessions and even yoga before work!
We're not there yet with our team representing the ethnic diversity of 16% found in our home city of Bristol but we are trying.  We have at least 6% of the team identifying as non-white and this is something we'll continue to invest in and push for.
As we look to the future, we know we've got a big challenge ahead of us – the fossil fuel & petrochemicals industries have got their eyes on the plastic prize and the UK is in the midst of a cost-of-living crisis. The need for meaningful action has never been more urgent. In the UK, 2022 was defined by a year of inaction and delay from government with insufficient legislation being delayed or derailed by political turbulence. Largely unregulated and unchecked, the biggest FMCG corporations continued to grow their plastic problem with the Ellen MacArthur Foundation (The EMF) 4th Global Commitments report showing an increase in plastic use, an increase in virgin plastics, and a decrease in market share for reusable packaging solutions. At the same time, research by City to Sea for World Refill Day painted a picture of a tired consumer base who, despite wanting to make ecologically sound decisions, were increasingly being forced by the cost-of-living crisis into purchasing more, more not less, single-use plastics.
At City to Sea, we remain committed to our mission – to tackle the most polluting single-use plastic items and stop them at source. We're working hard to address the issue upstream, finding practical solutions and designing behavioural interventions to make it as easy and affordable as possible for people everywhere to live with less plastic.
So we say a huge thank you to everyone who's donated, signed our petitions, or shared our news on social media! And of course, to our funders and partners without whom we wouldn't be here today! We couldn't do what we do without your support so thank you all from the bottom of our hearts, and oceans.