We totally understand that making the move from disposable period products to reusable ones can feel daunting. And you probably have a few questions about plastic-free period products. So, we've put our heads together to try and answer the most commonly asked questions so hopefully you'll find everything you need right here. If not, ping us an email and we'll make sure it makes the list!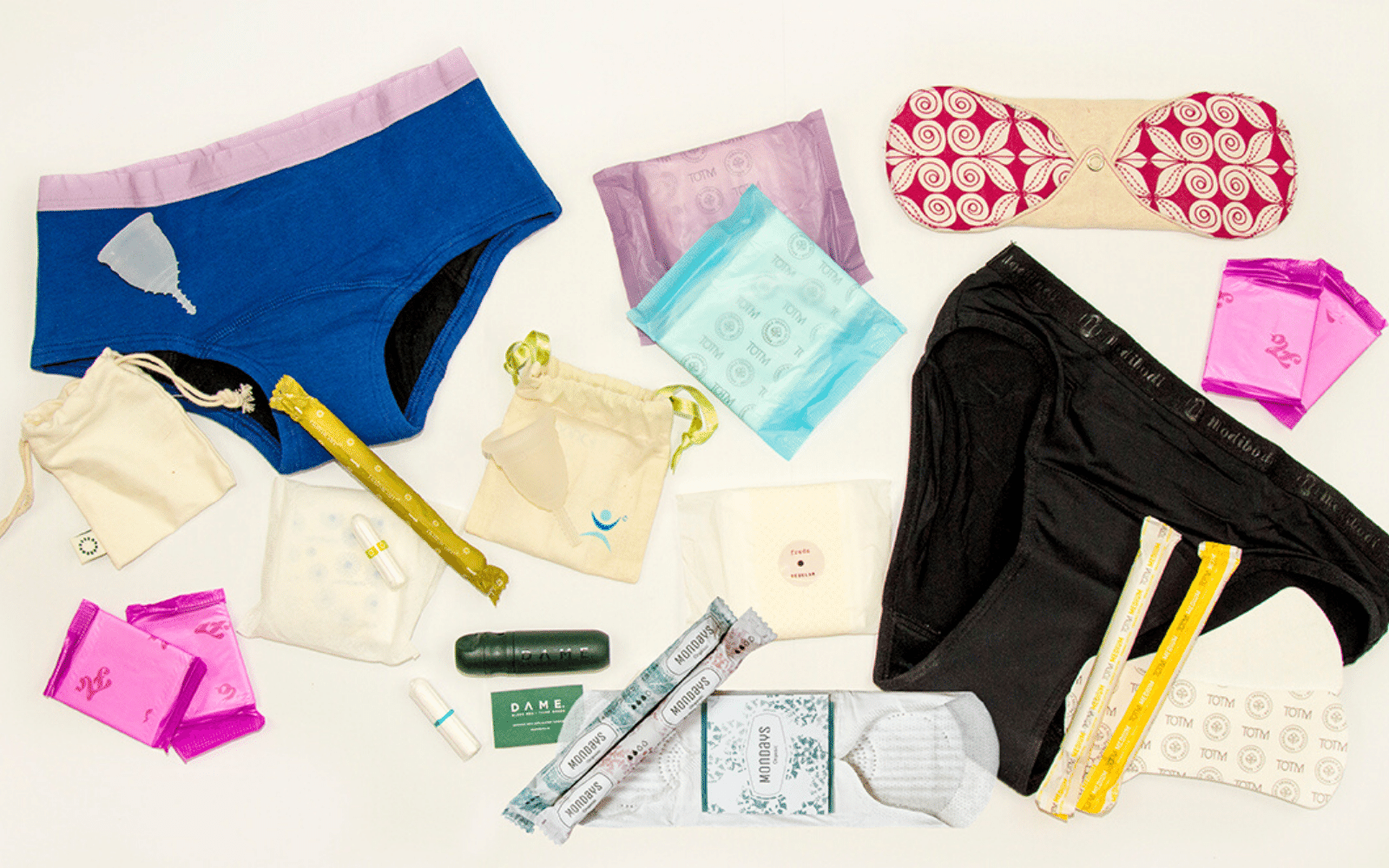 Menstrual Cups
Menstrual cups are soft, flexible cups made of silicone or latex rubber, that you fold and then insert just like a tampon. Instead of absorbing your blood, like a tampon or pad, the cup catches it and you can empty it down the toilet. Menstrual cups hold more blood than your average tampon so you shouldn't need to empty it as regularly as you would change a tampon.  A menstrual cup should last you about 5 years and is perfect for travelling (who wants to carry boxes of tampons and pads around whilst on the move?).
91% of women who tried the menstrual cup said that they would continue to use the cup and recommend it to a friend. Menstrual cups cost £9 - £24.90 and will last you 5-10 years.
Period Pants
Period pants are absorbent underwear that you can wash and reuse again for up to 2 years. Period pants come in a range of styles (including thong style!) and absorbencies. Some have inserts that you can remove and change as you would with a pad. Some people use these in conjunction with the menstrual cup or for overnight bleeding.
A pairs of period pants will cost you between £23 - £31 and each pair will last you at least 2 years.
Reusable Period Pads
Reusable pads are used in the same way that you'd use a disposable pad, but they aren't squeaky or sticky and can be washed and reused again for years! Reusable pads come in a range of sizes, materials and patterns. Some people use these in conjunction with the menstrual cup or for overnight bleeding.
A set of reusable pads will cost you about £10 - £35 and some can last up to 10 years.
Reusable Tampon Applicators
Millions of us prefer to use applicators for comfort, convenience and hygiene, but unfortunately most are single-use, made of plastic and can't be recycled. Every year in the UK we throw away 1.3 billion applicators, many of which get flushed onto our beaches and into our oceans. DAME's reusable tampon applicator offers you all the comfort, but none of the waste. By switching to DAME's reusable applicator, you'll save around 12,000 single use applicators over your lifetime.
DAME is a consumer goods company that believes in less consumption. This is why their reusable applicator is built for the long run. If treated well, it should last for up to 10 years. DAME will replace any part for free should it become worn or damaged. 
DAME's reusable applicator meets the highest levels of safety and hygiene. It is made from medical grade Mediprene with inbuilt antimicrobial properties to keep it actively clean. This means caring for your applicator is easy. After each use, simply rinse under the cold tap and wipe with a tissue or a towel, ensuring it's completely dry. In between uses, keep the lid on and store a DAME cotton zip wallet or bathroom storage tin. 

The antimicrobial elements in the applicator are called Sanipolymers. The Sanipolymers leverage the trace element zinc which naturally staves off bacteria, germs and microbes by at least 99.9%. So without you doing anything at all, the Sanipoymers are continuously working to keep the applicator clean. It's been run through rigorous, independent scientific tests to prove its effectiveness (ISO 22196 and KIS Z2801)

The Sanipolymers are inbuilt throughout the whole applicator not just on its surface. So there's no need to worry about them rubbing off but please remember that antimicrobial Mediprene wasn't made for dishwashers, boiling water or harsh chemical treatment. These will shorten the lifespan of the tampon applicator and compromise its antimicrobial properties. 

The DAME reusable applicator is designed to be easy and intuitive. Like all new things, it might take a few goes to find what works best for you, but you'll soon find your flow.

First of all, we recommend getting to know your applicator. It's made up of three parts: The Lid + The Applicator + The Plunger. 

When you're ready to insert your tampon, wash your hands, remove the applicator lid, unwrap your tampon and unravel the string. 

The applicator works with any standard tampon and there are three different ways of inserting your tampon into the applicator – depending on the size of your tampons, you might want to try a few different ways. 

The String Lock – Load the tampon from the back, threading the tampon string through the small side hole. Make sure the knot on the tampon is pulled tight first.
The Top Loader – Peel back the applicator petal with your index finger and load the tampon from the top. Works especially well for larger tampons
The Stuffer – Push the tampon into the back of the applicator, followed by all the string.
Once your tampon is loaded, insert the applicator into your vagina, with the plunger resting behind the tampon. Push the plunger until the tampon is fully inserted, then gently remove the applicator and plunger, leaving the tampon inside your vagina.