#PLASTICFREETRAVEL CASE STUDY – PREMIER INN
HELPING TRAVELLERS TAKE A BREAK FROM PLASTIC
We believe hotels can play a vital role in helping people travel plastic-free. Our partner Premier Inn is the UK's largest hotel brand, with more than 76,000 rooms and over 800 hotels across the country. It's doing some great things to reduce plastic pollution & we hope that others will be inspired by its leadership across our four key areas of best practice: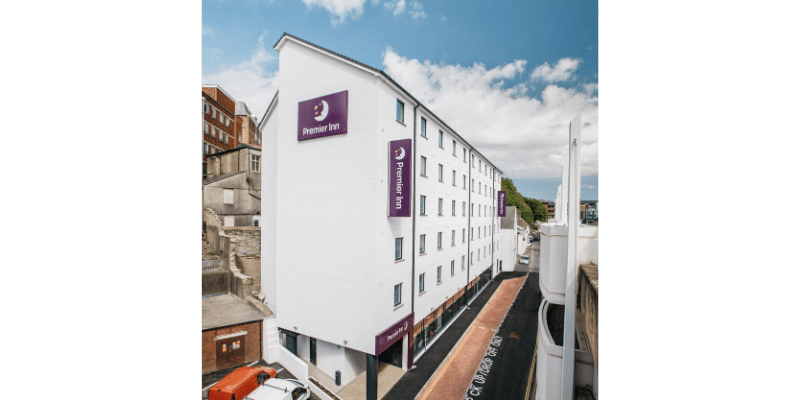 1. Being on track to meet the EU Single-Use Plastic Directive in 2021
Premier Inn recognises the issue of plastic and packaging across the value chain and has been working to reduce it.
It has already removed all single-use plastic straws from its hotels and restaurants, eliminating over 10 million pieces of single-use plastic in the process. Premier Inn has also removed all single-use plastic stirrers from its hotels and restaurant brands, together with plastic cutlery from its dine-in restaurant brands.  By inviting customers to dine in at their restaurant brands, they also avoid unnecessary plastic by using crockery instead of takeaway food containers.
Yvonne Mason, Environment Manager says: 'We are currently measuring the amount of plastics and packaging used across our supply chain. This will allow us to identify possible alternatives and understand where we can make the most impactful change to remove avoidable single-use plastic from our business.'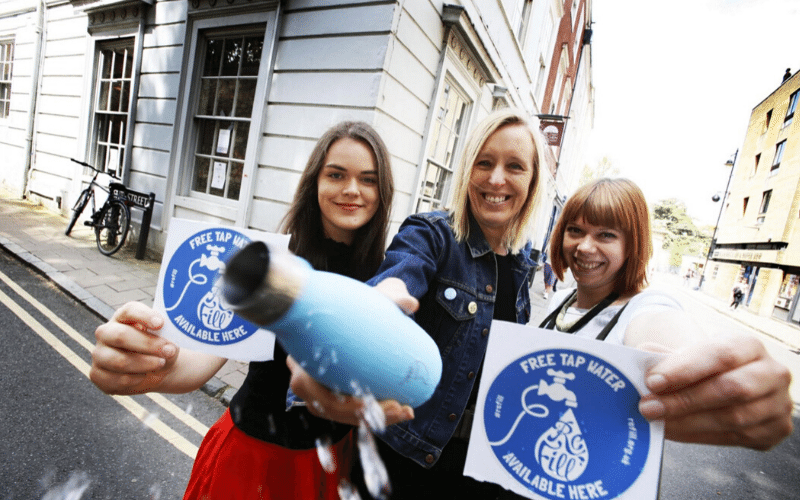 2. Signing up to the Refill app & not offering plastic bottled water in rooms.
Whitbread's 800 Premier Inn hotels (excluding their 10 'Hub' branded hotels) are signed up to the award-winning Refill app & have a policy of not offering plastic bottled water in guest rooms. The commitment to Refill means customers & members of the public can ask the team for their reusable water bottle to be refilled.
As a natural next step, Premier Inn decided to go above and beyond by issuing all new starters with a reusable bottle in Premier Inn, adding to the 6,000 reusable bottles it had already distributed to its operations & support centre staff.
Rosana Elias, Head of Sustainability at Whitbread PLC says: 'By offering all staff a reusable bottle we can ensure we're a Force for Good for our teams, promoting positive behaviour change and reducing single-use plastic waste at work and at home.'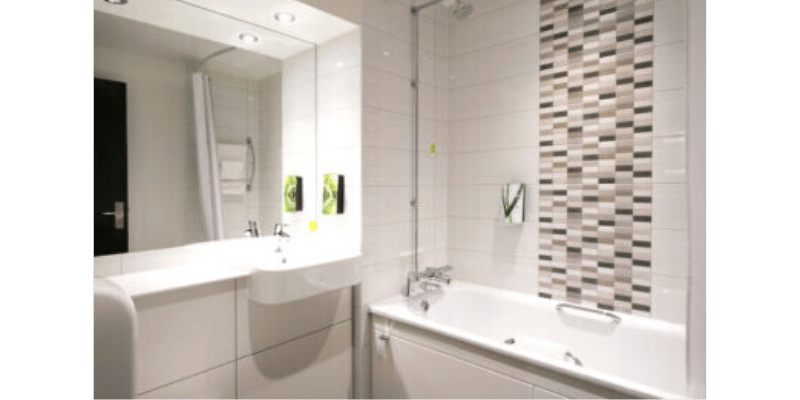 3. Using refillable dispensers in bathrooms
Research commissioned by Direct Line Travel Insurance in 2018 estimates that each year British tourists throw away over 43 million travel minis.
Hotels can ensure they aren't adding to this problem by providing guests with toiletries from refillable dispensers instead of miniature plastic bottles.
Premier Inn has been leading the way on this from the outset, fitting rooms with dispensers to cut soap waste as well as plastic pollution.
4. Inspiring guests/staff to prevent plastic pollution via comms & marketing activity
Premier Inn regularly updates its teams across the country on its Force for Good initiatives and how it is progressing against nine commitments, including relevant projects, such as Refill. Premier Inn has also actively promoted Refill externally across its social media channels, most recently supporting us with content for LinkedIn on National Refill Day.
WHY IS THIS ISSUE IMPORTANT TO PREMIER INN & THE WIDER HOTEL INDUSTRY?
Premier Inn recognises the serious environmental concerns over the use of single-use plastic in the hotel industry and the impact it can have on communities. Rosana says: 'We have to act now to address this and as the UK's biggest hotel business and one of the UK's biggest employers, we recognise our responsibility and opportunity to drive and support this action.
'By supplying our team members with the means to reduce their own personal use of single-use plastic and by working to continue to reduce the amount of avoidable single-use plastic our guests and customers use as part of their brand experience, we can have a positive impact.
'As we move forward, we recognise the challenge of interrogating our supply chain and working to understand how and where single-use plastic is used. We're committed to working together with our suppliers to drive innovative solutions to reduce our environmental impact and are excited to see how much more of a Force for Good we can be.
'It's one step at a time, but we have a clear goal and we urge other hotel businesses to follow suit – the more of us who are willing to make a change will only make the transition to a single-use plastic-free world more attainable.'
What's next on plastic for premier inn?
Yvonne says: 'We're dedicated to reducing our impact on the environment and whilst we already recycle all recyclable packaging and divert 100% of our waste from landfill, we know there is more to be done.
'We are currently reviewing our entire value chain to map plastics and packaging across the estate. We're working closely with our suppliers to innovate new solutions in line with future legislation and our aim to reduce avoidable single-use plastic across our business.'