Support our Crowdfunder

to

help Bristol break up with

sing

le-use
We're whale-y excited to share our new Crowdfunder campaign launched to support the next stage of the Bristol Refill Return Cup, our city-wide returnable cup scheme helping Bristolians to enjoy their hot drink without the waste. We launched the Refill Return Cup, the first-of-its-kind returnable coffee cup scheme in Bristol, with the aim of helping reduce litter and plastic pollution in our streets, parks and harbour.  
The pilot has now come to an end and we need help to bring it back! 
Our Refill Return Cup is helping keep our hometown free from cup pollution
Since we launched the pilot cup scheme in June this year, it's already saved over 3,600 cups from littering our streets and harbour! We've seen over 700 people sign up to the scheme – were you one of them? 
We know this works – and that the people of Bristol want to move away from single-use towards systems of reuse like the cup scheme. But this is just the beginning, and now we need your help…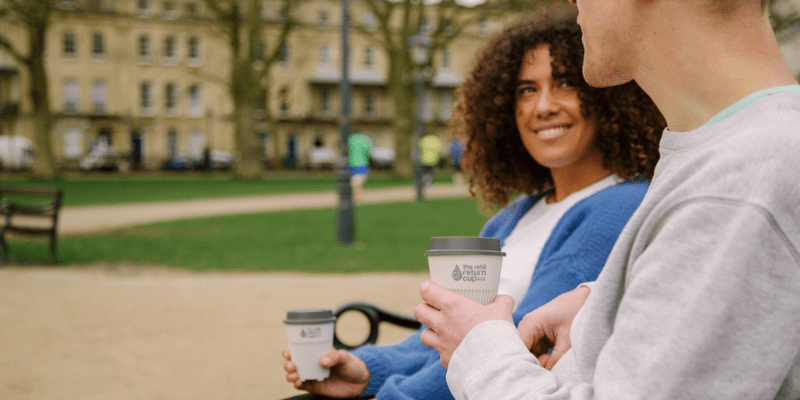 We need to raise £30,000 to fine tune the Refill Return Cup and engage local communities so we can continue to power positive change in Bristol next year and prevent even more single-use cups from polluting our city. Thanks to an amazing matched funded opportunity from the lovely people at Aviva, who are supporting our Crowdfunder campaign by tripling donations, we actually only need to raise £10,000 ourselves!  
So, if you can donate £10, it would be TRIPLED meaning we receive £30! Which would mean we would be one step nearer to hitting our target and ensuring the new and improved Refill Return Cup returns to Bristol next year.  
Will you help us reach our target?  
In the UK alone, we use between 2.5 billion and 5 billion disposable coffee cups every year1. Globally, this number rises to a reported 500 billion! Shockingly, it's estimated that just 1% of these cups are recycled2 and the WWF forecasts that without urgent action, by 2030 the UK will use 33% more cups than it did in 20203. The rest enter our waste stream or worse, end up polluting our streets, rivers and oceans.  
Single-use take-away packaging, including items like coffee cups, are consistently some of the most commonly found polluting items on our beaches and rivers4 Did you know that in our hometown of Bristol, we use a whopping 66,000 single-use coffee cups a day? And sadly we see many of them ending up littering the River Avon, our harbourside and our streets.  
We launched our Refill Return Cup to tackle this problem – and we've already seen 3,500 less single-use cups being used and ending up as pollution as a result!
What are we looking for funding for? 
Your donation will allow us to work closely with local Bristol communities to ensure our Refill Return Cup scheme is the very best it can be.  
Through working with students, local volunteers and traders, and engaging communities with the Refill Return Cup, we'll be able to connect Bristol residents to the nature in their local environment, raising awareness of the issue of plastic pollution and about the solutions to the problem and inspire local people to take action to make Bristol a cleaner, greener place to live for all. 
Can you help us reach our target?  
Whether you are able to support financially or not, we'd love it if you could show the Crowdfunder some love by sharing it with your friends, family and community. From tiny ripples great waves flow.  
With oceans of gratitude.
You may unsubscribe at any time. Check out our Privacy Policy for more information on how we store and protect your data.