TACKLING MARINE POLLUTION WITH THE 'FINE TO FLUSH' STANDARD
Plastic pollution and littering from 'flushable' wet wipes is on the rise!
We have a whole webpage dedicated to wet wipes but to summarise, here are the key points:
Last year the Marine Conservation Society recorded >14 wet wipes per 100 metres of coastline, a rise of 700% over the last decade.
Many wet wipes contain plastic

 

and don't break down (or if they do they break down into microplastics).
The BBC has found that all wet wipes sold as "flushable" in the UK have so far failed the water industry's disintegration tests. Despite this, the European industry body Edana

 

still allows them to be labelled as "flushable".
When wet wipes are flushed down the loo, they

 

clog up our sewers causing them to overflow and pollute our rivers and ocean.
A study in 2017 showed that wet wipes could account for about 93% of the material causing blockages.
Sewer blockages cost the country £100m every year – money which Water UK says could be taken off bills or spent on improving services.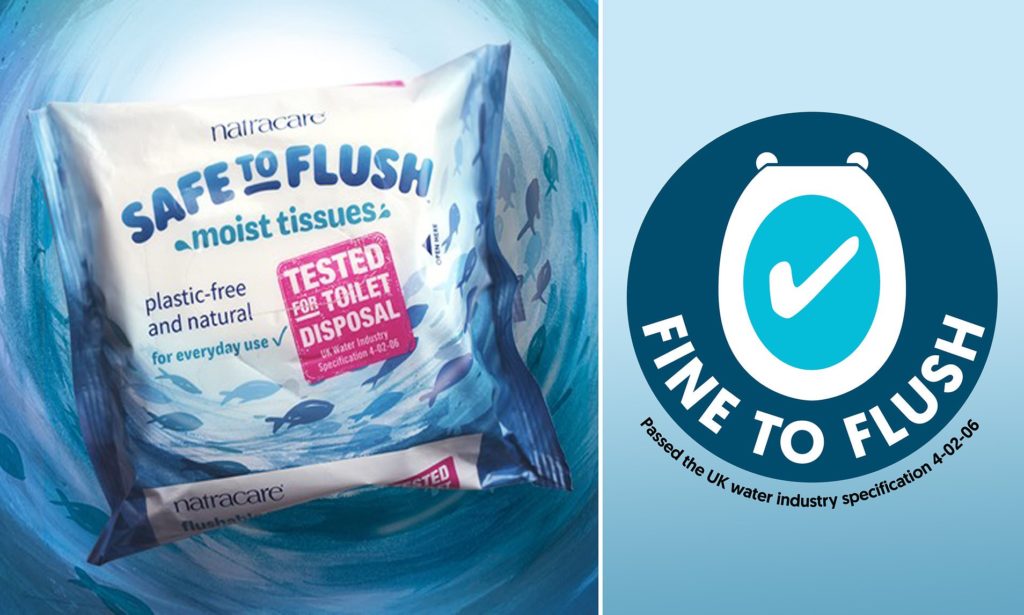 That's where Water UK's 'Fine to Flush' symbol comes in! Water UK have created a new standard which allows consumers to recognise products that are truly flushable, without causing havoc in our sewers and on our beaches!
So far Natracare's plastic-free, compostable 'moist tissue' (sold in Waitrose, Ocado and independent health shops) is the only product to have been awarded the standard. Let's hope that this pushes other wet wipe manufacturers to reconsider the materials they use and certainly change the information on their packaging.
If it doesn't say 'Fine to Flush' – bin it!
Find out more about how to reduce plastic pollution from our toilets and our Bog Standard campaign here.