declaring a climate emergency
Plastic pollution is threatening the health of our oceans and is making climate change worse. We know plastics and climate change are interconnected. By 2050, it's estimated that annual emissions from plastics could grow to more than 2.75 billion metric tons of CO2e. This would eat up 10–13 percent of the entire remaining carbon budget.
That's why today we're launching our climate and ecological emergency declaration and also sharing a new clarity of purpose. We're telling the world that if you care about plastics, you need to care about climate change. And vice-versa. It's that simple.
City to Sea acknowledges that we are facing a climate, ecological and planetary emergency that is impacting our most precious natural resources, exacerbating social inequalities, and damaging human health. Coronavirus has highlighted that drastic action is possible by Governments and organisations worldwide.As a small but mighty campaigning organisation, we are committed to using our voice and our influence with partners, suppliers, volunteers and supporters to inspire the action needed to tackle the urgent crises we face. 
We are committing to sharing what we know and helping others on their journey towards tackling this dual environmental crisis. After all, no man, or organisation, is an Island – especially when it comes to our oceans.
We're on a journey and we can't do this alone. We need you to join us.
Over the last few years, we've seen a cascading number of businesses, councils and governments declare a climate emergency. This is a GLOBAL movement to stop GLOBAL warming. 1,864 jurisdictions in 33 countries have declared a climate emergency. This covers 820 million citizens. But this is also about what we do in our own back garden. We are very proud that our home city of Bristol was the first to declare first a climate emergency and then an ecological emergency. It led the way and set a path for others to follow. Now, 90 per cent of the British population live in areas where the local authorities have declared a climate emergency, over 480 councils altogether.
And that's what we're aiming to do now. To show how we as a small organisation with limited resources can reach net-zero by 2023 and how others can too. There is a groundswell of change and we want to see this turn into a flood of climate action.
Getting our declaration ship-shape took time…
We have a bold and ambitious plan to be net-zero by 2023. This is different to saying we're 'carbon neutral' and chucking a load of money at an offsetting scheme. This means really working to reduce our emissions as an organisation.
But we need to be honest, things got complicated by the COVID-19 crisis. We started home working and left our office. We no longer travelled so much, and conferences and events went online. This got rid of most of our obvious operating carbon. This is what most organisations would have counted for their carbon footprint.
We wanted to dig deep into the more complex tricky carbon emissions from home working and servers fuelling our online presence, data storage and zoom meetings. We also wanted to get real about the limitations of being reliant on big conglomerates like Amazon who host our servers and Facebook who share our adverts and acknowledge the impacts of these. We are still finding out the answers to some of this but we're getting there.
And we want to be in place where when we move out of COVID restrictions we are in a place to reach our net zero by 2023 target.
On offsetting we know there are lots of issues so rather than signing up to a scheme we don't know much about we have instead invested in an eco-block of sea kelp that will be part of a sea kelp forest off the shores of the UK. Sea kelp is sequestering carbon at a much faster rate than trees. Blue carbon projects also protect or rebuild coastal and marine eco-systems. But even this offsetting HAS to come after all other efforts to decarbonise and reduce emissions.
HOW WE'rE GOING TO GET THERE….
Our climate action plan addresses four key areas
1. Business Operations
• Accounting for, and where possible reducing and then offsetting, all scope 1-3 emissions to be net zero by 2023 including all the tricky to count emissions.
• Reducing the business operating impacts by 20% annually.
• Only working with partners, suppliers that have ecological or carbon commitments by 2025.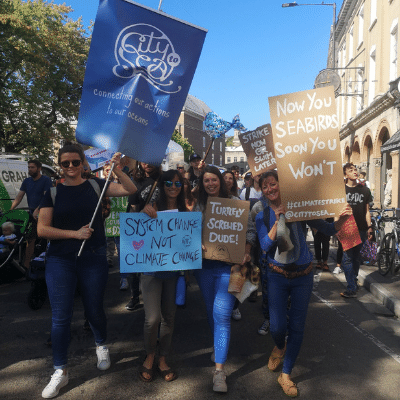 2. Travel & transport
• Reducing all business travel to get below 50% 2019 levels.
• Reducing staff's holiday travel carbon footprint by 50% from 2019 levels (once COVID isn't a limiting factor).
3. Inspiring Change
• Publicly presenting our climate and ecological emergency strategy
• Inspiring our supporters and networks to act on the climate and ecological emergency in 2021 and to reduce their emissions.
4. Supporting the SDGs
Aligning, measuring and monitoring our operations and campaigns against the relevant Sustainable Development Goals: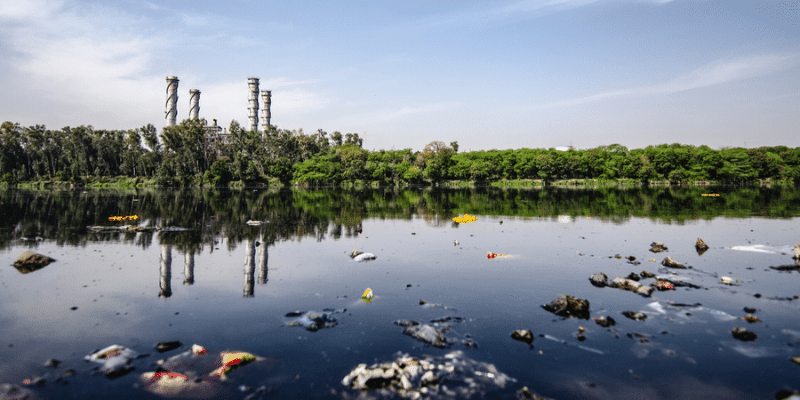 Why we don't just 'stick to plastics'?
Because, at City to Sea we don't just appreciate nature, we love it. Nature is our best buddy, our trusted advisor and our most important board member. We're not joking – it is in everything we do. It's the foundation from which we build. And so, it is up to us to make sure what we do, the campaigns we run, don't inadvertently ending up hurting our best friend.
And we know plastics and climate change go hand in hand. Plastics are big oil's plan B for when fossil fuel energy becomes economically unviable. So, as well as carrying on our award-winning campaigns to STOP plastic pollution at source we are taking action to tackle the climate crisis and we're encouraging others to act too.
So as well as carrying on our award-winning campaigns to STOP plastic pollution at source we are taking action, and encouraging others to take action too.
We all have a choice. We can create transformational action that will safeguard the living conditions for future generations. Or we can continue with our business as usual and fail.
That is up to you and me.
To sea the change, bee the change
City to Sea are collaborators. We think working together will bring about change. That's why we want organisations of all sizes to use our documents, work and ethos to declare their own emergency and encourage others to do the same.
Lockdown and the global pandemic has demonstrated that business-as-usual can change and carbon emissions can be slashed overnight for many organisations. This is a great opportunity for all businesses to reflect upon and identify what changes can remain in place post-pandemic, to reduce carbon emissions. Not only is environmental action good for people and planet, for organisations looking to differentiate themselves in tough trading times demonstrating commitment to the environment can be an edge.
Let us know if we've inspired you.