ASA and Coca-Cola respond to advert complaint
Last week we logged a complaint with the Advertising Standards Authority (ASA), against Coca-Cola for their recent advertising campaign claiming their bottles were no longer single-use because they could be recycled.  
Here at City to Sea, we want big brands and massive polluters like Coca-Cola, to stop this kind of greenwashing and take positive steps to transition away from single-use and move towards systems of reuse. Advertisements that attempt to mislead the public and have the potential to increase the number of plastic bottles polluting our planet, can and should be banned.  
You can see our complaint, and understand more about why we complained, here. 
.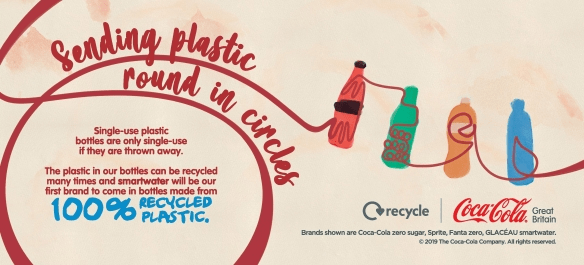 Following the backlash, Coca-Cola hit back claiming we had "misunderstood the message of the campaign" and that instead it "was designed to make clear to people that all of our bottles can and should be recycled so that the plastic in them can be used to make a new bottle."  
Coca-Cola stated that they were "working to make them as sustainable as possible by doubling the amount of recycled plastic they are made from and ensuring all of them are recovered and recycled".  However, they accept the fact that "for the plastic in our bottles to have more than one use, the essential first step is for the bottle to be in a recycling bin. That's what the advert was encouraging consumers to do".  
But we think Coca-Cola and the ASA are the ones who have misunderstood. The United Nations (who we would regard as a fairly authoritative voice on most matters!) define single-use as; "items intended to be used only once before they are thrown away or recycled." 
We're not the only ones who believe it's not Coca-Cola's privilege to redefine single-use and that instead we should be choosing the Refill Revolution. We've had backing from campaigners like Hugh Fearnley-Whittingstall and Break Free From Plastic. 
We've also been blown away by the response from our supporters! Thanks to YOU the ASA was inundated with complaints and initially released a statement saying that they were looking into the 'single use plastic campaign' by Coca-Cola.  
The complaint was also picked up by media bodies within the food and beverage sector, including Food Manufacture, Resource Magazine and New Food Magazine.  
The ASA have responded to say they ARE investigating the environmental claims made by Coca-Cola but WILL NOT look into whether they are misusing the term single-use.  
As you can imagine, we are delighted they are looking into the claims Coca-Cola make about the environmental credentials of their product, but we also stand by our initial complaint and have responded asking for the ASA to clarify some points in their response including what definition (if not the UN's, the EU's or even the recycling body WRAP's that Coca-Cola are part of) they are using.  
As ever, we're incredibly grateful for everyone getting behind this and for the ongoing support we've received. Although the ASA are unable to give a specific timeframe for this ruling, we will keep you informed with any updates we receive.  
Together we really can make a difference and hold corporations to account.