Complaint made over "misleading" coca-cola advert
SENDING PLASTIC ROUND IN CIRCLES?
Have you seen the new Coca-Cola advert claiming their single-use plastic bottles aren't single-use because they can be recycled? Yes, that's right. They are trying to redefine the phrase 'single-use' in their adverts, setting a dangerous precedent to the rest of the drinks industry.
Coca-Cola's assertion that "plastic bottles are only single-use if we throw them away rather than recycle" misrepresents a commonly held definition of the word single-use. This confusion has the potential to increase the volume of plastic bottles ending up in our environment, perpetuating the environmental damage that plastic pollution causes.
The word single-use was recognised as the Collins Dictionary 'word of the year' in 2018, demonstrating the level at which it has reached the public vernacular. They defined it as: "products that are often made of plastic and have been made to use just once, only to be thrown away after, rendering them unsustainable and harmful to the planet."
The United Nations Environment Programme (UNEP) defines 'single-use' plastic as follows: "single-use is a term which can refer to any plastic items which are either designed to be used for one time by the consumer before they are thrown away or recycled, or likely to be used in this way".
Clearly Coca-Cola's bottles are single-use according to all commonly held and legal definitions from highly reputable organisations. Not only are these products single-use, but their packaging (plastic PET bottles) clearly falls under legal definitions of what constitutes waste, even if they are sent down waste recycling streams.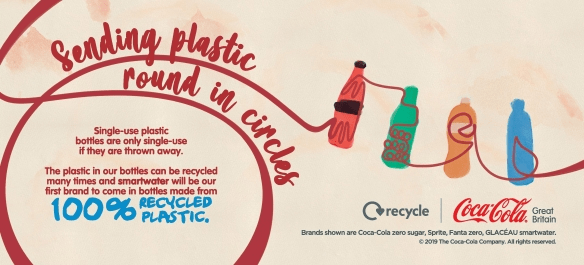 Whilst we celebrate their bottles becoming 100% recyclable (or so they say), we know there is a big difference between something being recyclable and being recycled. The reality is, even Coca-Cola accept that only a fraction of plastic bottles are recycled.
We believe this is greenwashing and is misleading for consumers, so we have made the decision to lodge a formal complain to the Advertising Standards Agency (ASA) and we need you to do the same. Only if enough of us speak out against this type of greenwashing can we hope to put a stop to it.
We strongly feel the industry needs to be called out, particularly at a time when public concern around single-use plastic is at an all-time high.
Our CEO, Rebecca Burgess says; "The holidays are coming, along with the iconic Coca-Cola truck. But this year, Coca-Cola have taken a new tack when it comes to their marketing – tapping into public concern on single-use plastic and redefining the word to sell their products; misleading customers and setting a dangerous precedent in the industry. While they say their products can be recycled, we know that in reality, many are not. Plastic bottles are consistently the most polluting items on our beaches and rivers and Coca-Cola is the worst offender. We had no choice but to report these misleading claims to the ASA and we are encouraging others to do the same."  
Complaining to the ASA is really quick and easy.  We need Coca-Cola to be spending time and money transitioning away from single-use, to become part of the Refill Revolution and not on misleading advertising campaigns. Here's what you need to do:
Click on the button below which will take you to

 

their site. 
Read the info and click continue.
Select the option that shows that you are a member of the public submitting the complaint.
Select 'Poster: Billboards, digital or transport' from the drop-down menu.
Select 'Outdoor' from the drop-down menu.
Add Cola Cola as the brand.
Add either today's date (if you just saw the campaign today), or if you've seen it before then add the date you saw it.
Either use

 

our complaint

 

as a template or write your own in the box.
Download the image below to upload with your complaint. Or you can use this

 

tweet

 

from Coca-Cola.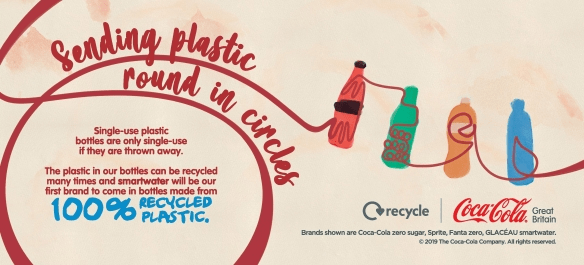 #CALLOUTCOKE ON SOCIAL MEDIA
If you agree with us that Coca-Cola should not be allowed to redefine what the phrase 'single-use' use means, then join us in calling out Coke on social media using the hashtag #CallOutCoke
Coca-Cola to withdraw its ads and stop trying to mislead the public about single-use plastic bottles;
Coca-Cola to tackle the use of single-use plastic bottles by shift towards a comprehensive refill scheme
The government to introduce a deposit scheme to ensure far more bottles are refilled – or failing that, recycled.
The new government to introduce legislation to phase-out the use of all but the most essential single-use plastics