Do period pants really work? Yes!
Find out how and which to buy
Disposable period products are a bloody eco nightmare
Single use period products like pads and tampons have been considered the 'norm' for a long time now. However, it's becoming very evident that the perceived 'convenience' of disposable items has a massive environmental impact. In fact, each person who menstruates and uses disposable pads, tampons and/or liners uses on average over 11,000 disposable products over their lifetime.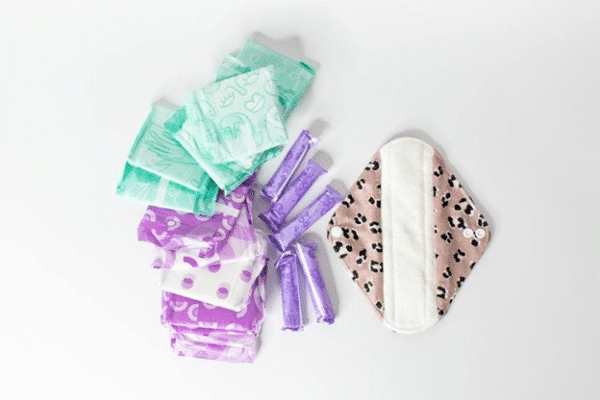 Tampons, pads and liners from the big brands tend to contain huge amounts of plastic. An average pack of pads (about 14 pads) contains the same amount of plastic as  5 carrier bags, plastic makes up 5% of the materials in a tampon and then we have all the plastic packaging to consider. Plastic is made from fossil fuels, which contributes to the climate crisis, as well as taking hundreds of years to decompose, breaking down into microplastics in landfill. That's if they even make it to landfill…
In the UK alone it's estimated between 1.5 and 2 BILLION* period products are flushed down our toilets annually. These contribute to sewer blockages and ultimately pollute our waterways and ocean.
As a result of people wrongly flushing period products (they should always go in the bin!) the Marine Conservation Society [2017] has found an average of 4.8 pieces of single-use period protection for every 100 meters of beach. Imagine your child popping a used tampon on top of their sandcastle – yuck!
*[Marine Conservation Society, Pollution Policy and Position Statement]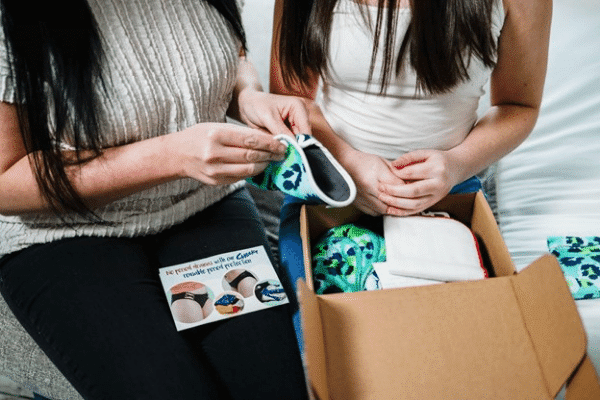 The bloody truth about periods
How did you first find out about periods? As a child of the 70's I'm not alone in having a furtive conversation with my Mum letting me know what to expect, followed at a later date by her handing me a packet of disposable period pads, which was topped up each month in the monthly shop.
That's not forgetting the 'Tampax Lady' who came to school. She talked a bit more about periods and helpfully gave us a packet of applicator tampons to take home. They seemed like the ideal solution to avoid using pads, but I remember crying my eyes out in my bedroom, in floods of tears of both annoyance and frustration, trying to work out how to get the bloody things in.
Those formative experiences tend to stay with us and we build a habit of just sticking a box of tampons or pads in our supermarket trolley.
But what if there was a better alternative?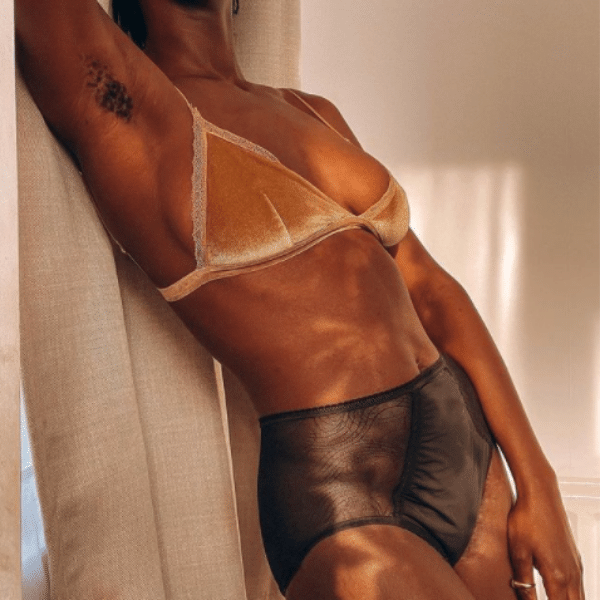 Isn't it about bloody time to ditch disposables and try reusable period protection?
The recent focus on climate change and trying to live more sustainably has created a market for new products, aimed at both reducing the eco impact of our periods but also just as importantly, making our period a lot more bloody manageable.
As many of us are trying to eat more plant-based meals, fly less, reduce our reliance on single-use plastic… eco-friendly period products are now becoming more and more widely available.
The new kid on the block, Period Pants are (rightly) being heralded as a game changer.
Parents of teens or tweens in particular are seeing the benefits of this type of period protection for their children. No anxiety about going to school when they're 'on', just different knickers that they wear for those few days a month. Simples.
As with most products, period pants come at a variety of price points, so it's worth shopping around, there are lots of brands which are much more reasonably priced.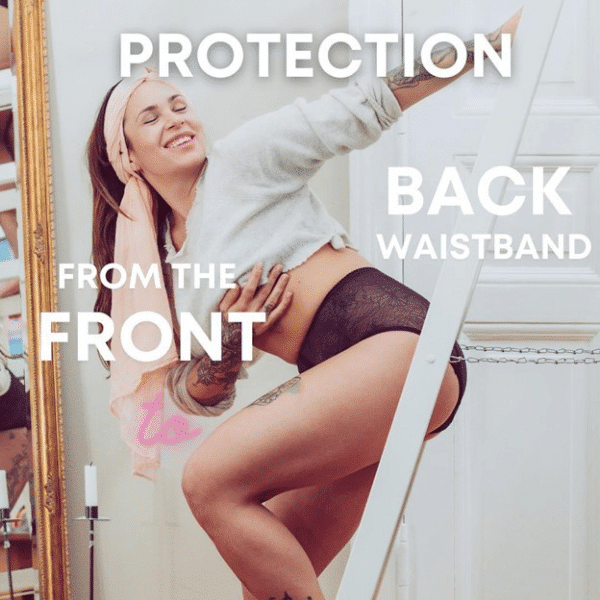 How do Period Pants work?
Despite gimmicky advertising claims, they all mostly work the same way:
'Stay-dry' layer next to your skin, normally cotton or bamboo
Absorbent layers, to soak up the blood
Waterproof layer, to prevent leaks
Outer layers which come in a choice of materials, from cotton which are brilliant for sports, right through to stretchy nylon or control type materials
How do I know which are the
best period pants for me?
Don't be sucked in by how many 'ml' pants will hold. Period pants testing measures how much liquid the whole absorbent area of the pants will hold over a period of time. This isn't how real life works – generally fluid tends to settle in one area. Layers of absorbent material are a better indicator of how absorbent period pants are, and 4 or 5 layers of material is standard.
Many brands have absorbency just in the gusset of your knickers which is pretty pointless unless you have very light periods. This is especially true when you sleep as you move from your front to your back. Cheeky pants period knickers have absorbency to the front and rear waistband as standard so that you can sleep well without fear of leaks. 
Some of the specialist online retailers have questionnaires that will help you decide how many pairs you'll need and which style suits you best, plus advice on how to care for your period pants. At Cheeky pants, these are all answered by our team of specialists who use the products themselves and can give proper advice.  Nothing is TMI – they're happy to talk clotting, flooding and leaks all day long!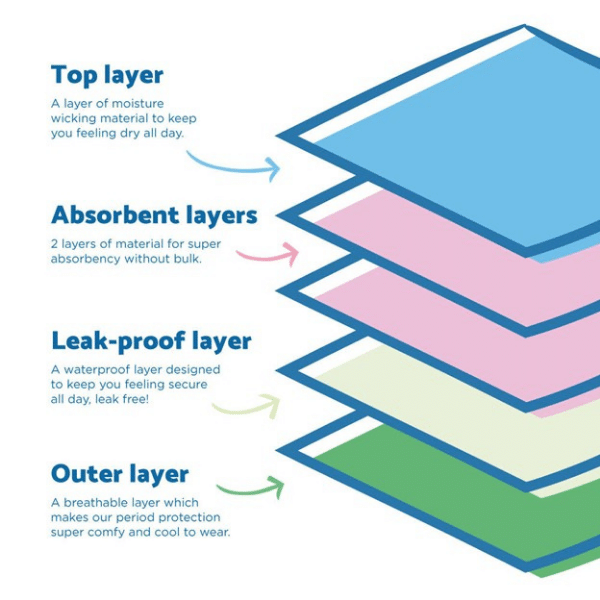 Period pants aren't just easy to wear, they're easy to wash too!
Not a lot of people know this, but blood is a protein stain, which means that as soon as you wash it over body temp or 36c, you will set the stain. Think of an egg white.  Runny at room temperature, set when it is heated.  That's why period knickers should always be washed at 30c or less, which is better for the environment anyway.
Washing your period pants is easy. Cool washing (30c or less) on a decent length wash cycle of at least an hour as part of a mixed washload, along with your usual washing detergent and maybe a scoop of stain remover.  At Cheeky HQ, we find a cold water soak makes stain removal easier, but throwing them into the wash without soaking is also fine.
Are
you ready to switch to faff-free, super comfy, eco-friendly period care that also takes care of the planet?
£1 of the purchase price from each Cheeky Pant sold will go to City to Sea to support their Plastic Free Periods campaign, up to a total of £15,000. To find out more about City to Sea's Plastic Free Period Campaign, click the link here:  https://www.citytosea.org.uk/campaign/plastic-free-periods/
Helen Rankin is the founder of Cheeky Wipes & Cheeky Pants, who have been championing 'Simple Reusables' since 2008. With 4 kids of her own, she appreciates that switching to reusable alternatives needs to be easy and along with her crack team, developed the 'reusable period protection questionnaire' to assist in making the swap. Helen spends most of her days talking about poo, pee and periods and loves to bust taboos. The business was recognised with a Queens Award for Enterprise in Sustainable Development in 2021, celebrating their hard work over the last 13 years.