TRAINS, PLANES AND PLASTIC POLLUTION
OUR WORK WITH TRANSPORT HUBS
ARE YOU READY TO DEPART FROM PLASTIC POLLUTION?
We've been working with the rail and aviation industry to help them depart from plastic pollution. From awareness-raising campaigns at Heathrow through to rolling out water fountains at all of Network Rail's train stations, we've been making it easier for travellers to choose #PlasticFreeTravel when they are on the go.
When we are out and about we're much more likely to buy single-use plastic bottles.
Research shows that: 
42% 

of people who would normally carry a reusable bottle buy single-use bottles at the airport. 

 

36% of people who would normally carry a reusable bottle buy single-use bottles at train stations.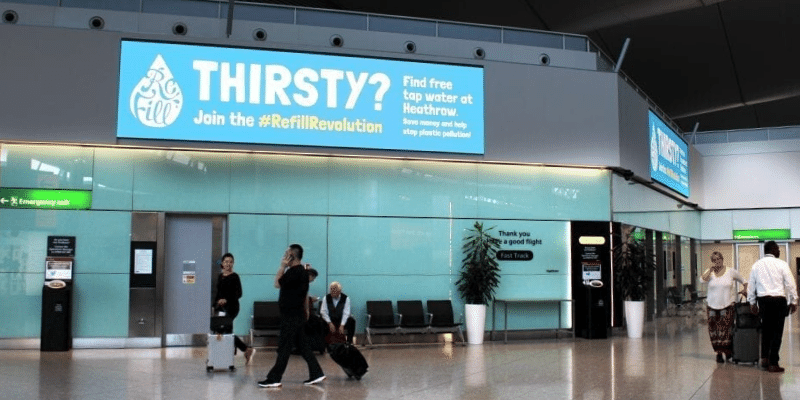 The easiest way to reduce your carbon footprint and to cut down the amount of plastic you use is to enjoy a holiday in the UK and to not fly in the first place.
#PLASTICFREETRAVEL TAKING OFF AT AIRPORTS
Working alongside the Airport Operators Association  to help passengers reduce their plastic use, we are asking the biggest airports in the UK to: 
Install water fountains or hydration stations around the terminals where passengers can easily and quickly find free drinking water.

 

Provide an empty sink before security, so passengers can empty their water bottles before going through.

 

Promote the fact that reusable bottles can be taken through security

.

 
If you work in the aviation industry and want to find out how we can help your plastic reduction take off, then contact our Partnerships Coordinator Alannah O'Rourke.  
Our work with Heathrow airport
We are delighted  to have Heathrow – Europe's busiest airport and the UK's largest – signed up as an official partner. If every passenger in Heathrow departures lounge refilled a bottle instead of buying a single-use plastic bottle, Heathrow could reduce its plastic bottle consumption by over 35 million bottles a year.  
To help travellers reduce their plastic consumption we have worked with Heathrow to install over 100 water fountains. They are signposted and located near toilets for anyone to fill up their water bottles and can now be found on our Refill app! 
Not only this, but we're also engaging with their many cafes, restaurants and lounges to encourage them to be listed on the app and proudly showing the Refill sticker where possible. Anywhere in Heathrow, if you've got the bottle, you can refill it.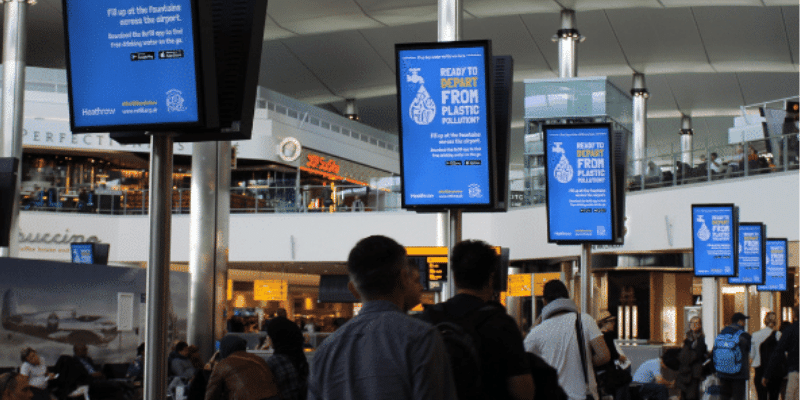 REDUCING PLASTIC WASTE AT TRAIN STATIONS IS ON TRACK
We're working with Network Rail who have installed fountains on all of their major train stations – a move that has already saved millions of plastic bottles! 
We're pretty excited about this.  
This is a great start and shows that passengers share our passion to reduce single-use plastic… I'm pleased to say we're making it even easier for people using our stations to refill their bottles too.
And that's the name of the game here – to make it easy for you (yes, YOU!) to travel with less plastic. With Pret, Starbucks, Costa and many more high–street brands now signed up to Refill, there's always going to be a Refill point not too far from any major train station.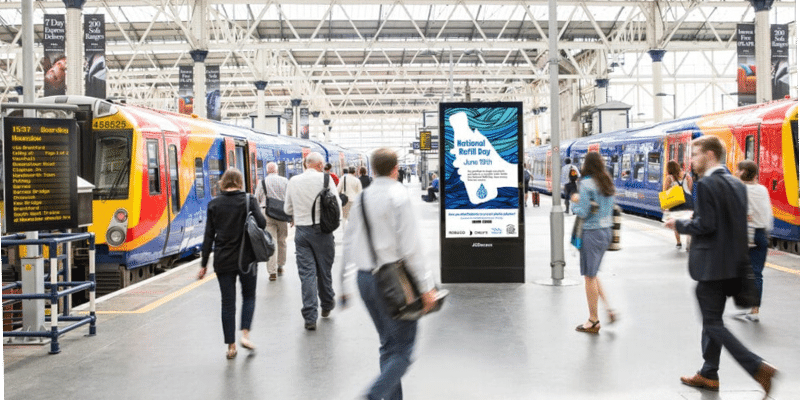 All aboard the Refill Revolution 
We're challenging a UK Train Operating Company to be the first to offer easily accessible, free tap water refills on board a train. Although a few train operating companies are looking into this, water refills are not yet available on any train – so if it's a long journey I'm afraid you'll have to pack all the water you need to stay away from plastic bottles.   Remember to Refill at the station before you leave! 
If you work in the rail industry and want to talk to us about reducing your plastics contact our Partnerships coordinator Alannah O'Rourke today.