7 steps YOUR businesses can take tO REDUCE SINGLE-USE PLASTIC
We know many businesses have been adapting to and navigating a whole new world of rules, regulations, health and safety guidance, as well as months of lost revenue and uncertainty. As part of this uncertainty, we saw a huge shift away from traditional reusable cutlery and crockery, towards takeaway options, and single-use disposable packaging – even when customers are dining in. Unsurprisingly, this has resulted in an increase in littering and plastic pollution across the UK which councils and communities are struggling to keep up with.
Now that hospitality outlets can reopen and return to some semblance of normality, we'd like to see the food service industry work together to improve and evolve – rebuilding with reuse and reversing the trend towards single-use, disposable packaging.  We've teamed up with our friends at Greenpeace, to encourage businesses to take some simple steps to reduce plastic pollution and help their customers access more sustainable options when it comes to eating out.
We understand that with so many things to think about, environmental concerns might not be a top priority for businesses reopening right now. The good news is, these changes are not just good for the planet – but good for business too. Our research for World Refill Day revealed that Brits are more concerned about plastic pollution than ever and almost 80% of people are taking steps to reduce single-use plastic. Two thirds (63%) want to do more but claim the biggest barrier to taking more action is a lack of alternatives and promisingly, three in every four people (74%) would like to see more Refill options available!
Promisingly, two-thirds of Brits (68%) would view a business that offered reusable/refillable options 'more favourably' as a result and we know that on average a Refill app user is likely to spend between £2.50 and £5 in a cafe or business when they pop in for a free drinking water Refill (and that's on top of the savings you'd make on purchasing expensive packaging and paying for waste management).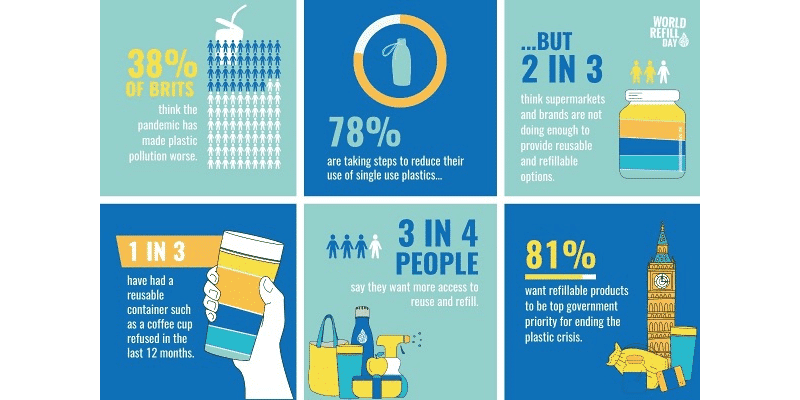 OUR TAKEAWAY HABITS ARE FLOODING OUR OCEANS WITH PLASTIC
We all know that the linear 'take-make-waste' economy is no longer working for business, society or the environment. It's creating economic inefficiencies, growing inequalities and polluting our planet with avoidable plastic and packaging.  
Packaging from take-away food and drinks is a huge cause of plastic pollution and items like coffee cups, cutlery and takeaway containers are consistently in the top 10 items found on beaches around the world. A new report revealed that just 10 plastic products make up 75% of all single-use plastic items found in our oceans, rivers and on our beaches and scientists say the pollution must be stopped at source. Single-use bags, plastic bottles, food containers and food wrappers are the four most widespread items polluting the seas, making up almost half of the human-made waste, the researchers found.
Even those that are put in the recycling bin, don't always get recycled. This is because they could be made from hard-to-recycle plastics or are contaminated with food (which let's face it is pretty likely for take-away food containers!). So, this means most of our on-the-go waste is incinerated, causing a whole host of environmental issues from air pollution to noise.
OUR TOP TIPS FOR REDUCING SINGLE-USE PLASTIC
1. RETURN TO REUSE
The good news is – the most polluting items are also some of the easiest to replace with reusable alternatives! At City to Sea, we've been championing the refill revolution for years – helping people find places to eat, drink and shop with less plastic through the Refill app and supporting businesses in accepting reusables.
One study suggests that a whopping 75% of all UK litter is from drinks consumption. The small plastic bottle makes up the largest proportion of dropped litter (25%), the rest is cans, larger bottles, glass bottles, coffee cups, takeaway soft drinks cups and cartons.
TIP: Opt for good old fashioned crockery, cutlery and glasses when serving customers on your premises (includes beer gardens, gardens and outside space). Offer free drinking water refills and encourage your customers to bring their own reusable cups and containers when ordering takeaway hot drinks. You can put up signs at the point of sale or sign up to the free Refill app, putting a sticker in your window to let people know they're welcome to pop in and refill on the go.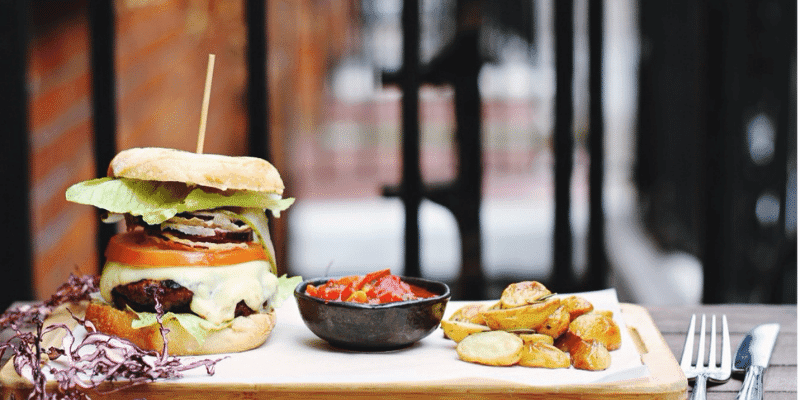 We know that reusables are perfectly safe to use and opting for reuse over single-use can also have a number of benefits for your business, keeping costs down and your customers happier.
Our recent research for World Refill Day revealed that almost three-quarters of Brits (74%) would like to see more refill options available, but one in three (36%) have had a reusable container such as a coffee cup refused in the last 12 months. Make sure your staff are trained in how to safely accept reusables and let your customers know they are back on the menu.
Check out our City to Sea reusables & covid guide for everything you need to know to get reusables back on the menu post-pandemic at your business.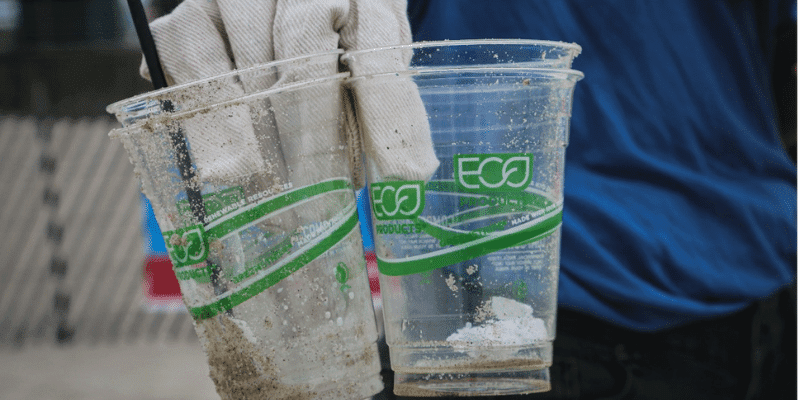 2. COMPOSTABLE BIOPLASTICS ARE RUBBISH
In recent years 'compostable' or 'biodegradable' cups and containers have been loudly marketed as the solution to our plastic problem – enabling us to carry on with our disposable lifestyle without the environmental impact. The problem is, despite what most people think, and the way these products are marketed, compostable cups, containers can actually only be processed at specialist industrial facilities, where they need to be composted at high temperatures for weeks at a time.
And that's IF they get collected at all. Given that most of these items are used for takeaway consumption, they are ending up in public bins in parks, on the street or on our beaches, which means they end up in landfill, exported or incinerated along with the rest of our rubbish. The UK does not currently have sufficient facilities to process these bioplastics.
The other issue is that many PLA (compostable) cups look identical to PET (plastic) cups and are mistakenly placed into recycling bins after use. However, as PLA is not recyclable, this well-meaning act creates widespread issues of contamination – resulting in perfectly recyclable waste going to landfill or incineration instead.
Worst of all, they DO NOT degrade if they become litter or end up in riverways or the oceans creating the same problems we have with single-use plastic.
TIP: If you do use compostable packaging, consider setting up a collection from the supplier, so it at least gets recycled or composted correctly OR even better opt for reuse systems instead.
Single-use compostable cups come at a premium cost when compared to plastics, so it's worth considering if you could look at alternatives such as reusable, deposit schemes that could actually MAKE you money, rather than cost you….
Get the lowdown on why bioplastics are not the solution to our plastic crisis.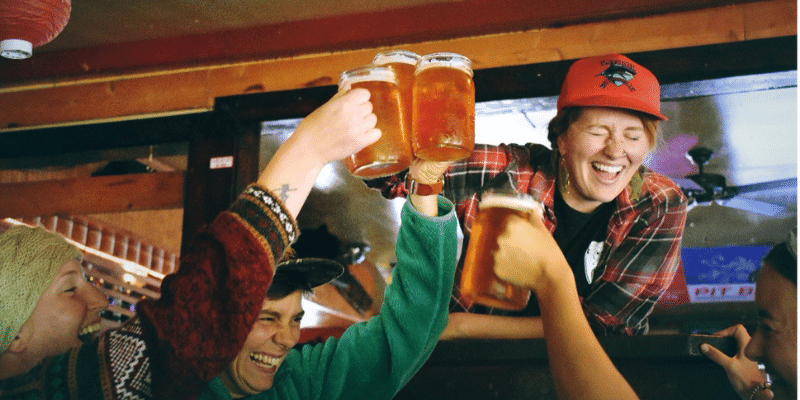 3. RAISE A GLASS TO REUSABLES
Let's face it – we Brits love a pint, but since the pandemic, it's become the norm for businesses to serve drinks in disposable plastic cups (in part due to restrictions in onsite drinking and a move to on-the-go service).
We appreciate that disposable glasses have been used for health and safety reasons and to manage peak hours when the staff and dishwasher can't keep up with demand, but as we emerge fully from lockdown, we need to call last orders on disposable glasses and start to return to reusables.
When single-use cups are taken outside a venue, the big issue (on top of the resources used in the production, distribution and waste management!) is its littering potential. Whether it's plastic or 'compostable' it's going to end up polluting the environment and impacting wildlife if it escapes the waste stream.
TIP: If your business isn't already doing so, make sure you've got good old fashion glasses (or more robust and washable plastic cups that can be reused) back on the menu! As our guidance has shown, they are perfectly safe to use, providing they are washed properly and will save you money in the long run by reducing the cost of disposables and waste collection.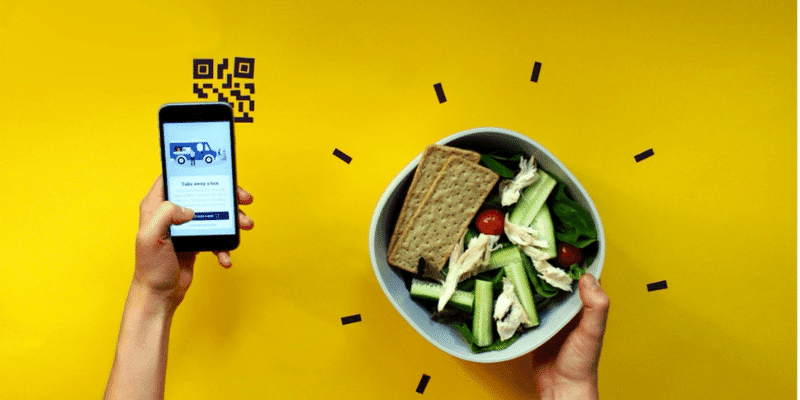 4. INTRODUCE A DEPOSIT RETURN SCHEME
Another option, which works well if your venue has outside space and glasses aren't going to work for you, is to opt for a reusable deposit return system.
Reusable cup and container systems offer a circular solution for pubs, market stalls and cafes offering take-aways, bringing demonstrable financial and environmental benefit.
Pre-pandemic, reusable plastic bar cups were becoming commonplace at closed-loop events like football, rugby and cricket grounds. City to Sea worked on a pilot at Wembly Stadium where the venue charged customers a nominal £1 fee when they ordered their first drink, which was served in a reusable cup. These cups were collected when a customer returned to make another purchase and then at the end of the night, where they were collected and washed, ready to use again at the next game.
London based, Eco Disco are also working on a pilot in London to offer nightclubs and bars a solution to single-use cups by providing them with reusables which they then collect and wash at the end of the night. Check out their brilliant report 'Disposables Discontinued' to find out more about the barriers and solutions to disposable cups and how to get a reusable system set up instead.
Significantly, venue owners who have already implemented reusables cited cost-effectiveness as one of the key benefits. This disconnect between negative perception and positive experience suggests that, by removing the up-front cost of cups and washers, we can help the urban nightlife industry progress into a new normal where reusables replace single-use. Reusable deposit return systems aren't just for pint glasses, and many communities and businesses are starting to get on board the refill revolution when it comes to hot drinks and containers! As of last year, the UK was using about 2.5bn disposable cups a year, with a 2017 government report concluding that only one in 400 was being recycled! It's clear we have a colossal issue that needs to be addressed and we need to invest in and scale circular solutions to managing our addiction to take-away coffee and food on the go.
Many communities have taken matters into their own hands and we're now starting to see reusable cup schemes popping up in towns and cities around the UK. Both Shrewsbury and the Hampshire village of Overton have launched reusable cup schemes to replace all disposable cups in their town & village. Customers pay their deposit (plus another £1 if they want a lid, which are non-returnable) and then return the cup once it's been used to any deposit point.
We've also seen deposit return schemes for containers, with organisations like Caulibox, working with businesses to provide solutions to food packaging. At the moment, they're just operating in London but are keen to speak to businesses about how the scheme works.
Another innovative solution comes from CanCan, who offer a smart reusable system, and are about to launch a reusable coffee cup pilot in Bristol. CanCan's app-based system means users do not pay a deposit and the system is free for them to use unless they don't return the item. Businesses pay a similar amount for the reusable as they would for a disposable item. Currently, they offer coffee cups but plan to expand to bar cups and food boxes.  City to Sea also work with StackCup, who provide reusable stackable bar cups for venues and events.
TIP: Consider whether working with your local community to start a scheme like this might be an option and contact us to find out how to get started and connect in with our Refill community schemes who are on hand to help.
5. CUT THE CUTLERY
The Earthwatch Plastic Rivers report found that 16.5 billion single-use cutlery items are used each year and plastic cutlery is now one of the most commonly found items on beaches and in rivers across the UK.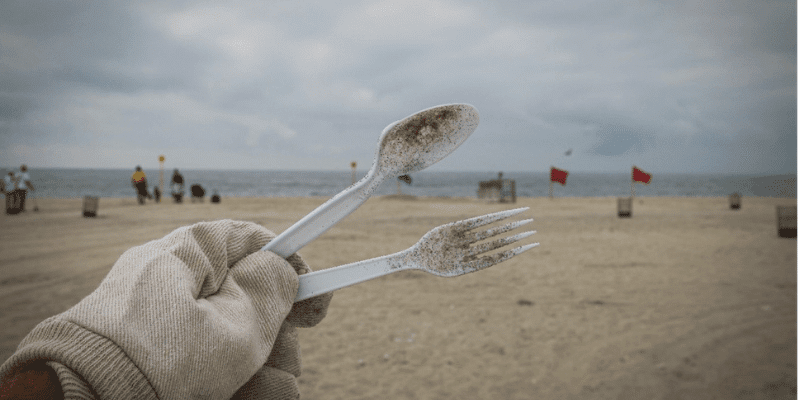 If you're serving customers on your premises, always opt for reusable metal cutlery. We know it's perfectly safe to revert back to reusables (providing you're following basic hygiene advice – which we hope you are anyway!). No one wants to eat from a plastic or wooden fork – so save yourself the cash and the planet, by completely avoiding single-use, disposable cutlery.
TIP: If you're serving takeaway, consider making single-use items like cutlery requests only for those who need it. This will significantly reduce the amount you give out whilst also keeping customers who really need disposable cutlery happy.
Even better, you could consider, a deposit return scheme for customers that are taking away – offering washable, reusable cutlery for a small fee which is then returned when they return the cutlery to you. If you have a garden, or you know that most of your food is consumed nearby, this could be a great and simple solution to disposable cutlery, with just a small upfront cost.
6. BIN IT
Whilst, we'd love to see all businesses switch to reusables for dining in and deposit return schemes when offering takeaway, we appreciate that's not going to be possible for everyone (at the moment!) and we need to see support from councils and government to incentivise and make these options easier.
If you do offer compostable packaging and you want it to actually compost and not be incinerated (what happens to general waste) you will need to arrange a separate waste collection for your compostable packaging (aside from your food waste collections). Vegware have a list of regions where they have arrangements with composting facilities but this is ONLY for their products.
Municipal general waste bins are overflowing with waste as council's struggle to cope with the increased demand. Providing bins for general waste will reduce the chance that packaging will fall out of an overflowing bin and cause a litter problem in your local area.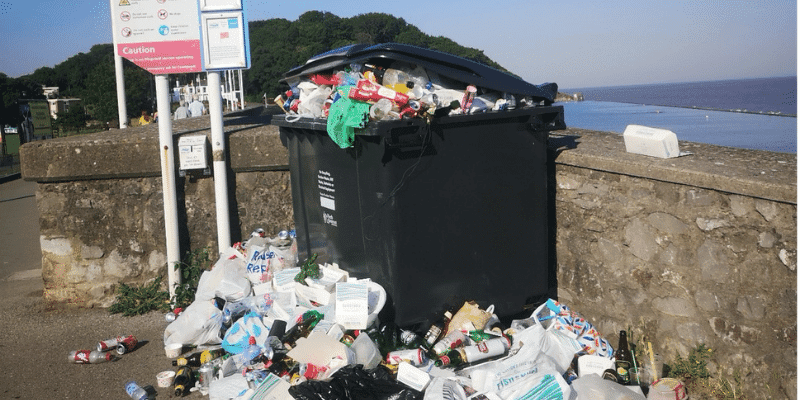 7. BEAT THE BAN
Single-use plastic cutlery, plastic plates and polystyrene boxes are due to be banned very soon as part of the EU single-use Plastics Directive. This is due to come into force in July in Scotland, Wales and Northern Ireland and we're now calling on the UK gov to implement a ban on all items listed in Article 5 of the EU's Single-Use Directive.
This means in the not too distant future you'll need to stop using these items. Where possible, avoid switching to false single-use solutions like 'composable 'bioplastics' because as we've already outlined, they're not all they are cracked up to be!
Remember, reuse always wins! Could this be time for your business to start making some big changes? If you haven't already, now is the time to start planning for what your business is going to do next. Get the low down on all the City to Sea packaging options available here >
Questions
If you've got questions, we're here to help! We want to make sure businesses have the support they need to navigate the changes and make decisions that not only keep your customers happy, your bottom line intact, but also protect the planet for future generations.