WHY DESIGN AGENCY, SOCIAL INK, PARTNERED WITH CITY TO SEA
As part of the #PlasticFreetravel campaign, Gareth who is Head of Content at Social INK – a digital marketing and social media marketing consultancy,  tells us why tackling plastic pollution is important and why Social Ink wanted to partner with City to Sea in this guest blog.
Here's the thing. Beach holidays in the Mediterranean are great. Guaranteed sun. Delicious cuisine. A nightlife and day temperature that make siestas compulsory. Sun. Sea. Heads buried in the sand?
You see, with all these wonderful distractions, it's easy to forget the impact our travel is having on the environment we seek out to enjoy. Once we're in 'holiday mode' it becomes easier to neglect the responsibilities we are committed to in our normal daily lives.
'No drinking on a school night', quickly becomes, drinking throughout the day and well into the night. Because "we're on holiday". We eat out every meal. We move a lot less. We enjoy too much sun. We buy water in plastic bottles. Why not? It's way cheaper than back home. We do things differently because we're on holiday. Our standards slide. It's a treat. It's fine. It's convenient.
But some of the things we do, when everyone does them, have a compounding ripple effect that contributes to a much larger problem. Plastic waste is filling up the seas, breaking down into microscopic particles and washing up on the beaches we choose to visit on our holidays. The Med sees a 40% spike in marine litter every year because of tourists.
Everyone at Social INK felt we needed to do something to help 'raise the bar' on attitudes to travel.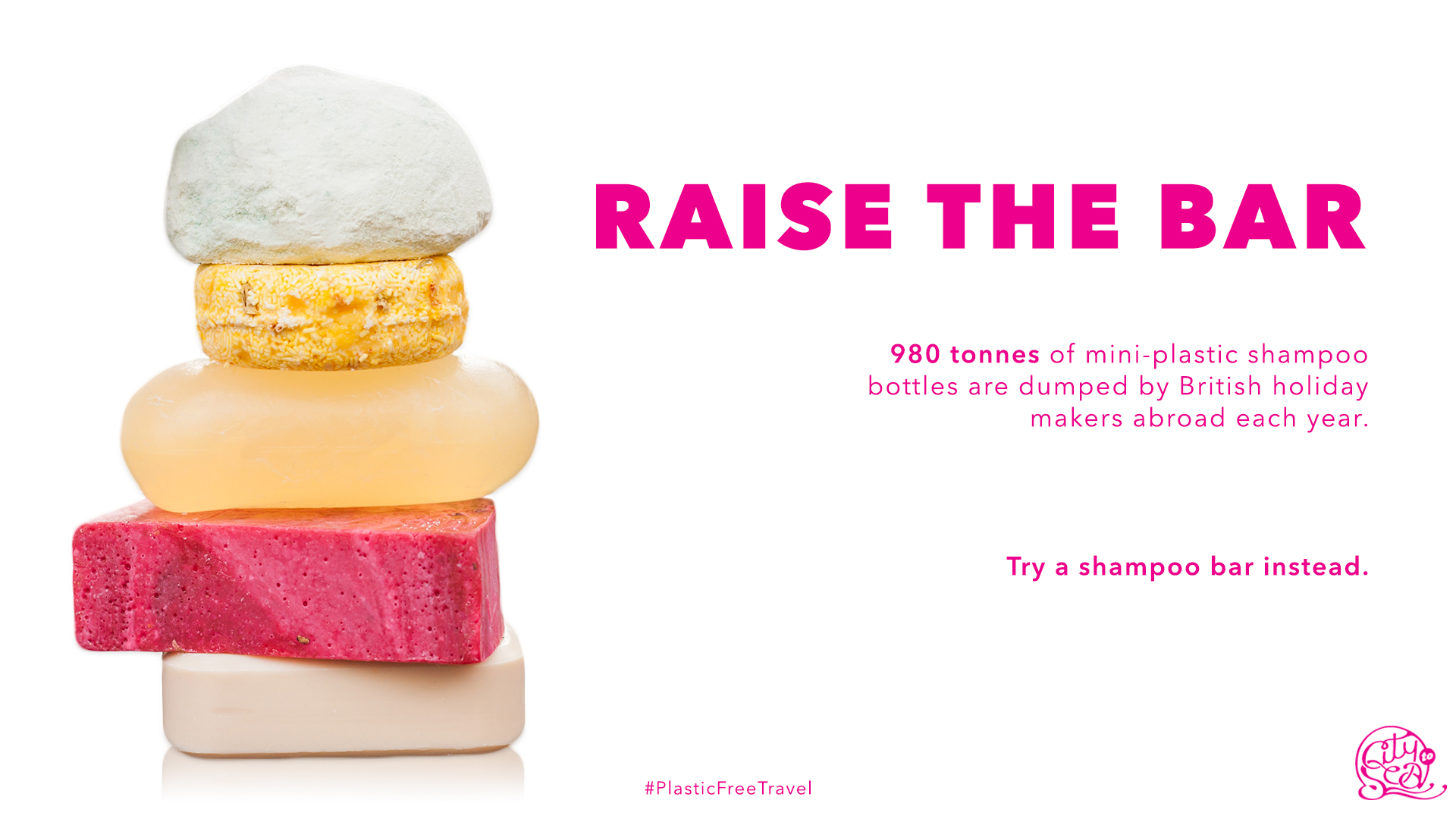 Stop. collaborate. and listen.
It all started with winning the #PlasticFreeTravel brief that City to Sea ran with One Minute Briefs on Twitter. Reducing the amount of plastic, we use is a cause close to our hearts, so it was a brief we were keen to get involved with. And it's an inspiring topic: almost everyone takes a holiday over the summer. Have you considered how much plastic you use when you're not at home?
In response to the brief, we devised the 'Raise the Bar' concept. An advert designed to champion soap bars. Soap bars existed long before plastic-bottled liquid soap, doing exactly the same job at a fraction of the environmental impact. Not only did it make sense to make the humble bar of soap the 'face' of plastic-free travel, but we felt it also served as a reminder of small changes we could all make at home to reduce the impact of plastic waste on the environment.
The concept really resonated with the team at City to Sea, and on social media with our own network and the One Minute Briefs community.
THE SOCIAL INK #PLASTICFREETRAVEL CAMPAIGN
To show our support of City to Sea's #PlasticFreeTravel campaign, we created a series of four concepts in the style of our original One Minute Briefs winning ad, as well as some GIFs for good measure — everyone likes a good GIF on social media!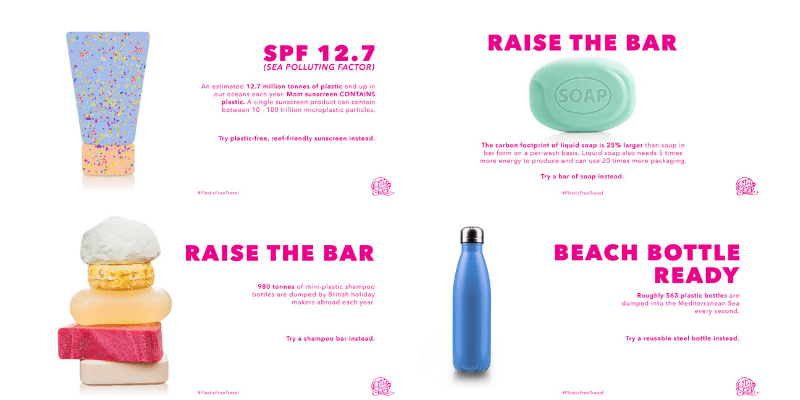 Keep an eye out for these concepts across City to Sea's social media channels as well as Social INK's. If you check the #PlasticFreeTravel streams, leave a message. Tell us, City to Sea, and the wider world how you're planning to travel plastic-free. Share pics of your plastic-free efforts. And encourage others to do the same.
A special thanks at this point needs to also go to designer and fellow One Minute Brief participant, Rich Bayley who came up with the "SPF 12.7" idea used above. 
Every small change. Every little effort. Every conscious decision to bypass plastic helps reduce the impact we're having on our environment, giving us a better chance of completely cleaning up our act.
Are you ready to raise the bar?
Read more about how you can get involved with the #PlasticFreeTravel campaign here.