It'S TIME TO #CUTTHECUTLERY 
HOW WE'RE TACKLING THE MOST POLLUTING SINGLE-USE PLASTIC ITEMS 
A REAL fork in the road moment

Together with our friends at Greenpeace, we're taking action to turn the tide on the single-use plastic caused by our addiction to eating and drinking on the go.
Packaging from take-away food and drinks is a huge cause of plastic pollution and items like coffee cups, cutlery and takeaway containers are consistently in the top 10 items found on beaches around the world. A new report revealed that just 10 plastic products make up 75% of all single-use plastic items found in our oceans, rivers and on our beaches and scientists say the pollution must be stopped at source. Single-use bags, plastic bottles, food containers and food wrappers are the four most widespread items polluting the seas, making up almost half of the human-made waste, the researchers found. 
We all know that the linear 'take-make-waste' economy is no longer working for business, society or the environment. It's creating economic inefficiencies, growing inequalities and polluting our planet with avoidable plastic and packaging.  
As we emerge fully from the pandemic, we believe now is the time for everyone – from government and businesses to us as individuals, to start to build a more sustainable future – one that values our resources, champions reuse rather than single-use and protects our precious planet for future generations to enjoy.
It's time to #CutTheCutlery and rebuild with reuse!
 With the consultation now open, we need to make sure that our voices are heard, and the government have no excuses for watering down their promises, or creating loop holes in what they deliver. We need your help to get this over the line.
We need as many of our supporters as possible to fill in the consultation to send a clear message to government. We've teamed up with our friends at 38 Degrees to make the process as simple as possible. It will take less than 5 minutes.
Our take-away habits are flooding our oceans with plastic
For Fork's sake, the UK Gov have let us down AGAIN!

The EU has just banned some of the most polluting single-use items in a bid to reduce marine plastic pollution and protect our oceans.  From July 3rd, 2021 all across Europe single-use plastic cutlery, plates and polystyrene (amongst other things) have been banned as part of the EU's Single-Use Plastics Directive.
This was agreed by the UK when we were part of the EU but once again Westminster is dragging its feet.  Although not being part of the EU, Scotland, Wales and Northern Ireland are ALL looking to implement this ban. Northern Ireland is compelled under the Northern Ireland Protocol to have transposed "certain article" of the Directive by 2022 and both Scotland and Wales have proposed bans in their own domestic markets.
Despite the welcome banning of straws, stirrers and cotton buds, in October 2020, the UK has yet to legislate for the banning of the rest of the items included under the Directive, which we know to be the most polluting.
Add your voice and tell the government that at the very least, we need a ban on the most polluting items including single-use plastic cutlery, plates and polystyrene food containers.
7 steps businesses can take to turn the tide on plastic pollution

Over the past 18 months, we know many businesses have been adapting to and navigating a whole new world of rules, regulations, health and safety guidance, as well as months of lost revenue and uncertainty. As part of this uncertainty, we saw a huge shift away from traditional reusable cutlery and crockery, towards takeaway options, and single-use disposable packaging – even when customers are dining in. Unsurprisingly, this has resulted in an increase of littering and plastic pollution across the UK which councils and communities are struggling to keep up with.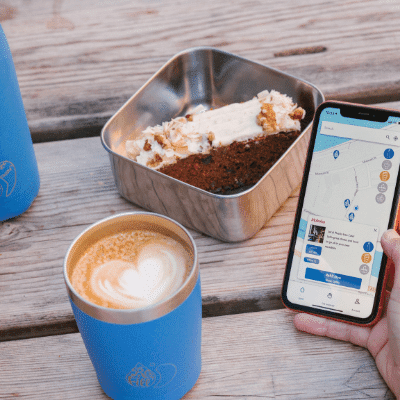 As lockdown lifts and hospitality outlets have started to officially reopen and return to some semblance of normality, we'd like to see the foodservice industry work together to improve and evolve – rebuilding with reuse and reversing the trend towards single-use, disposable packaging.
This Plastic Free July, we've teamed up with our friends at Greenpeace, to encourage businesses to take some simple steps to reduce plastic pollution and help their customers access more sustainable options when it comes to eating out.
We know that reusables are perfectly safe to use and opting for reuse over single-use can also have a number of benefits for business, keeping costs down and customers happier.
Join the Refill Revolution
This Plastic Free July, see what you can do to reduce your plastic footprint when it comes to take-away food and drink packaging…
#ChooseToReuse by carrying your reusable water bottle, coffee cup or lunch box and use the free Refill app to find out what you can fill up – you might be surprised! PLUS many businesses will even off you a discount for bringing your own contains – helping your wallet as well as the planet.
Make some noise on Social Media

Share the petition and tell the UK Gov it's time to #CutTheCutlery and at the very least, fully implement a ban on all items listed in Article 5 of the EU's Single-use Directive including single-use plastic cutlery, plates and polystyrene food containers.  What better time to make a commitment than #PlasticFreeJuly?
Share the tweet below or create your own tagging Boris Johnson and Environment Minister, Rebecca Pow and using the hashtag #CutTheCutlery