From throwaway to reuse, turning the tide on pointless packaging in the food-to-go sector.
The food-to-go sector, which includes businesses like cafes, fast food outlets and coffee chains is a massive source of plastic pollution. At the turn of the millennium there were only 5,000 coffee shops in the UK. There are now almost 26,000 outlets – from the main chains to independent coffee shops and cafés in supermarkets, service stations and retail stores – with the total market valued at more than £10bn. This has resulted in a tidal wave of throwaway packaging. Packaging from takeaway food and drinks such as disposable coffee cups and takeaway containers are littering our streets, parks, rivers and beaches. They are now consistently in the top 10 items found on beaches in the UK and Europe.
New report peels back the shiny wrapping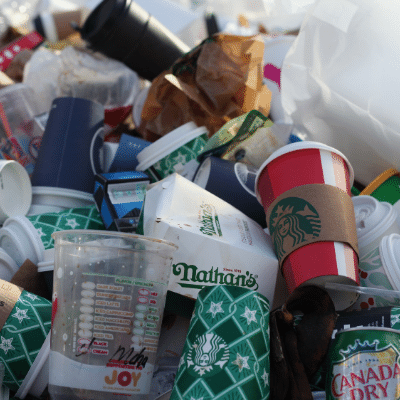 To date, there has been little or no research to understand what's going on in the food-to-go sector, which includes businesses like cafes, fast food outlets and coffee chains and what can be done to tackle the problem… until now.
We've partnered with environmental consultants Eunomia on a first of its kind report to investigate the use and management of single-use packaging in the sector.
Our Food-to-go. Good to go? report is based on an analysis of the top 20 (by sales turnover data) UK high street food-to-go operators, exploring how their single-use waste is generated and managed. It highlights some key themes where there is room for improvement, along with case studies for where the sector is doing well. Crucially, the report includes a succinct road map charting the steps that business and government need to take to significantly reduce the amount of single use packaging used by the sector.
We will be repeating the research again in 2021, this time revealing the individual rankings to the public.
Download the Food-to-go report
From throwaway to reuse, turning the tide on pointless packaging in the food-to-go sector.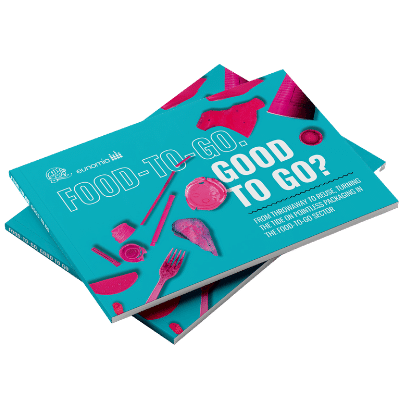 You may unsubscribe at any time. Check out our Privacy Policy for more information on how we store and protect your data, like we protect the oceans.

Since the research was conducted, the global pandemic has turned the sector upside down, sending food-to-go outlets into reverse with many businesses reverting to single use plastic (eat in or take away). Our hope is that the report will encourage the sector to build back better and we urge businesses to be ambitious, committed and transparent about their reduction and reuse targets.
City to Sea's CEO Rebecca Burgess commented, "To put an end to plastic pollution, we need to turn off the tap when it comes to single-use plastics. The crisis of Covid-19 has left many outlets sandwiched between an environmental and a public health crisis, but it doesn't have to be this way. Our road map offers a clear pathway for them to protect people, planet and profits. We want to support the sector in making this transition and as such, have decided not to publish the individual rankings this year. Now is the time for the food-to-go sector to step forward and lead the way."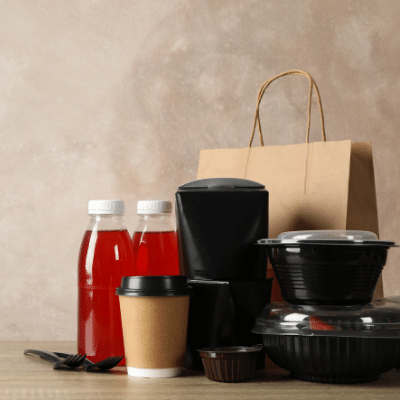 What does the report cover? 

 
A 

snapshot 

of 

what's

 happening in the food

–

to

–

go sector when it comes to single-use plastic

.

 

The impact of COVID and how this impacted the high-street 

 

Our top 10 findings – here we delve into what the key problems are and how they could be addressed. 

 

A road map for the future

. This is our

 

5-year

 plan 

which outlines

 practical

 steps to 

address the problem areas we 

explore

 in 

the

 key findings

. 

 

An overview of current legislation 

and

 why we believe 

we're

 not currently going far enough in the UK.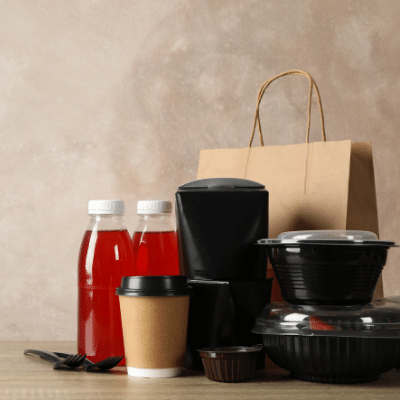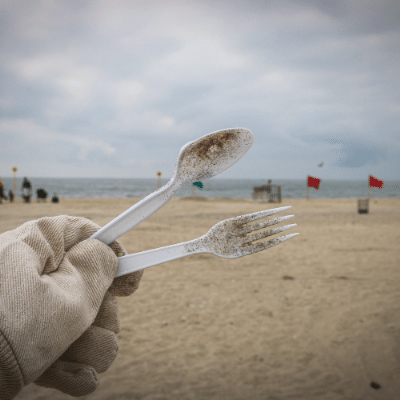 83% of contemporary fast-food outlets and 86% of traditional fast-food outlets had no policies for reducing SUP front of house

, such as promoting reusable cup use or replacing sauce sachets with dispensers

. 

 

7 out of 20 outlets had plastic water bottles on promotion in their meal deals, actively promoting plastic pollution.

 

50% of the chains that served takeaway coffee offered a discount for a reusable cup, plus one more offering loyalty points.

 

Only 

53% of the 15 businesses offering coffee served it in real crockery cups, but this 

wasn't

 consistent across all stores for 3 of them. 

 

Only 20% of eat-in venues provided reusable cutlery.

No outlets had separate food waste collection bins or separate bins for compostable packaging.

 

We understand that businesses are experiencing unprecedented challenges right now. City to Sea, alongside our knowledge partner Eunomia, is on hand with expert advice and support to help address the barriers to change.  
We'll continue to help with finding simple solutions to this complex issue, in 2021 and onwards, identifying the best reusers and the worst wasters. By working together, we can drive and reward positive long-term change. 
If you have a question or comment about the report, we'd love to hear from you! Contact the Partnerships team here.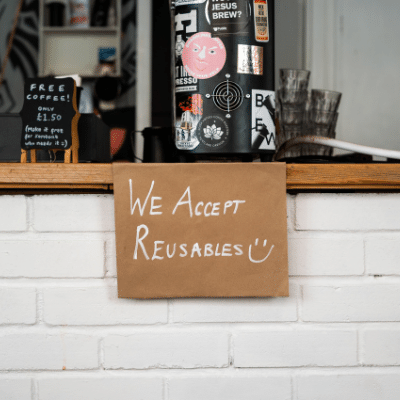 Join the Refill revolution

If you're a food-to-go business and you haven't yet joined the 30,000 outlets signed up to City to Sea's Refill campaign, get going and join up. We connect people to places they can eat, drink and shop without pointless packaging. From hot drinks to drinking water on the go, or even shopping with less plastic, Refill puts the power to go packaging free at consumers' fingertips. With more than 300,000 app downloads and over 100 million pieces of plastic saved to date, we've shown that Refill has the power to create a tipping point when it comes to preventing pointless plastic.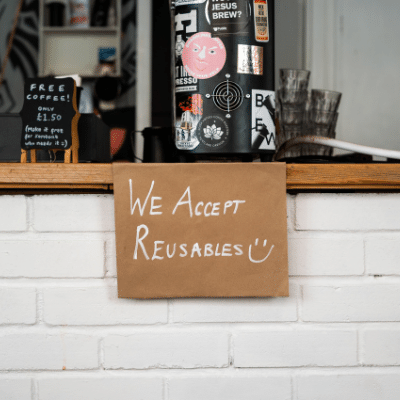 Case Study – Spotlight on Boston Tea Party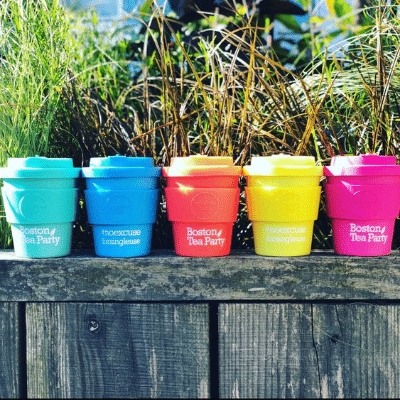 Boston Tea party, an independent coffee shop chain in the South West, has taken the lead on the reusable cup movement. After they only had a 2.9% uptake on their 25p discount for takeaway reusable cups they explored different options introducing a latte levy. However, as that meant they would still be supplying single-use cups, that were invariably ending up in general waste bins around town centres, it didn't feel that it was a bold enough move to really tackle the disposable culture
So after months of forecasting and business planning, they launched the 'No excuse for single-use' campaign. Customers can now only buy takeaway hot drinks in reusable cups, so for those who don't have a cup with them, they offer a refundable hire scheme. Reusable cups are also available to buy at cost price. This has had an impact on their takeaway business, with a 24% reduction in sales. However, they have also won new customers and their drink-in trade has increased. 
At Boston Tea Party they have had a lot of enquiries from other coffee shops, event venues and universities keen to follow suit and eager for shared cup schemes amongst other shops, to lessen the financial risk. BTP are working with these to provide information to help facilitate others to make the change too. As part of Boston Tea Party's commitment to go single-use plastic-free, they have also replaced cling film with reusable Tupperware boxes for their cakes. Although the initial investment in boxes was high, they have calculated that it would be a significant saving in single-use cling film.
What did BTP do? What were the results?
During the Coronavirus Crisis Boston Tea Party decided to pioneer 'Contactless Coffee' a simple method that allowed customers to get a takeaway hot drink, safely in their reusable cup. When plenty of high street chains turned their backs on reusables, Boston Tea Party proved that with a little thought and a lot of determination it was perfectly possible to put safety and planet and the forefront of the business. On top of that in September, BTP chose to give away 25,000 reusable cups. The decision was driven by a desire to prove that reusables could be used safely and drive the much talked about 'green recovery' from the high street up. They key for Boston was to reduce the barriers by making a new customer's move to reusables investment free and try to counteract some of the damage done by large high street chains reverting to single use only during the pandemic.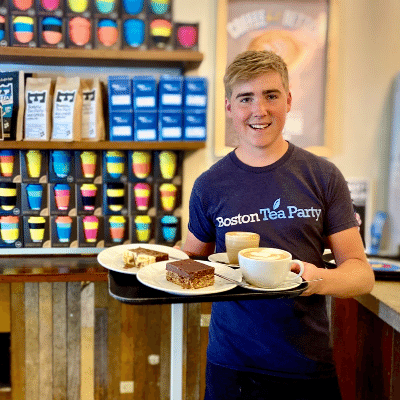 The initiative was incredibly well received with anywhere from 500-1000 cups a day being handed out to those buying a takeaway hot drink and in need of a cup. Since the lockdown takeaway sales and reusable cup use have been higher than ever since Boston introduced the ban over 2 years ago. The ultimate success is knowing there are 25,000 more people out there choosing to reuse.
Boston Tea Party continues its mission of reducing single use plastic throughout its supply chain. Plans are also afoot for a carbon audit of the entire business which will then put in place the next steps on Boston Tea Party's sustainability agenda. In the meantime it's all about encouraging people to continue refilling their reusables at cafes that are finding safe, sustainable solutions during uncertain times.
Making Things Better is Boston Tea Party's purpose – the purposeful chain aims to do this with everything from the ingredients used to the buildings it chooses to restore to being trailblazers in banning single use coffee cups in 2018. While there was an initial, anticipated drop in takeaway sales, the bold moves have earned Boston Tea Party great loyalty among both customers and team, with team turnover dropping and sales bouncing back to a record year in 2019.
Find out more about our other campaigns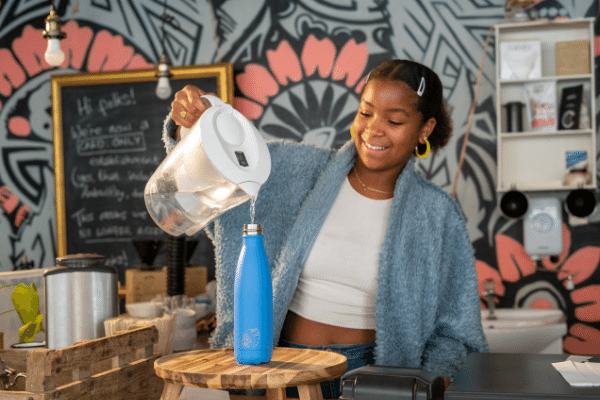 If you're a business looking for advice and support on how to safely offer reusables to your customers during COVID, we're here to help.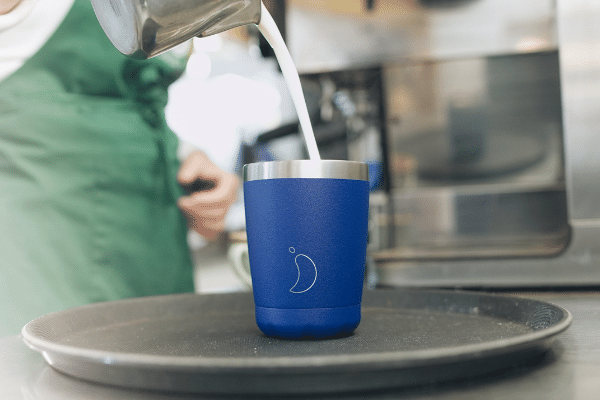 With many cafes and restaurants looking to reopen after lockdown, we've launched, a campaign, Contactless Coffee to help keep reusable cups on the menu.