DAME reusable tampon applicators
Turning the tide on plastic
DAME – the world's first reusable tampon applicator brand
We are super excited to launch a new partnership with one of our all-time favourite brands – DAME. Creators of the world's first reusable tampon applicator. DAME are helping us to prevent plastic pollution from our periods by encouraging people to switch to a reusable alternative. By 2022 they aim to eliminate 15% of the 1.3 billion UK applicators that end up in landfill or the ocean every year, music to our ears!
Their applicators are designed to last for up to 10 YEARS, and their tampons are all organic. But that's not all – DAME are also a B Corporation with the Carbon Neutral Plus accreditation, offsetting more carbon than they produce. This ethos is the future!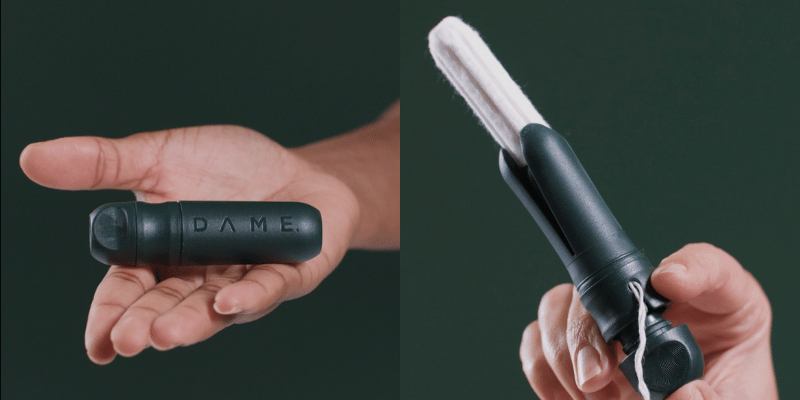 Plastic-free periods for everyone
After working with DAME over the last year on our #RethinkPeriods period education programme, offering an unbiased insight into the menstrual cycle for over 100,000 students across the UK, and petitioning the UK government to offer plastic-free period products in school, we're excited that they're now an official City to Sea #plasticfreeperiods partner!
Period products are currently the 5th most common item found on European beaches, more widespread than single-use coffee-cups, cutlery or straws. 100 billion tampon applicators are thrown away globally each year, and nearly all are single-use and non-recyclable, eek! That's why we're over the moon to be working with solutions-focused, ambitious organisations like DAME who are helping to make plastic-free periods more accessible for everyone.
Actively contributing to the awesome work City To Sea are doing, was a no brainer for us. We can't wait to open up period conversations with new generations of people who bleed, and to encourage a rethink on single-use plastic period products.
Through our Plastic Free Periods campaign, we lobby the government, work with the NHS, train school teachers, influence retailers and educate the public about solutions.
Find out more about our campaign – why we run it, who we work with, what the solutions are, and more.