Putting plastic pollution to bed
Our work with accommodation providers
We want you to sleep easy, and that's why we've been working with the accommodation sector to put plastic pollution to bed once and for all. We've been asking hotels, holiday parks and B&Bs to sign up to our Plastic Pledge and offering advice for those wanting to go further.   
We wanted to challenge the accommodation sector in the UK to reduce its use of single-use plastic. We knew this had to be something that was ambitious but attainable and would have the maximum impact in terms of plastic reduced across the whole industry so we launched our Plastic Pledge – a simple commitment to tackle the most commonly found pointless plastic in hotels.  
The Plastic Pledge asks accommodation providers to: 
Sign-up to the Refill app.
Remove plastic bottled waters from guest rooms by the end of 2020.
Remove single-use plastic plates, straws, stirrers, cutlery and cups by the end of 2021.
Remove all single-use toiletries from bathrooms and use refillable dispensers by the end of 2021.
If you work for an accommodation provider and want to sign up to the pledge or find out what support we can offer you on your plastic reduction journey, get in touch with City to Sea's Partnership's Coordinator Lucy Tissington.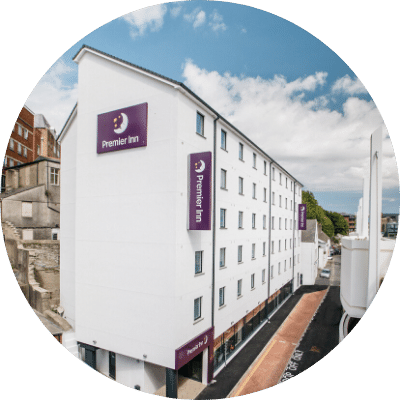 PREMIER INN'S PLASTIC FREE JOURNEY 
The UK's largest hotel chain, Premier Inn, has over 76,000 rooms and over 800 hotels across the country. We were delighted then when we started our #PlasticFreeTravel campaign, that Premier Inn were the first major hotel chain to get on board and partner with us. They signed up to our Plastic Pledge in 2019 and are keen to go full steam ahead to do more. 
They're doing some really great things and are now proud supporters of our award-winning Refill campaign. As the largest chain, they are also showing leadership in the industry and inspiring others accommodation providers to come with them on this journey.

Plastic straws stopped annually
Hotels now listed on the Refill app
of waste diverted from landfill
It's one step at a time, but we have a clear goal and we urge other hotel businesses to follow suit – the more of us who are willing to make a change will only make the transition to a single use plastic free world more attainable.
There is, of course, still more that accommodation providers can do. So, it's been great to hear some of them asking "how we can go the extra mile?" And that's why we've compiled this guide. To help accommodation providers explore the many ways they can help their guests to reduce plastic pollution. 
We know there isn't a one-size-fits-all approach – a holiday park will have different challenges to a hotel chain or different to a small independent B&B. But we know that across the industry there's a huge appetite to get this right. So, regardless of where you stay, and whatever the budget, location or length of your visit, we hope that your accommodation provider is helping you on your journey towards plastic freedom.