How to stop PPE becoming plastic pollution
Keeping you and our oceans safe
The global coronavirus pandemic has created a new and completely unprecedented problem – the littering of personal protective equipment (PPE).
Whilst we completely support the need for PPE to keep us safe during these testing times, we, along with many other NGO's and governments, are concerned about how these single-use masks and gloves are being disposed of – and what this means for our planet.
Between the end of February and mid-April this year more than a billion items of personal protective equipment were given out in the UK alone. In a hospital environment, these items are regarded as medical waste, but we're seeing them littering our streets and washing up on beaches across the world. This litter represents not just a threat to the health of the people who encounter it and clean it up, but also to the environment as a whole.
We've already seen beaches covered in masks across Asia, and heard reports of birds entangled in them. OceansAsia have highlighted the growing number of masks being discovered during its plastic pollution research and the French Environmental Organisation, Opération Mer Propre (Operation Clean Sea) has released some hard-hitting footage of personal protective equipment (PPE) littering  ocean floors, with the founder, Laurent Lombard, warning that there could soon be "more masks than jellyfish in the waters of the Mediterranean".
Masking the problem
Medical-grade masks are commonly made from polypropylene, a very dense thermoplastic, which is non-biodegradable and non-recyclable. "It is not the worst polymer, but it is generally estimated that solid polypropylene takes around 500 years to degrade," Etienne Grau, a teacher-researcher at the University of Bordeaux, told HuffPost France.
However, the Government has said that reusable masks are safe to use, as long as they are washed after each use. The US Center for Disease Control and Prevention offers this advice on how to clean and dry masks.
Be wary too of other single-use (false) solutions. You may have seen the recent announcements of a plastic-free cellulose-based visor for example. But the reality is these don't actually decompose if they become litter as they need specific composting conditions – which our countryside, rivers and oceans – or our home compost caddies – do not provide.
Just like bioplastics in general – these new promised silver bullets rarely live up to their own environmental hype.
Unless you're in a high-risk category, the best thing you can do is opt for a washable, reusable mask or face-covering.
Taking the gloves off
While latex gloves are incredibly important in clinical settings, The World Health Organisation (WHO) says that regular hand washing is actually the best approach to take as gloves' surface can get contaminated, just like bare hands can, and if you then touch your face you can get infected.
An NHS doctor recently went viral after sharing a video on TikTok saying that people could actually be doing more harm than good by wearing gloves in public. So, there you have it, good old trusty soap and water are your friends here, not single-use gloves!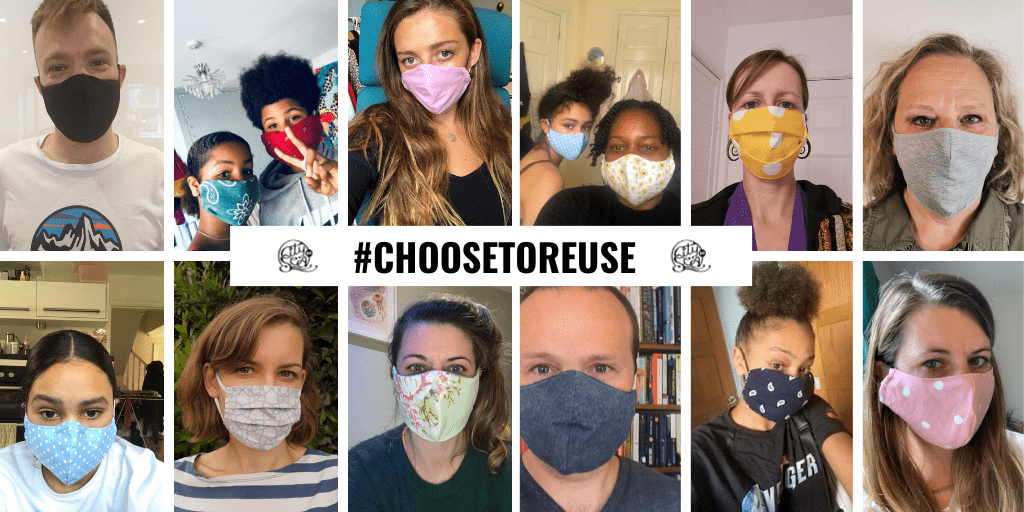 So, what should I do?
Choose to reuse! Both the UK government and the World Health Organisation (WHO) advise that unless you fall into a high-risk group, you can make your own washable, reusable masks or face coverings. Get the low down on reusable masks.
Make your own reusable, washable mask or face-covering. Check out our simple guide here.
Follow the best and latest government advice about PPE like gloves – at the moment you don't need to use these when you're on public transport while you do need to start using a face covering.
If you do need to use single-use masks or gloves, dispose of them safely and make sure they don't end up littering in our environment and oceans.
Help us spread the word – share a photo of you wearing your reusable mask on social media using #ChooseToReuse and tagging @CitytoSea_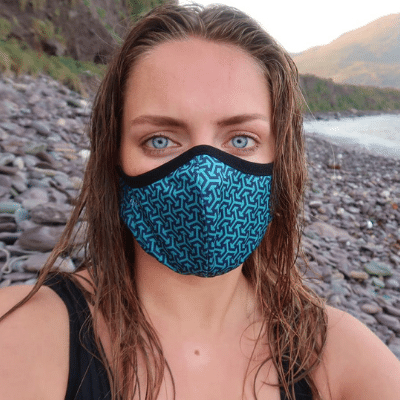 Rash'R reusable face masks
Rash'r reusable, 3 layer masks are made from recycled Polyester. A hyper-resistant yet soft and breathable fabric developed from Reclaimed Ocean Waste. Rash'r have designed them for maximum comfort and breathability; and they are machine-washable and quick-drying.
For every 3-layer mask sold, Rash'r will donate €1.50 to City to Sea.