Celebrating 20 years of Mooncup
So, to celebrate 20 years of Mooncup we've teamed up to share the story of someone who loves a menstrual cup as much as we do – real life, long-term Mooncup user, Jo!
Jo is a menstrual cup pioneer and has used Mooncup since the early 2000s. We catch up with her and chat about all things periods: what motivated her to make the switch, what the reactions were when she told people about the Mooncup, and how the conversation about plastic in periods has moved on in the past 20 years.
So wherever you are on your Plastic Free Period journey, we hope this video will inspire and encourage you. Enjoy!
Together, we're helping people have Plastic Free Periods
Did you know that a pack of conventional pads contains as much plastic as five carrier bags?  And that a staggering 1.4 million pads are flushed into UK sewers every day? Menstrual cups are a bloody great solution to this problem – good for the environment, our wallets and our health in the short and long term!
Switching to a menstrual cup isn't new. Like Jo, people have been using menstrual cups for decades even when not many people were talking about it! Although there are still barriers around using menstrual cups, in the last two decades we've come a bloody long way! Nowadays, conversations around menstruation can be had more openly and you can now find menstrual cups in lots of shops and even some supermarkets and high street chemists – Mooncup and their users have had a big part to play in changing the status quo and making this a reality!
At City to Sea, we think it's a bloody shame we aren't given a choice when it comes to what we put in our bodies every month. So, since 2017 we've been lifting the lid on the hidden plastic in period products, campaigning to make it easier for us to have plastic- free periods  and working with pioneering brands like Mooncup to reduce the amount of plastic pollution caused by conventional period products.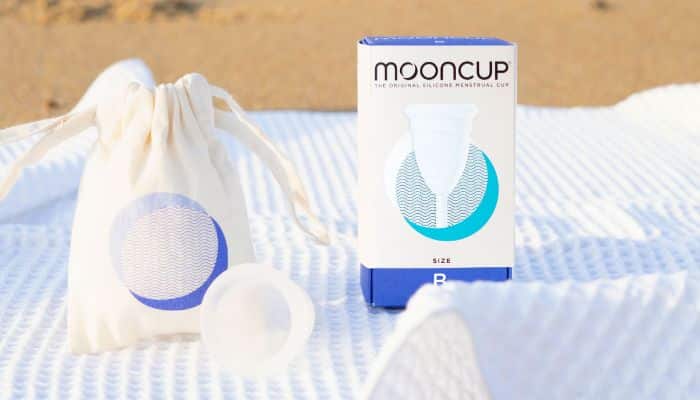 Since the Mooncup was invented 20 years ago, putting an end to the period plastic waste on our beaches has been their mission. Since then, the menstrual cup has gone from a 'hippy' alternative to the go-to period product.
A recent UN sponsored report comparing reusable period product options found that menstrual cups are the most environmentally-friendly way to manage your menstrual flow. In a year of usage, the environmental impact of a reusable menstrual cup is only 1.5% of impact of disposable period products – and it only costs around 10% of the price!
To celebrate their birthday and to say thank you to their supporters, Mooncup is also offering 20% discount on their website, just use the code: Mooncup20 to redeem..
The Mooncup menstrual cup is available to buy online at www.mooncup.co.uk or through retailers such as Boots and Holland & Barrett.